Vision of Children instrumental in funding groundbreaking research around the world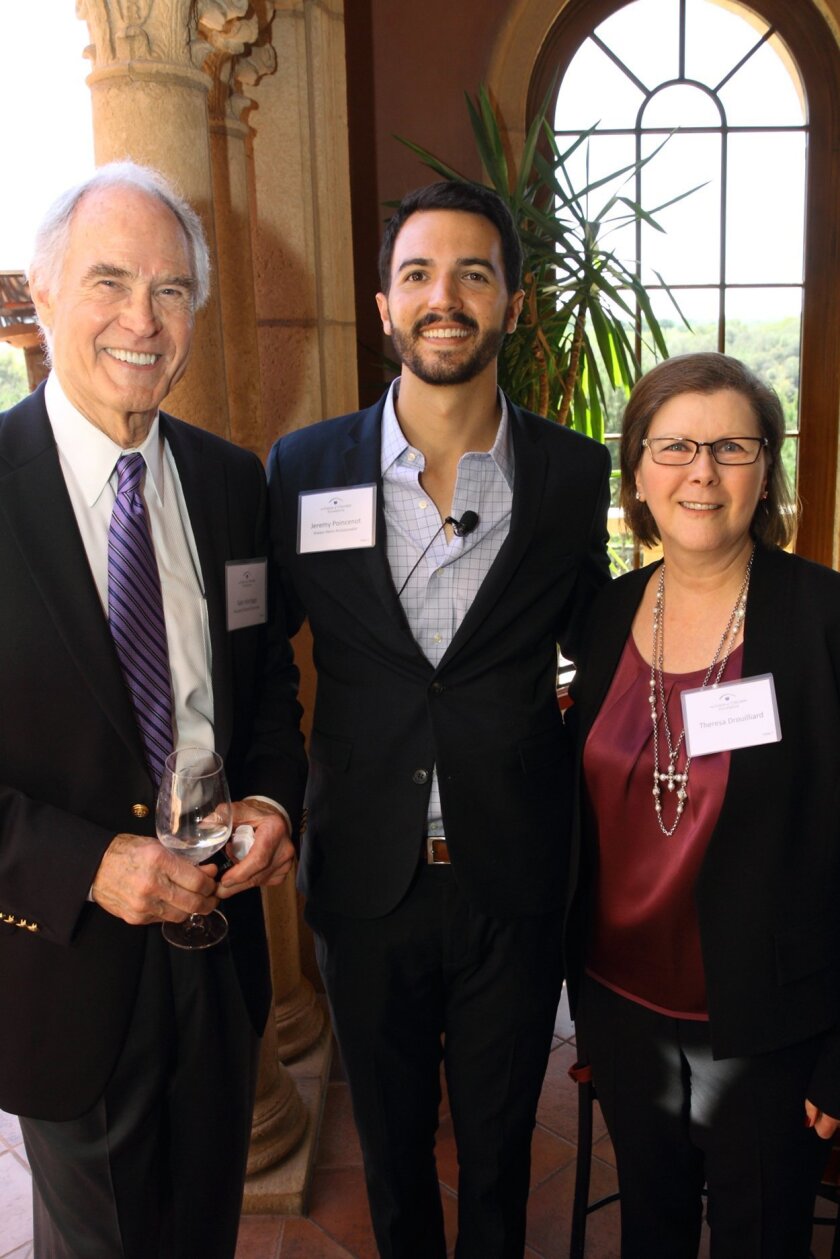 As it gets ready for its silver anniversary next year, the Vision of Children Foundation held a special luncheon at the Grand Del Mar March 24 to thank its longtime donors.
The San Diego-based nonprofit has been a driving force in the quest to find a cure for genetically caused eye disorders for almost 25 years.
Local residents Sam and Vivian Hardage founded Vision of Children when ophthalmologists told them there was no treatment for their son, who was born with ocular albinism type 1 (OA1), a rare and debilitating genetic eye disease.
"I thought we'd get it done in six to eight months," laughed Sam Hardage in his opening speech. "It's been an incredible journey, and this is the year we're going to celebrate success."
He thanked donors for being there "today, and always," and talked about Vision of Children being pioneers in promoting research for hereditary vision disorders.
"When we started out, we couldn't find one researcher," he said.
Determined to change that, Vision of Children has been instrumental in funding groundbreaking research around the world. The organization has been acknowledged in more than a dozen scientific articles, and is now supporting clinical trials being conducted by Michael Struck, MD, a researcher based at the University of Wisconsin Madison.
Vision of Children has also hosted eight World Symposiums on Ocular Albinism and is directly funding five labs globally. All of this has made a tremendous impact.
"We're at cure point!" announced Gary Ostrow, MD, director of Pediatric Ophthalmology and Adult Strabismus at Scripps, to wild applause from the audience. "We're actually starting to repair genes and restore vision."
Although he didn't want to get too "science-y" for the lay crowd, he described viral vector gene therapy as a breakthrough, and shared his joy about finally being able to offer hope to his patients.
"I see 30 kids a week, and trying to help those with congenital eye disease has always been the least rewarding part of my job," said Ostrow, who also serves on the Vision of Children board. "These children are slowly going blind on my watch, and it's devastating. Now, I can honestly give them hope."
Also offering hope — with a big dose of humor — was keynote speaker Jeremy Poincenot.
One day six years ago, as a 19-year-old sophomore at San Diego State University, Poincenot realized he had to squint in order to read a sign. He went for a check-up and, when he was told to cover his left eye, couldn't see anything.
"I assumed I'd need big Steve Urkel glasses," said Poincenot, "which would've been OK because Martin Scorsese makes them look cool."
Unfortunately, glasses weren't the answer. And after a number of misdiagnoses, Poincenot was told he had Leber's hereditary optic neuropathy, a rare and untreatable disease that occurs in 1 in 50,000 people. Within two months, he went from having perfect vision to being declared legally blind.
Poincenot no longer had any central vision, and he compares this condition to a doughnut: he can see peripherally, but nothing in the middle. He can't drive, distinguish faces or read without assistive technology.
"I felt completely sorry for myself and didn't want to get out of bed," he remembered. "I was happier in my dreams, where I could still see perfectly, than when I woke up to the harsh reality of being legally blind."
Everything changed when Poincenot heard about a small-plane crash, in which the pilot survived and the rest of his family died. The pilot asked, during a TV interview, whether anyone could help him learn how to move forward after this tragedy.
"This was a huge reality check for me," said Poincenot. "This man lost his whole family, yet he still wanted to go on."
Around the same time, Poincenot's mother learned about Vision of Children and about the U.S. Blind Golf Association.
Both were life-changing for Poincenot. As someone who was on the SDSU varsity golf team for three years and who bonded over the game with his father every Sunday, not being able to play was devastating.
The pair entered their first tournament, where, Poincenot said, he took credit for the good shots and blamed his dad for the bad ones. When he met fellow golfer John Casolo at the National Championship, he experienced another reality check.
"I shot a 97 and John shot a 324! That is outrageously bad," said Poincenot. "But he just said he had a great day and was happy. Now, whenever I'm upset, I always think, 'How would John handle this?'"
With his dad as his guide, Poincenot went on to win the World Blind Golf Championship. "We won it as a team," he insisted. "It was such a thrill, everything was a blur. No pun intended."
Poincenot also won over the audience as he marveled over the opportunities he is thankful to have received. "I've been flown to Japan and China to raise awareness," he said, "and I was featured on a segment of 20/20 — which is kind of ironic, if you think about it."
His warmth and relatability make him an inspiration to kids going through similar challenges — and make him the perfect Vision Hero Ambassador for Vision of Children.
"I've learned to appreciate what I have rather than dwell on what I don't have," said Poincenot, causing the audience to rise to its feet.
Not one to end on a mushy note, he added, "I wonder if the people in the back are thinking, 'Does the blind guy even know I'm standing?'"
For information or to make a donation, visit Vision of Children at www.visionofchildren.org or www.jeremypoincenot.com.
---
Get the Del Mar Times in your inbox
Top stories from Carmel Valley, Del Mar and Solana Beach every Friday.
You may occasionally receive promotional content from the Del Mar Times.