FACE Foundation Animaltarian Awards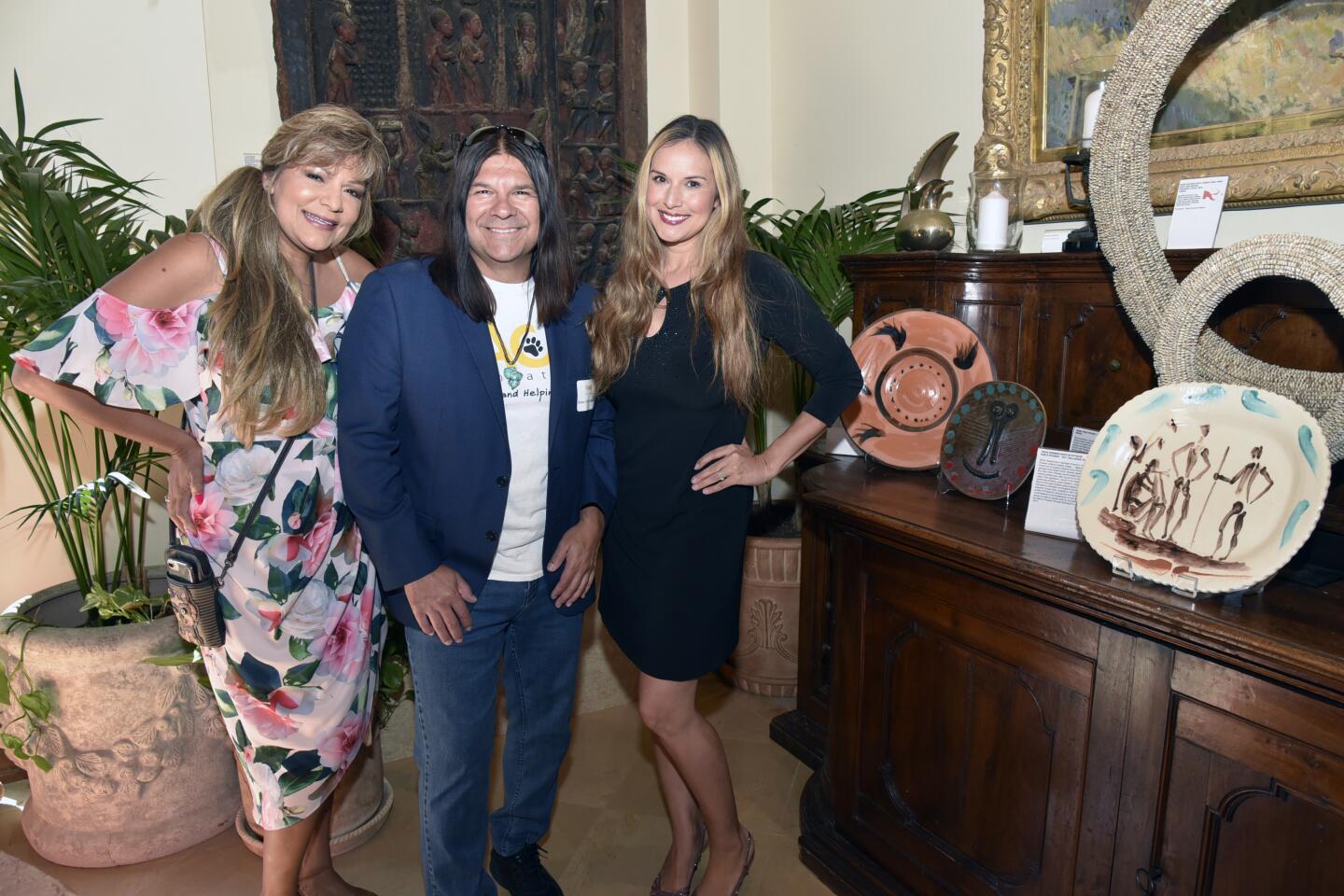 Mary Caraway, artist Ruben Chato Hinojosa, Jr., Traci Steckel
(McKenzie Images)
Nanci and Jack Simkin
(McKenzie Images)
Jim Reopelle, Mona Mofid, Lee Clark and Jerry Pikolycky
(McKenzie Images)
Host Bill Lerach treated guests to a tour of his art treasures
(McKenzie Images)
NBC 7 San Diego weather anchor Dagmar Midcap, FACE Director Brooke Haggerty, FACE Grants Manager Patty Mendez, Angel Shaw
(McKenzie Images)
San Diego District Attorney Summer Stephan, Lorin LeGrant, host Michelle Lerach
(McKenzie Images)
Elias and Lisa Romo, Michael and Angela Drayden, San Diego District Attorney Summer Stephan
(McKenzie Images)
Veronica Gaeta, Christina Kremers with Pinky
(McKenzie Images)
Lisa Hitt, Bernadette Bach, honoree Sandie Lampe, Elisa Parker, FACE Board Chair/President Cini Robb
(McKenzie Images)
Jennifer Kubczak, FACE Director Dr. Dori Vance, Lisa Darragh with a carved Malangan figure, a 19th century masterpiece of Oceanic art
(McKenzie Images)
Mary Caraway, artist Ruben Chato Hinojosa, Jr., Traci Steckel
(McKenzie Images)
Host Bill Lerach treated guests to a tour of his art treasures
(McKenzie Images)
NBC 7 San Diego weather anchor Dagmar Midcap, FACE Director Brooke Haggerty, FACE Grants Manager Patty Mendez, Angel Shaw
(McKenzie Images)
Veronica Gaeta, Christina Kremers with Pinky
(McKenzie Images)
Elias and Lisa Romo, Michael and Angela Drayden, San Diego District Attorney Summer Stephan
(McKenzie Images)
San Diego District Attorney Summer Stephan, Lorin LeGrant, host Michelle Lerach
(McKenzie Images)
Lisa Hitt, Bernadette Bach, honoree Sandie Lampe, Elisa Parker, FACE Board Chair/President Cini Robb
(McKenzie Images)
Jennifer Kubczak, FACE Director Dr. Dori Vance, Lisa Darragh with a carved Malangan figure, a 19th century masterpiece of Oceanic art
(McKenzie Images)
Rancho Coastal Humane Society Executive Director John Van Zante, FACE Board Chair/President Cini Robb, Rose and Michael Hawman, MaryAnn and John Driscoll
(McKenzie Images)
Caroline Joseph and Dr. Ben Glicklin, of honoree La Jolla Veterinary Hospital
(McKenzie Images)
Dr. Stephanie Schneider of honoree Loving Hands Veterinary Services, Brad Schneider, Caren Buksbaum
(McKenzie Images)
Jim Reopelle, Mona Mofid, Lee Clark and Jerry Pikolycky
(McKenzie Images)
This year's FACE Foundation Animaltarian Awards, celebrating people who save the lives of animals, took place at an estate in La Jolla Sept. 29. Presented by the Foundation for Animal Care and Education (FACE), the ceremony honored La Jolla Veterinary Hospital (LJVH), Loving Hands Veterinary Services and pet columnist Sandie Lampie.
The awards featured cocktails, hor d'oeuvres, and a silent auction. All proceeds will benefit FACE 501, a 501(c)(3). Visit face4pets.org
Photos by McKenzie Images

Get the Del Mar Times in your inbox
Top stories from Carmel Valley, Del Mar and Solana Beach every Friday for free.
You may occasionally receive promotional content from the Del Mar Times.