Local students participate in Del Mar Youth Art Show
SD County student art work on display at the Del Mar Town Hall
(Jon Clark)
1st grade La Jolla Country Day School student Griffin Ni
(Jon Clark)
6th grade Carmel Del Mar student Ella Henry with her oil and pastels work "Lobster Swimming"
(Jon Clark)
Bonnie Grossman (City of Del Mar Arts Advisory Committee Chair), Jenny Luce (Ocean Air School Art Teacher), Ellie Haviland (Del Mar Mayor)
(Jon Clark)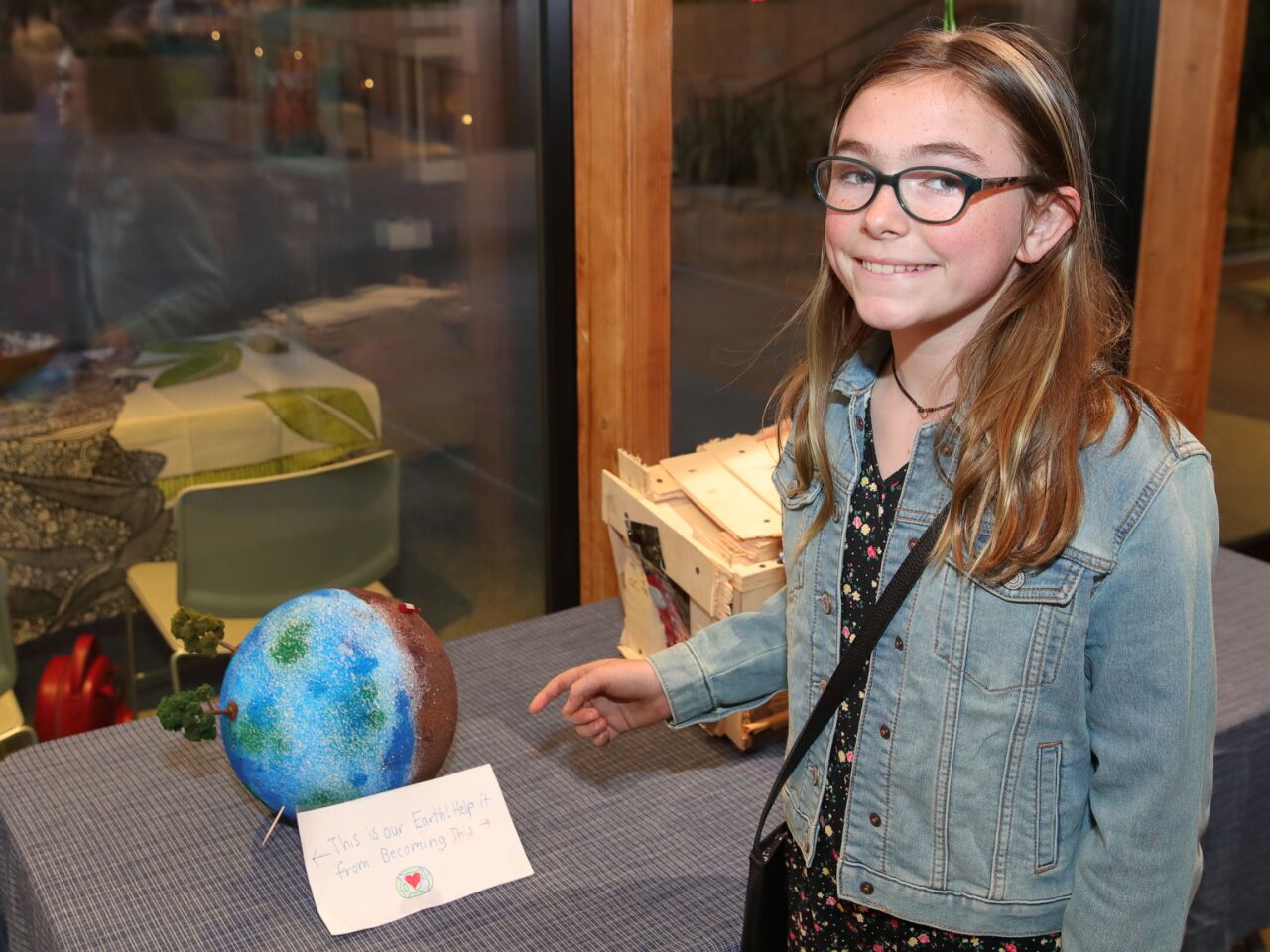 5th grade Del Mar Hills student Charlotte Johnson with her mixed media project
(Jon Clark)
4th grade Ocean Air student Benjamin Guo with his colored pencil drawing
(Jon Clark)
2nd grade Community Montissori School student Aleia Kurtz with her acrylic painting "Peace"
(Jon Clark)
4th grade Sage Canyon student Audrey Sun with her crocheted "Mini Earth"
(Jon Clark)
Carmel Del Mar kindergarten student Harper Henry with her watercolor and pencil work titled "Seahorse"
(Jon Clark)
Members of the Canyon Crest Academy Dance Conservatory
(Jon Clark)
4th grade Richland Elementary student Kai Smith with his acrylic painting
(Jon Clark)
1st grade Del Mar Heights student Reese Walters with her paint and fabric work titled "Spring Sunshine"
(Jon Clark)
Friendship School preschooler Harvey Levine with his painting of "Sea Turtles"
(Jon Clark)
SD County student art work on display at the Del Mar Town Hall
(Jon Clark)
4th grade Sage Canyon student Audrey Sun with her crocheted "Mini Earth"
(Jon Clark)
2nd grade Community Montissori School student Chloe Levine with her acrylic painting "Parrotise"
(Jon Clark)
More than 60 student artists ages 4-18 had their work showcased at the Del Mar Youth Art Show on Jan. 31 and Feb. 1 at Del Mar City Hall.
"They were all wonderful in their own way," said Bonnie Grossman, chair of the Del Mar Arts Advisory Committee.
Under the theme "Our Precious Earth," the two-dimensional and 3D artwork on display included a crocheted planet Earth, a digital photograph of a jelly fish superimposed over an image of the world, and other ideas that tackled environmental themes or other concepts related to the planet.
"Every child interpreted what is important to them about the Earth," said Grossman, who has been the chair of the committee for about two years.
No prizes were awarded, she added, as a way to give all children "a safe environment" to participate without any added pressure.
The weekend opened on Friday, Jan. 31, with a lemonade and cookie reception sponsored by the nonprofit Del Mar Foundation, with a dance performance by Canyon Crest Academy students.
"Fine art and dance express their art from the same concepts," Grossman said.
The art show took place the next day. There was also a story time event hosted by local authors and a librarian, sponsored by Sandcastle Tales Children's Bookstore on Camino Del Mar, as well as a discussion about illustration.
Grossman said the Del Mar Youth Art Show is part of the city's effort to make Del Mar more of a hub for the arts. For more information, visit delmar.ca.us/art.
Photos by Jon Clark Online: delmartimes.net

---
Get the Del Mar Times in your inbox
Top stories from Carmel Valley, Del Mar and Solana Beach every Friday for free.
You may occasionally receive promotional content from the Del Mar Times.