Solana Pacific holds popular Sandpiper Quest
Team Where the Wild Things Are execute the instructions on their clue
(Jon Clark)
Teacher team members Julie Taylor, Archer Cadogan, Matt Singley
(Jon Clark)
The Ryan Family team
(Jon Clark)
Team Narwhals
(Jon Clark)
Team captains rush to take the first clue to their teams
(Jon Clark)
Team Quintuplets
(Jon Clark)
Team Fast and Furious
(Jon Clark)
Team Imagine Losing
(Jon Clark)
Team Fantastic Finders
(Jon Clark)
Team Soggy Cereal
(Jon Clark)
Team Rainbow Warriors
(Jon Clark)
The Ryan Family team
(Jon Clark)
Team Fast and Furious
(Jon Clark)
Team Elementors
(Jon Clark)
Team Duck Squad
(Jon Clark)
Team Crazy Eights
(Jon Clark)
Team Tye Dye Warriors
(Jon Clark)
Parent volunteer Chris Riddle explains the rules to the teams
(Jon Clark)
Team Moscal Mania
(Jon Clark)
Parent volunteer Chris Riddle (in red) directs each team captain at the starting line
(Jon Clark)
Team Fairy Tale Theorists
(Jon Clark)
Team Quintuplets
(Jon Clark)
Team Biscuits
(Jon Clark)
Team Where the Wild Things Are execute the instructions on their clue
(Jon Clark)
Team Marvelous Marshmallows
(Jon Clark)
Team Quintuplets
(Jon Clark)
Team Where the Wild Things Are build a pyramid out of cones
(Jon Clark)
Team Tye Dye Warriors
(Jon Clark)
Team Rainbow Warriors
(Jon Clark)
Team Nick N' Chuggets
(Jon Clark)
Team Triple A
(Jon Clark)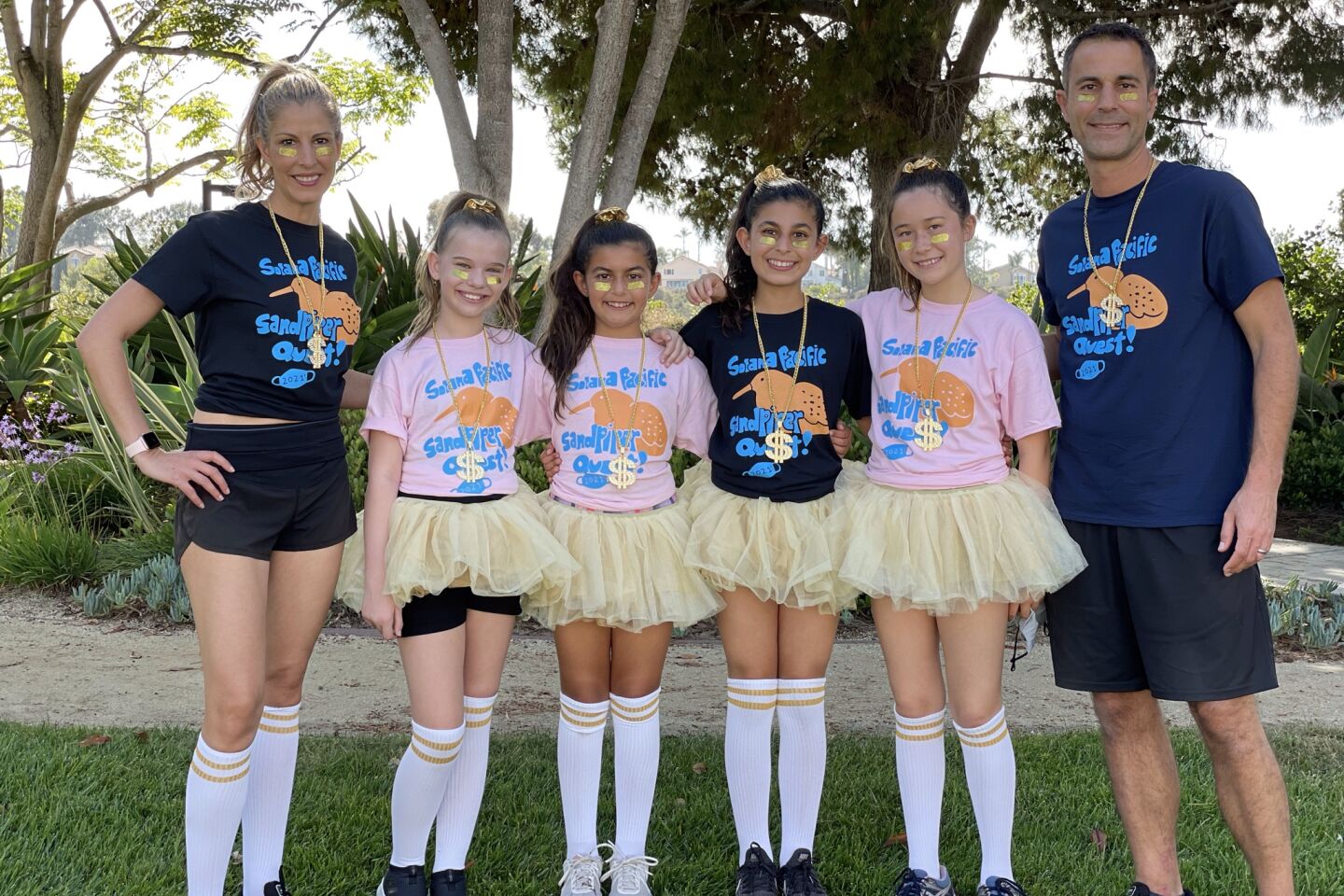 24K Gold team
(Helen I. Hwang)
Solana Pacific Elementary students, families and staff were thrilled to be able to participate in the popular Sandpiper Quest (formerly the Amazing Quest) event this year on May 25 with physical distancing and proper precautions in place. This year featured three separate race courses to allow for ample spacing of the racers, each with its own start and finish line. As in prior years, teams completed challenges throughout the course. The 24K Gold team took first place in the marathon portion of the Quest and set a record for the fastest time in the history of the event.
24K Gold team member Isabelle Adams said, "Sandpiper Quest was so much fun. I know this year it was different because we had to do the race in neighborhoods. I'm glad we got to do the race since it was sadly canceled last year due to the pandemic. Sandpiper Quest is one of the special things that make me love school so much."
The names of the 24K Gold team members are: Isabelle Adams (5th grade), Casey Suhar (5th grade), Carla (mom) Suhar, Chris (dad) Suhar, Haley Suhar (4th grade), Kiki (4th grade)
Photos by Jon Clark

Get the Del Mar Times in your inbox
Top stories from Carmel Valley, Del Mar and Solana Beach every Friday for free.
You may occasionally receive promotional content from the Del Mar Times.