33rd Annual Spring Fling Gala benefits Helen Woodward Animal Center
Brad and Sheila Jacobs, Mary Curran, Bob Dawson
(Vincent Andrunas)
Trevor Parrett, John Griffith, Leo Perez, Derek Ostovani, Catie Griffith, Michelle Parrett, Alexi Davis Perez
(Vincent Andrunas)
Dan Shea (Feeding San Diego CEO), Kim Miller, and llamas "Kronk" and "Kuzco"
(Vincent Andrunas)
John and Dianne Lefferts, Nancy and Bruce Henderson
(Vincent Andrunas)
Jamie Carr, Erin Combs Pearl (both are co-chairs of this event for the third consecutive year), Mike Arms (HWAC President/CEO), Renee Resko (HWAC VP of Development)
(Vincent Andrunas)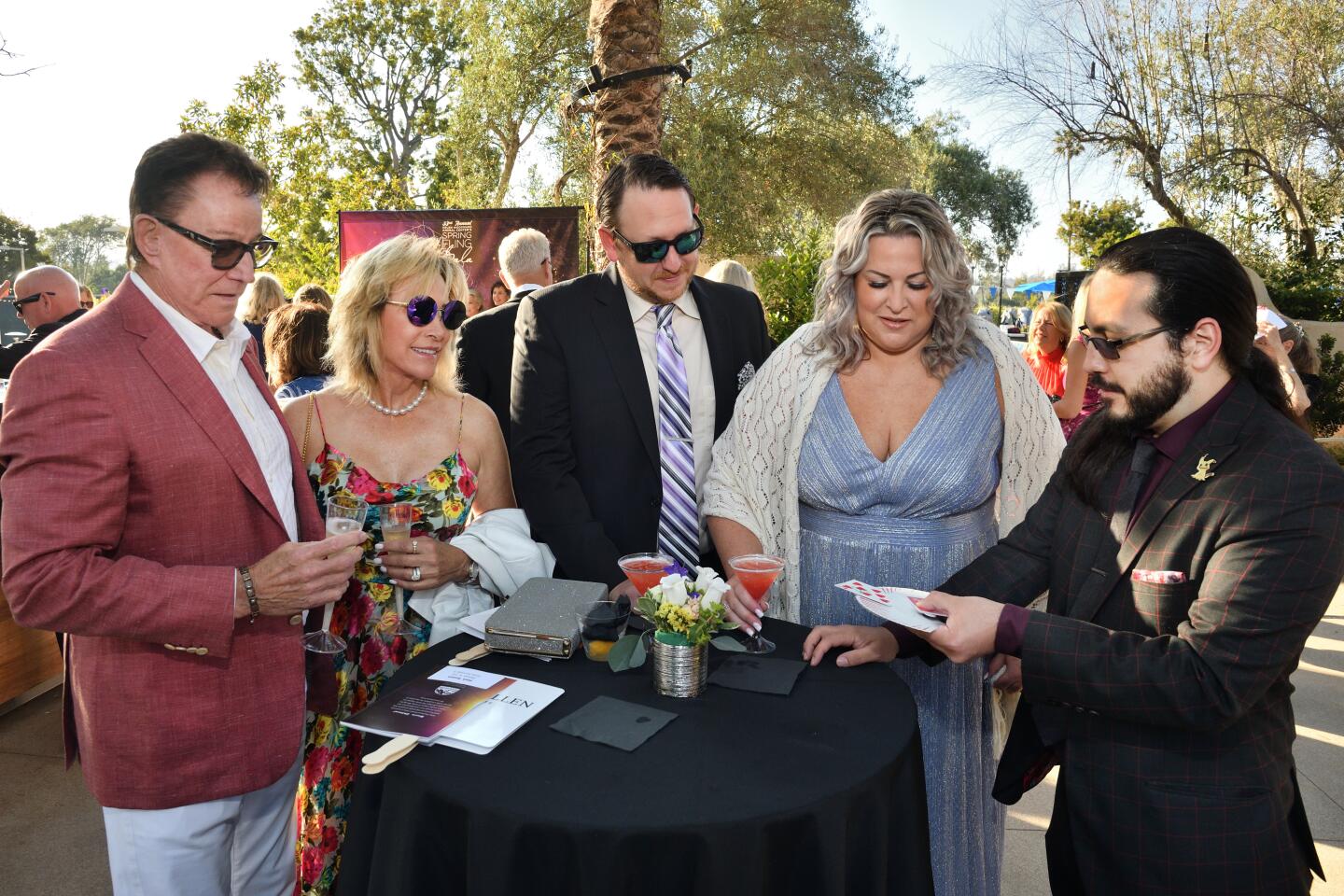 Bruce and Susan Hall, Matthew and Ali Gerritsen, "Baruch" (magician)
(Vincent Andrunas)
Steve Millendorf, Katie Gentile, Lindsey Pierce, Jacklyn and Chris Brunnquell
(Vincent Andrunas)
Ken and Katie Schull, Toni Nickell, Portia Metras-Hooker and Jim Hooker
(Vincent Andrunas)
Charlie and Kori Karstrom, Rebecca Vigil, Kristen Berg
(Vincent Andrunas)
Dr. Jeffry and Sandra Schafer, Carol Towne, Gayland Smith
(Vincent Andrunas)
Konane Gurfield, Lianne Chu, Leilani Chu, Kalea Gurfield
(Vincent Andrunas)
Glen and Linda Freiberg, Joanna and David Paul
(Vincent Andrunas)
Valerie Thatcher, Carmen Jack, Christine Huntting, Janet Molsberry, Peg Arnone
(Vincent Andrunas)
Julia DalPezzo with "Muffin," David Dishman
(Vincent Andrunas)
The Helen Woodward Animal Center held its 33rd Annual Spring Fling Gala June 19, "Imaginarium – Illuminating a More Humane Future", presented by Whittier Trust and by Jim Hooker and Portia Metras at Coldwell Banker. The black-tie evening, which included fine dining, live and silent auctions, illusionists and more, took place at the outdoor venue at the Fairbanks Ranch Country Club. The benefit event is the Center's biggest fundraiser of the year.
Photos by Vincent Andrunas
Get the Del Mar Times in your inbox
Top stories from Carmel Valley, Del Mar and Solana Beach every Friday for free.
You may occasionally receive promotional content from the Del Mar Times.