North Coast Rep presents annual Spotlight Gala
Richard French, Gary Margolin, Barbara and Gary Gentzkow
(Vincent Andrunas)
Jan Ellenstein, Gigi Cramer, Joe and Linda Satz
(Vincent Andrunas)
Richard Hernandez, Leonard Simpson, Laurel McCrink
(Vincent Andrunas)
James Sutorius, Omri Schein, Ted Leib, Jill Hall, Phil Johnson
(Vincent Andrunas)
Raymond and Donna Vance, Dee and Jon Ammon
(Vincent Andrunas)
David Ellenstein and Denise Young (he's NCRT artistic director), Bill Kerlin (NCRT managing director), Julie and Jay Sarno (San Diego Champion for the Arts Award honorees)
(Vincent Andrunas)
Sydney Step, Jerry and Sharon Stein (she's NCRT board immediate past president)
(Vincent Andrunas)
Sydney Step, Jerry and Sharon Stein (she's NCRT board immediate past president)
(Vincent Andrunas)
Judy White, Reena Horowitz
(Vincent Andrunas)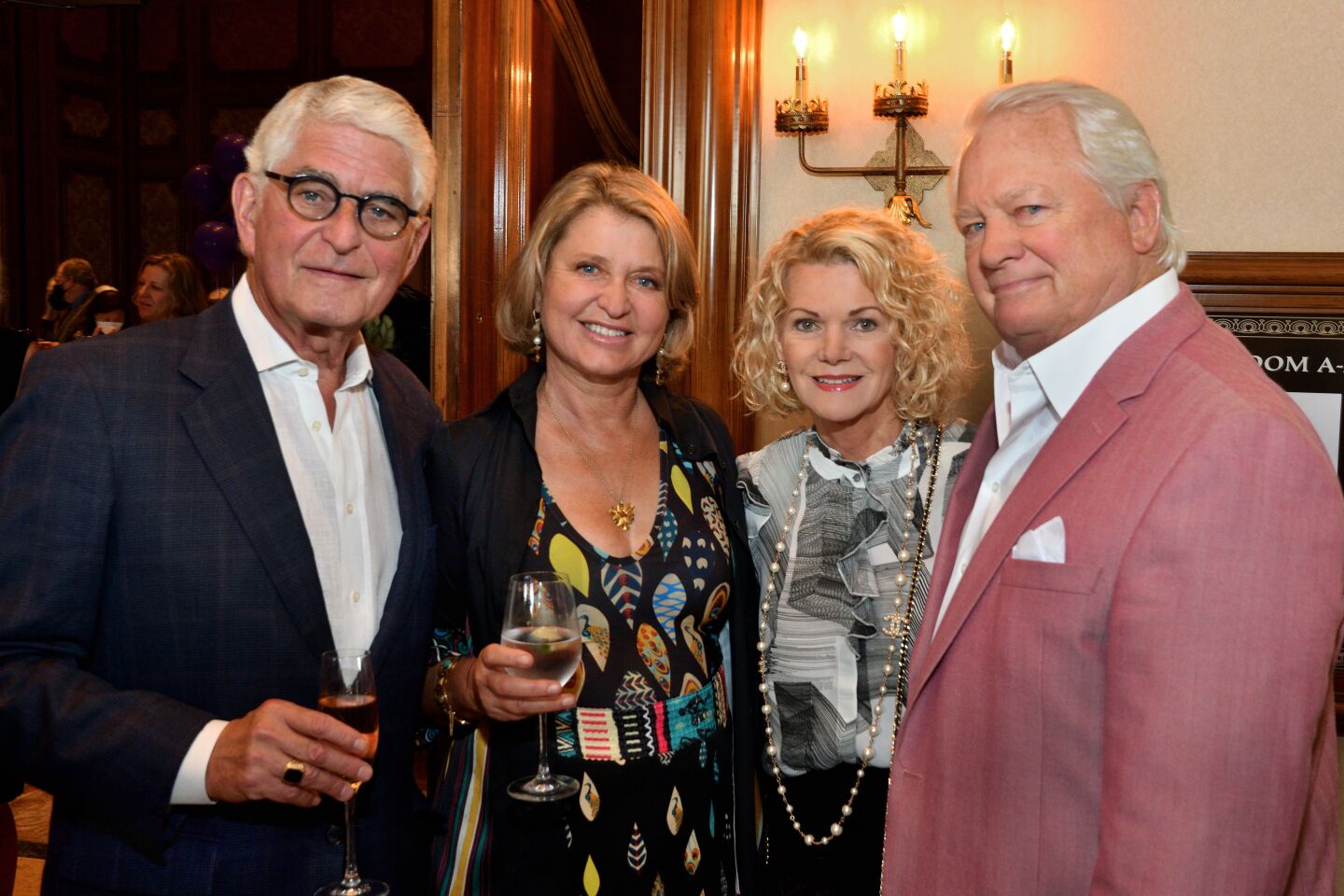 Rafael and Marina Pastor (she's NCRT board V.P.), Barbara and Kent Freundt
(Vincent Andrunas)
Richard Dreyfuss and Stella Svetlana Dreyfuss (gala honorary chairs), Julie and Jay Sarno (San Diego Champion for the Arts Award honorees)
(Vincent Andrunas)
Chuck and Judy Wheatley, Berit and Tom Durler (she's NCRT board treasurer)
(Vincent Andrunas)
Marilyn Tedesco (NCRT board V.P. & secretary), Wendy Tayer, Cindy and Mario Yco, Cynthia Stern
(Vincent Andrunas)
Nancy Richards, "Liza Minnelli" (actually, Trisha Rapier), Roxane Carrasco
(Vincent Andrunas)
On-stage entertainers: Jason Maddy, Sarah Errington, Geno Carr, Sharon Rietkerk
(Vincent Andrunas)
Carole Schreiber, Patti Cohen, Linda Humphreys, Arlene Simon
(Vincent Andrunas)
Ashley King, Mike Tedesco, Morgan King
(Vincent Andrunas)
Bill and Clarice Perkins, Hannah Step, Diana Glimm, Holly Smith-Jones
(Vincent Andrunas)
Martin Davis (gala co-chair), Laura Applegate (gala co-chair), Richard Dreyfuss and Stella Svetlana Dreyfuss (gala honorary chairs), Sarah King (gala co-chair)
(Vincent Andrunas)
Jamie Carr, Judith Adler, Terry Andrews
(Vincent Andrunas)
North Coast Repertory Theatre's annual Spotlight Gala took place Aug. 29 at the Fairmont Grand Del Mar. Longtime theater philanthropists Jay and Julie Sarno were honored at the event as San Diego "Champions for the Arts". The event's honorary chairs were Academy Award winner Richard Dreyfuss and Svetlana Dreyfuss, and the gala was chaired by Laura Applegate, Sarah King and Martin Davis. The event also included a cocktail reception, silent and live auction, and musical comedy entertainment based on the theme "Lights Are Bright at North Coast Rep." Visit northcoastrep.org.
Photos by Vincent Andrunas
---
Get the Del Mar Times in your inbox
Top stories from Carmel Valley, Del Mar and Solana Beach every Friday for free.
You may occasionally receive promotional content from the Del Mar Times.