Casa de Amparo holds 25th Annual Meet the Chefs benefit event
Chefs Mauricio, Fernando, and Alberto from Red Tracton's Steakhouse
(Jon Clark)
Adele McIntosh, Katherine Mulderrig, Sally Hickok
(Jon Clark)
Laura Flatley, Ashley Hoffman, Heather Jenkins
(Jon Clark)
Vista Valley Country Club's executive chef Marlaw Seraspi makes San Diego Tuna Poki
(Jon Clark)
Mike Dempsey, Erin Gospodarec
(Jon Clark)
Dessert offerings from Pamplemousse Grille
(Jon Clark)
Blair and Chiara Triodi, KC Bean
(Jon Clark)
Carolyn Konecki, Duffy and Judy Keys, Colleen O'Malley
(Jon Clark)
Don Griego, Jen Appel, Jim and Llyn Mallen, Bob and Linda Koch
(Jon Clark)
Jerry and Sharon Stein, Michael Barnett (CEO, Casa de Amparo)
(Jon Clark)
Musical entertainment for the VIP reception was provided by Devora on the harp
(Jon Clark)
Nicole Rojas, Bobby Rojas, and Chef Priscilla Mendez from Casa de Amparo Kitchen
(Jon Clark)
Ken and Lucy Jones, Rick Huffman
(Jon Clark)
Steve and Ann Hall
(Jon Clark)
Dan DeNike, Marilyn Carpenter
(Jon Clark)
Dan DeNike, Marilyn Carpenter
(Jon Clark)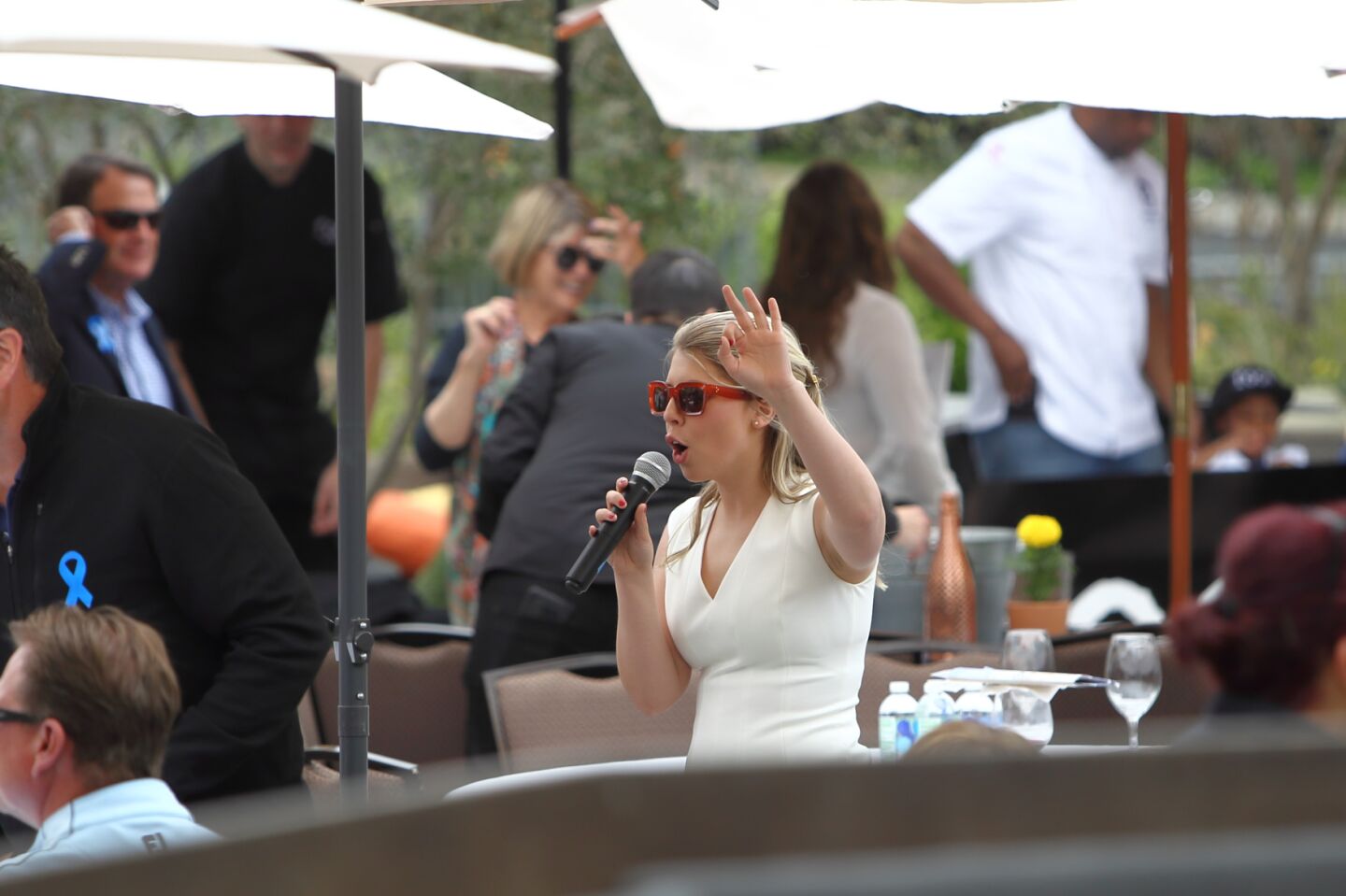 Auctioneer Anna Couvrette works the crowd
(Jon Clark)
Personal chef Kevin Llorente prepares grilled shrimp
(Jon Clark)
Personal chef Kevin Llorente prepares grilled shrimp
(Jon Clark)
The Golden Door's executive chef Gregory Frey
(Jon Clark)
Another successful "Meet the Chefs" event at the Del Mar Hilton supports the progams of Casa de Amparo
(Jon Clark)
Bill and Joann Kolt, Dana Savage, Ryan Fien, Kristina and Al Owens
(Jon Clark)
The band "No Country for Old Men" provided musical entertainment on the patio
(Jon Clark)
Jane Punzal and Chef Ed Batuigas from Lutchi & Mary Filipino Restaurant
(Jon Clark)
Aaron, Francisco, and Chef Luis from Tommy's Urban Kitchen & Bar
(Jon Clark)
Vista Valley Country Club's executive chef Marlaw Seraspi makes San Diego Tuna Poki
(Jon Clark)
John and Tiffany Garcia, Rick Huffman
(Jon Clark)
Vista Valley Country Club's executive chef Marlaw Seraspi makes San Diego Tuna Poki
(Jon Clark)
Dessert offerings from Pamplemousse Grille
(Jon Clark)
Jerry and Sharon Stein, Michael Barnett (CEO, Casa de Amparo)
(Jon Clark)
Heather Self, catering chef, from Pamplemousse Grille
(Jon Clark)
Chef Randy Gruber from Americana Restaurant
(Jon Clark)
Doug and Cathy Moore
(Jon Clark)
Barbie Spinazzola, John and Debbie Giaquinta
(Jon Clark)
The band "No Country for Old Men" provided musical entertainment on the patio
(Jon Clark)
Jose Morales, Heather Self, Maggie Obrist, Chef Jeffrey Strauss, and Forest Federle from Pamplemousse Grille
(Jon Clark)
Thea Copeland, Trish Greeley
(Jon Clark)
Chef James Garcia from Coastal Kitchen
(Jon Clark)
Dessert offerings from Pamplemousse Grill
(Jon Clark)
Chef Emerson Rosales from Dolce
(Jon Clark)
Caryn Leventhal, Michelle D'Elia
(Jon Clark)
Casa de Amparo's 25th Annual Meet the Chefs event took place April 10 at the Hilton Del Mar. The popular event raises funds that directly benefit Casa de Amparo's programs that service foster youth in San Diego County. The event provides guests the opportunity to sample a variety of food from renowned San Diego restaurants. Visit www.casadeamparo.org for more information on Casa de Amparo and its services.
Photos by Jon Clark
---
Get the Del Mar Times in your inbox
Top stories from Carmel Valley, Del Mar and Solana Beach every Friday for free.
You may occasionally receive promotional content from the Del Mar Times.