2022 Memorial Day Ceremony held in Solana Beach
Danielle Jernigan, Collin Farrar (Mira Mesa High School student/Air Force Junior ROTC member; special guest speaker), Alma and Julian Gonzales (he's VFW Post 5431 Commander and program emcee)
(Vincent Andrunas)
Solana Beach Mayor Lesa Heebner giving Official City Welcome and Remarks
(Vincent Andrunas)
Julian Gonzales (program emcee and VFW Post 5431 Commander)
(Vincent Andrunas)
Veterans Steven Ellwood and George Townsend
(Vincent Andrunas)
Randy Treadway, representing POW/MIA
(Vincent Andrunas)
Solana Beach Mayor Lesa Heebner giving Official City Welcome and Remarks
(Vincent Andrunas)
The Santa Fe Christian Schools Band
(Vincent Andrunas)
Shannon Bradley delivering Proclamation from Congressman Mike Levin
(Vincent Andrunas)
Presentation of the Colors by Camp Pendleton Young Marines
(Vincent Andrunas)
Collin Farrar (Mira Mesa High School student and Air Force Junior ROTC member; special guest speaker)
(Vincent Andrunas)
Daniel and Janet Escobedo, Lova Drake, Bob Stillman, Sue Rodrigues
(Vincent Andrunas)
"Feathers from Heaven" (release of the doves), provided by Joe and Leslie Irwin
(Vincent Andrunas)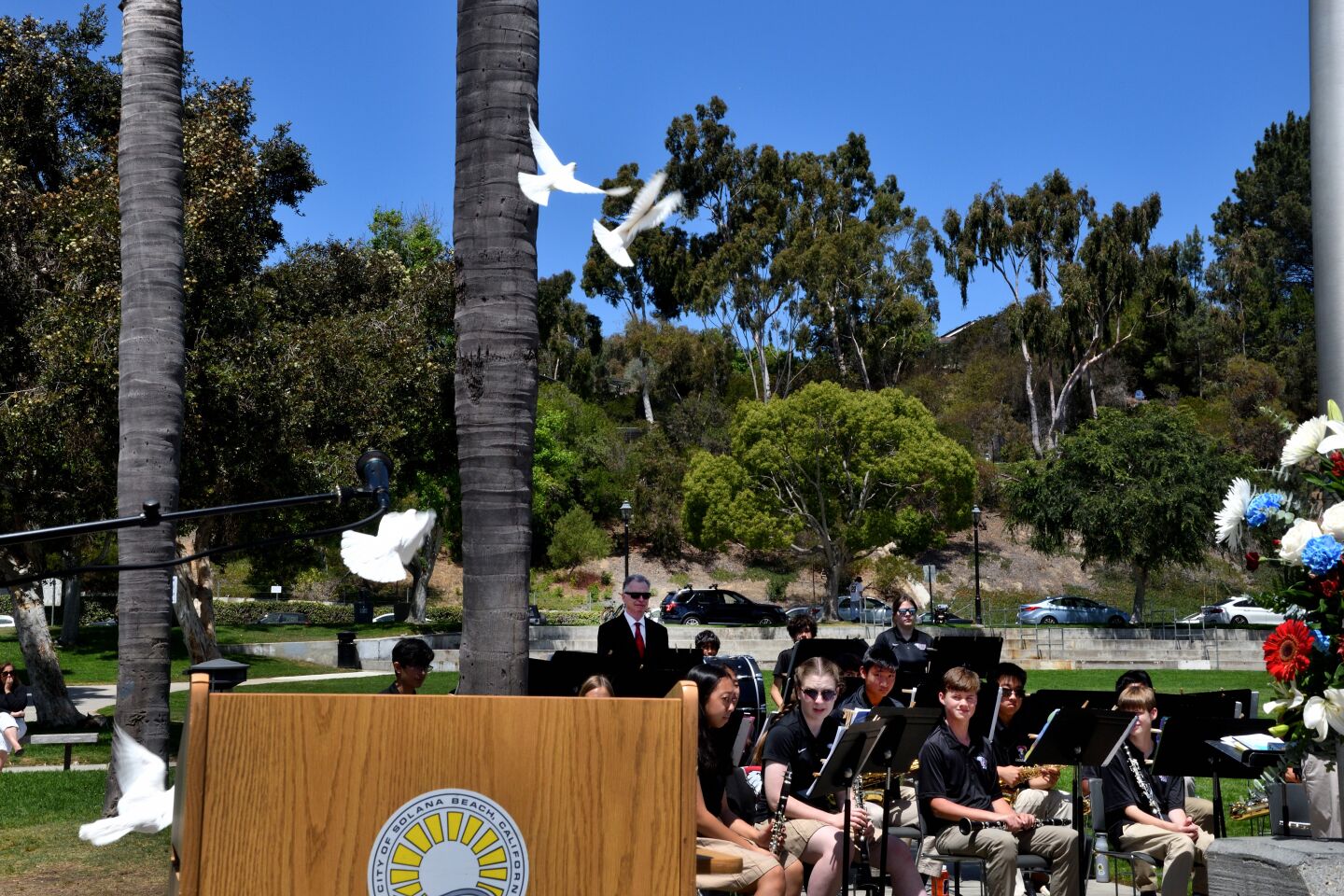 "Feathers from Heaven" (release of the doves), provided by Joe and Leslie Irwin
(Vincent Andrunas)
Gregg Ichabod Blankenship and Linda Blankenship, William Southall, Daniel Rojo
(Vincent Andrunas)
Audience attending program
(Vincent Andrunas)
Audience attending program
(Vincent Andrunas)
Julian Gonzales (program emcee and VFW Post 5431 Commander)
(Vincent Andrunas)
Randy Treadway, representing POW/MIA
(Vincent Andrunas)
Danielle Jernigan, Collin Farrar (Mira Mesa High School student/Air Force Junior ROTC member; special guest speaker), Alma and Julian Gonzales (he's VFW Post 5431 Commander and program emcee)
(Vincent Andrunas)
Kelly Harless (Solana Beach city council member and Deputy Mayor), Judy Hegenauer (former Solana Beach city council member and former Deputy Mayor), Kristi Becker (Solana Beach city council member and former Deputy Mayor), Tina Zucker
(Vincent Andrunas)
Heritage Museum docents Kathalyn Nelson and Phyllis Schwartzlose, with visitor Terri Andrews
(Vincent Andrunas)
Collin Farrar (Mira Mesa High School student and Air Force Junior ROTC member; special guest speaker)
(Vincent Andrunas)
The Santa Fe Christian Schools Band
(Vincent Andrunas)
Ron Rodriguez delivering invocation
(Vincent Andrunas)
Ron Rodriguez delivering invocation
(Vincent Andrunas)
Solana Beach Mayor Lesa Heebner giving Official City Welcome and Remarks
(Vincent Andrunas)
Presentation of the Colors by Camp Pendleton Young Marines
(Vincent Andrunas)
The City of Solana Beach and Veterans of Foreign Wars Post 5431 co-hosted a 2022 Memorial Day Ceremony May 30 at the La Colonia Park Veterans Honor Courtyard. The event included: participation by Camp Pendleton Young Marines Color Guards; the Santa Fe Christian School Band performed patriotic songs; "Feathers From Heaven" doves were released; the Veterans Memorial wall honoring Solana Beach Veterans of Foreign Wars was available for viewing, and more.
Photos by Vincent Andrunas
Get the Del Mar Times in your inbox
Top stories from Carmel Valley, Del Mar and Solana Beach every Friday for free.
You may occasionally receive promotional content from the Del Mar Times.