Torrey Pines High School Scholarship Fund 2022-2023 Awards Ceremony
The TPHS Scholarship Fund recipients - Class of 2023

(Photos courtesy of TPHS Scholarship Fund, Allie Hund, Ava Coyne and Lily Coyne
)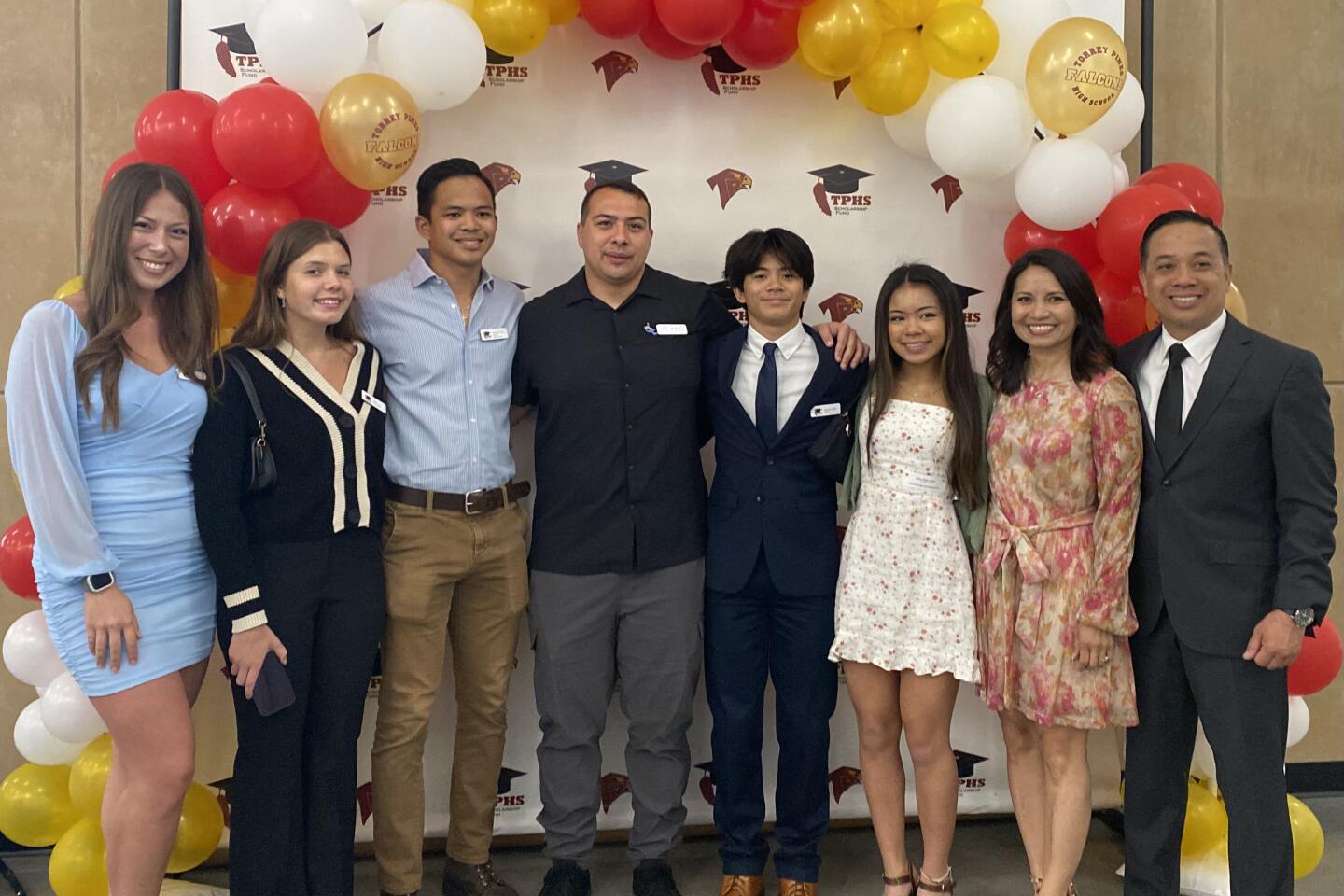 Amanda Lee, Anna Velychko, Alumni Michael Cava (2020), TP Wrestling Coach Wes Lee Jr., Usher Jacob Cava, Senior Kylie Cava, Co-President Virna Cava and husband Michael Cava introduce the inaugural Wesley Lee Memorial Scholarship

(Photos courtesy of TPHS Scholarship Fund, Allie Hund, Ava Coyne and Lily Coyne
)
TPHS Scholarship Fund Board 2023: Back row: Stacie Hurtado, Mia Rubin, Kim Klekota, Teena Coyne, Tyneal Simon, Jeff Dugdale, Gail Hund, Caryn Mandell, Julie Sherlock; Middle row: Leah Jackson, Peter Chen, Allison Hamilton, Jill Meltzer, Vanessa Smythe; Front row: Annie Chen, Heather Dugdale, Virna Cava, Bhuvana Ramanathan, Kara Hettinger, Laura Farjood

(Photos courtesy of TPHS Scholarship Fund, Allie Hund, Ava Coyne and Lily Coyne
)
Mariza Cruz Antonio presents her Resilience Scholarship to Carson Kuehnert. Mariza handcrafted hundreds of the beautiful TPHS graduation leis to fundraise for scholarships.

(Photos courtesy of TPHS Scholarship Fund, Allie Hund, Ava Coyne and Lily Coyne
)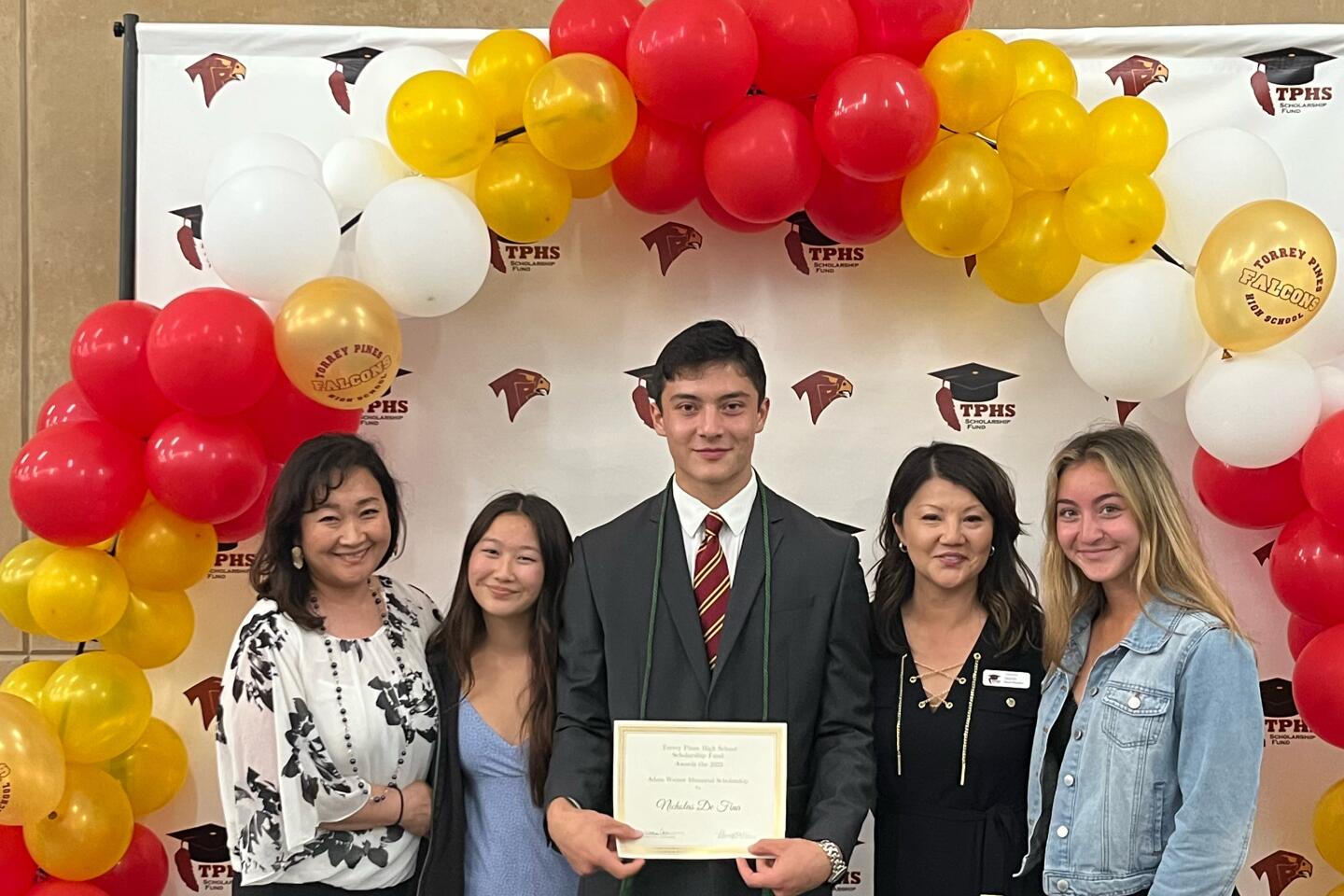 Charcuterie Cups Dream Team led by Teena Coyne



(Photos courtesy of TPHS Scholarship Fund, Allie Hund, Ava Coyne and Lily Coyne
)
Alumni and Donor Concordia with mother Co-Treasurer and Advisor Annie Chen presents the Mei Ching Wu Memorial Scholarship to Aleyna Laba and Selina Mejia

(Photos courtesy of TPHS Scholarship Fund, Allie Hund, Ava Coyne and Lily Coyne
)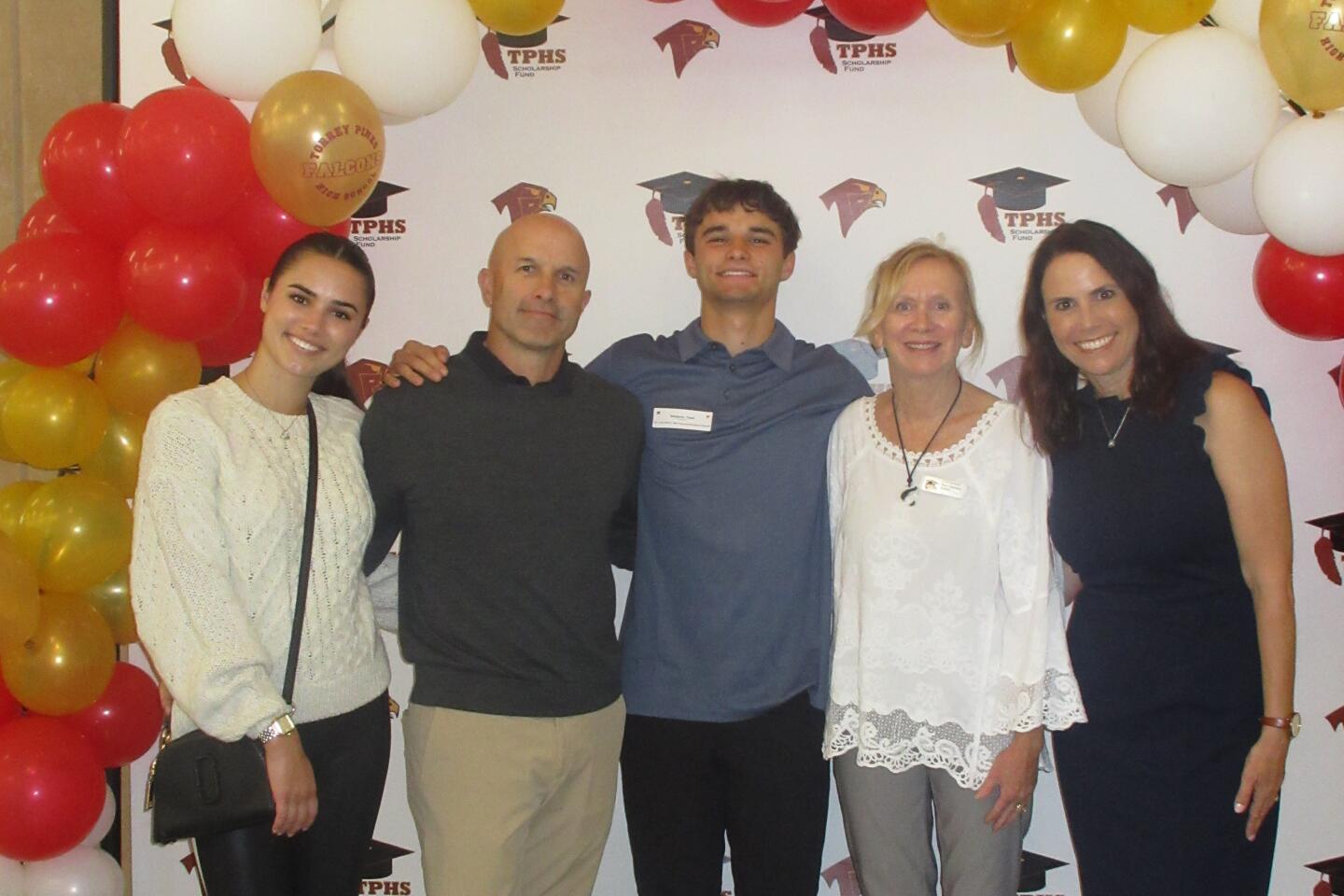 Julie Sherlock presents the Wells Fargo Home Mortgage Scholarship to Benjamin Trask

(Photos courtesy of TPHS Scholarship Fund, Allie Hund, Ava Coyne and Lily Coyne
)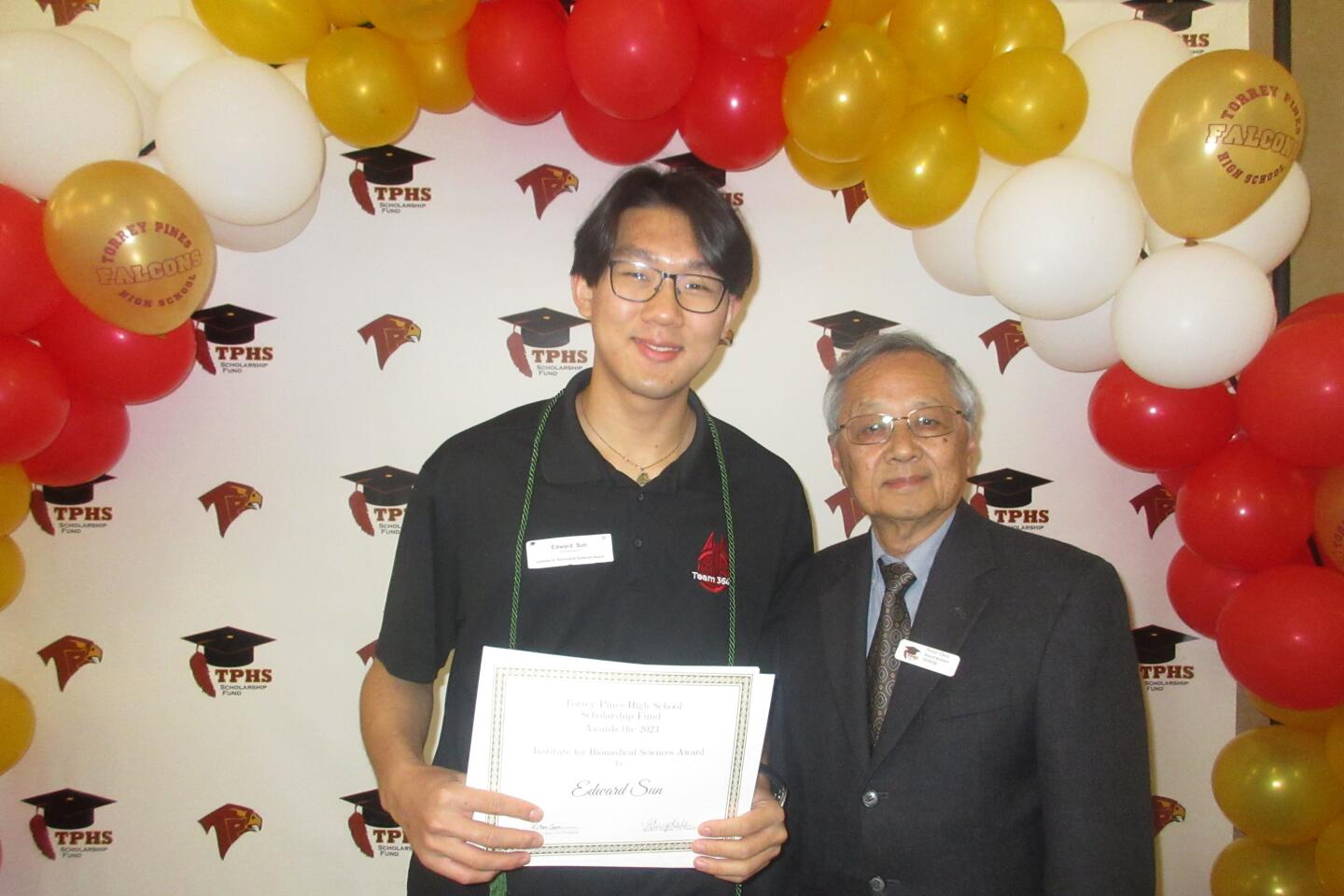 Peter Chen presents the Institute for Biomedical Sciences Award to Edward Sun
(Photos courtesy of TPHS Scholarship Fund, Allie Hund, Ava Coyne and Lily Coyne
)
Co-President Heather and husband Board Member Jeff Dugdale present the Possible Dream Memorial Scholarships to Dominik Bartsch, Ryan Niemeyer and Vivien Vu

(Photos courtesy of TPHS Scholarship Fund, Allie Hund, Ava Coyne and Lily Coyne
)
Peter Chen has been a board member for 30 years

(Photos courtesy of TPHS Scholarship Fund, Allie Hund, Ava Coyne and Lily Coyne
)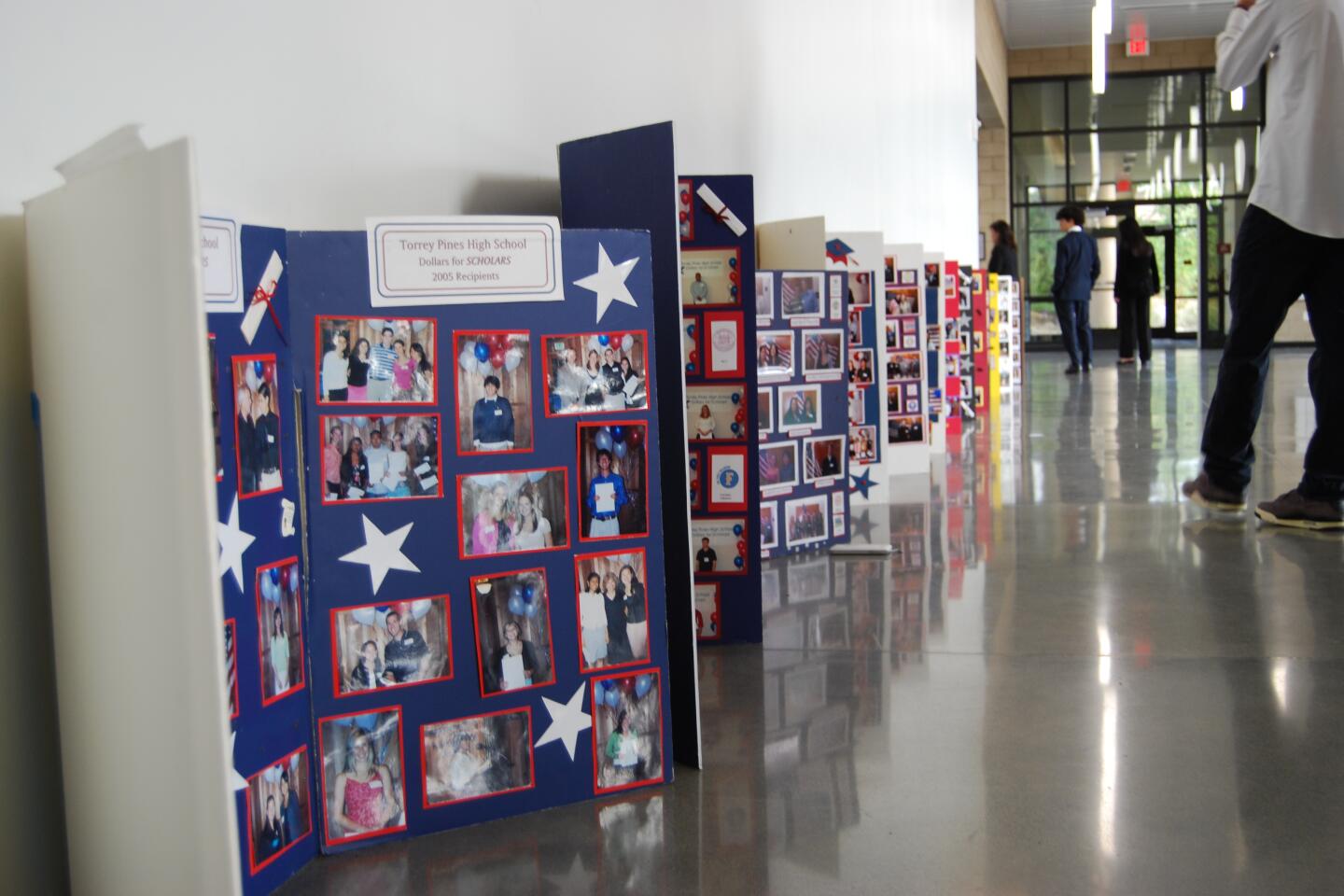 TPHS scholarship poster boards (Photos courtesy of TPHS Scholarship Fund, Allie Hund, Ava Coyne and Lily Coyne
)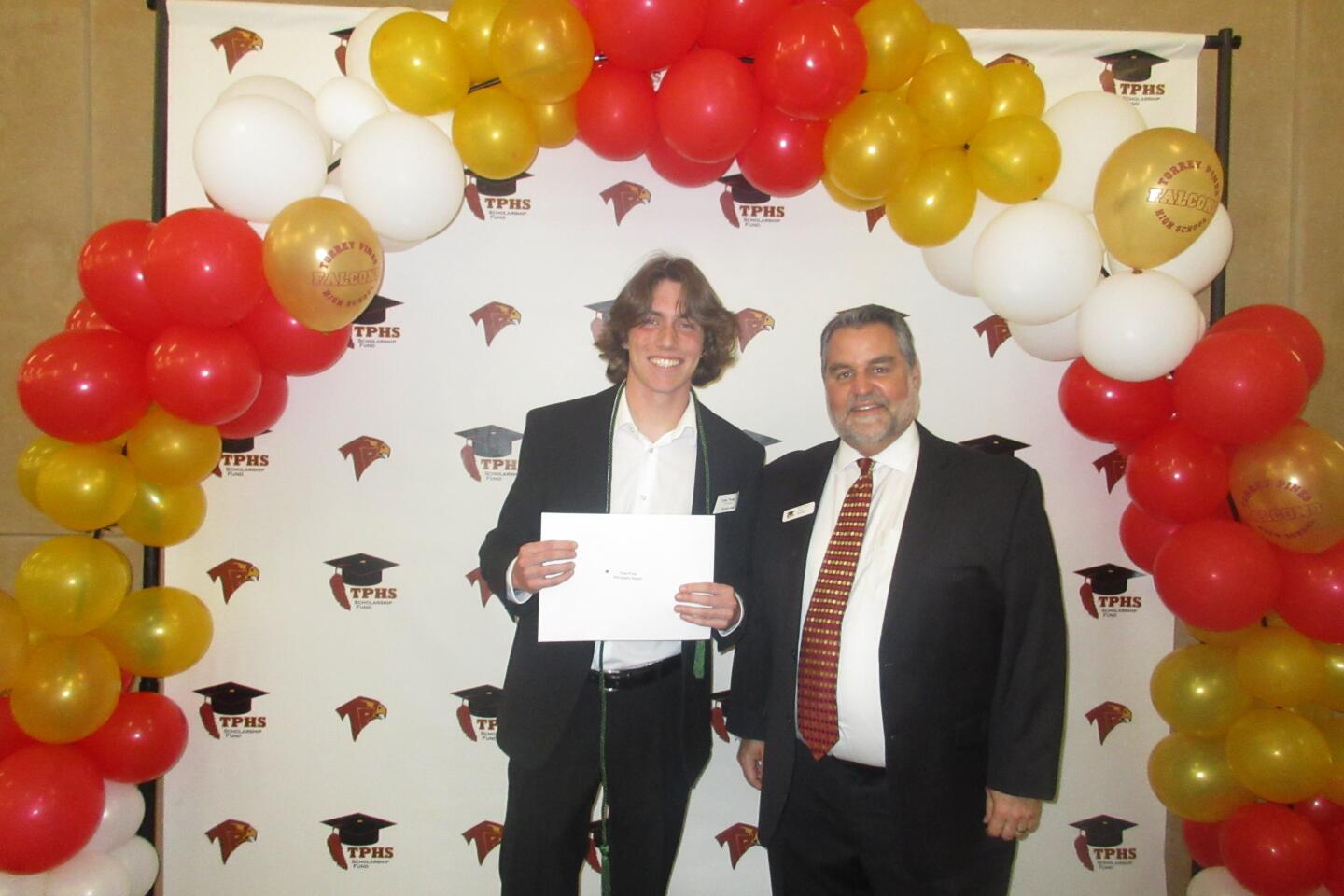 Principal Rob Coppo presents the Principal's Award to Cole Frost
(Photos courtesy of TPHS Scholarship Fund, Allie Hund, Ava Coyne and Lily Coyne
)
Founder Sandy Parrish awards Gabriela Sanchez

(Photos courtesy of TPHS Scholarship Fund, Allie Hund, Ava Coyne and Lily Coyne
)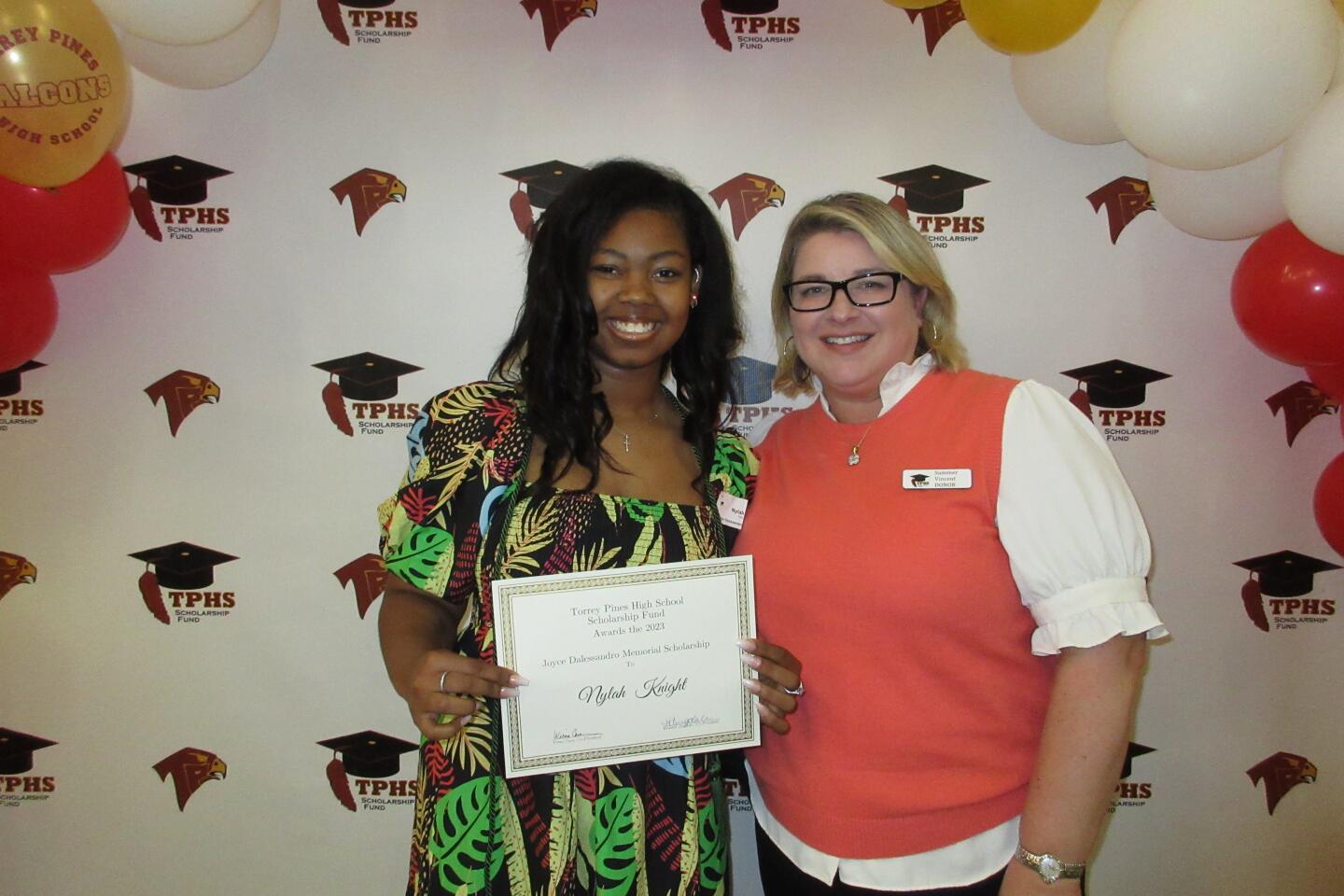 Summer Dalessandro Vincent presents the Joyce Dalessandro Memorial Scholarship to Nylah Knight
(Photos courtesy of TPHS Scholarship Fund, Allie Hund, Ava Coyne and Lily Coyne
)
Sean and Cathie Canepa present the Sean Alexander Canepa Memorial Scholarship to Tanner Castellano

(Photos courtesy of TPHS Scholarship Fund, Allie Hund, Ava Coyne and Lily Coyne
)
The Torrey Pines High School Scholarship Fund held its 2022-2023 Awards Ceremony May 16 at the TPHS Performing Arts Center. The nonprofit organization's mission is to "recognize Torrey Pines High School seniors for their achievements and future promise, and money raised by community volunteers goes directly to the students to continue their education beyond high school." Visit tphssf.org for more information. Photos on this page were taken at the event by TPHS Scholarship Fund members and students Allie Hund, Ava Coyne and Lily Coyne.
Award recipients are listed below:
Scholarships:
Principal's Award: Cole Frost
Mariza Antonio Resilience Scholarship: Carson Kuehnert
Falcon Alumni & Families Award: Stephanie Espinoza Perez, Colin Poe, Ryan Wittenberg
Community & Business Scholarships
Founder's Award: Gabriela Sanchez
Optimist Club of Del Mar-Solana Beach Award: Karen Conde
Gary & Jerri-Ann Jacobs Family Award: Faith Bigelow
Hansen Surfboards Scholarship: Laura Rucks, Ava Sassen
Reflow Medical Inc Award: Kelly Hu, Madeleine Ren, Andrew Tsai
Pretorius Physician Award: Lindsay VanWinkle
Tri Pointe Homes Award: Honoka Kato, Dominika Janik, Karina Janik, Morgan Johnson
Keane Studios Award: Erick Sliter
Community Award: Colten Farrell
Dan & Julie Sherlock/Wells Fargo: Benjamin Trask
Home Mortgage Scholarship Institute for Biomedical Sciences Award: Edward Sun
Memorial Scholarships
Possible Dream Memorial Scholarship: Dominik Bartsch, Ryan Niemeyer, Vivien Vu
Nicolas Leslie Memorial Scholarship: Everett Alden
Hou I Wu Memorial Scholarship: Christine Tsu, Taisiya Rubtsova
Mei Ching Wu Memorial Scholarship: Aleyna Laba, Selina Mejia
Rajeswari Anantha Memorial Scholarship: Audrey Adam and Jasmine Gau
Pranav Nookala Memorial Scholarship: Mona Lingenbrink, Warren Notrica
Wendy Montini Memorial Scholarship: Hannah Meltzer
John Pinto Memorial Scholarship: Elise Kylie Cava
Kit Moffett Memorial Scholarship: Alyssa Wakefield
Erik Johnson Memorial Scholarship: Emmalee Lazarus
Stella Chung Memorial Scholarship: Sri Vidya Ujjini Havildar
Janet Lamborghini Memorial Scholarship: Lucas Levenberg
Julian Spitzer Memorial Scholarship: Ron Tal
Adam Weiner Memorial Scholarship: Nicholas De Fina
Wesley Lee Memorial Scholarship: Cole Nakata
Jim Temples Memorial Scholarship: Marissa Gaut
Scott Chodorow Memorial Scholarship: Paloma Ezzet, Juan Manuel Serrano
Sean Alexander Canepa Memorial Scholarship: Tanner Castellanos
Susan Pfleeger Memorial Scholarship: Analis De La O
Joyce Dalessandro Memorial Scholarship: Nylah Knight
Get the Del Mar Times in your inbox
Top stories from Carmel Valley, Del Mar and Solana Beach every Friday for free.
You may occasionally receive promotional content from the Del Mar Times.