Del Mar Foundation hosts 2023 4th of July Parade
Del Mar City Council members and junior lifeguards lead the parade
Del Mar Independence Day Parade 2023
(Photos by Jon Clark)
Del Mar Independence Day Parade 2023
Del Mar Mayor Tracy Martinez (fourth from left) leads the Pledge of Allegiance
The Rizzo family and the Rusthoven family
Del Mar City Council members and junior lifeguards lead the parade
Del Mar firefighters Giovanni Maniscalco, Brian Crain, and Austin Alexander with Motor Deputy Sheriff Jason Yunk
(jon clark)
The Rizzo family and the Rusthoven family
(jon clark)
The president of the Del Mar Foundation welcomes residents and friends to the July 4th festivities
(jon clark)
The Bonfilio family
(jon clark)
Asher and Chance Mims with dog Hunter
(jon clark)
The Davis family and friends
(jon clark)
Del Mar Junior Lifeguards
(jon clark)
The Lancaster family
(jon clark)
Families and friends gather for the parade
(jon clark)
The Stepchew family
(jon clark)
The Nicoud family
(jon clark)
The Fletcher family
(jon clark)
Gus Ramos, Bill Morris
(jon clark)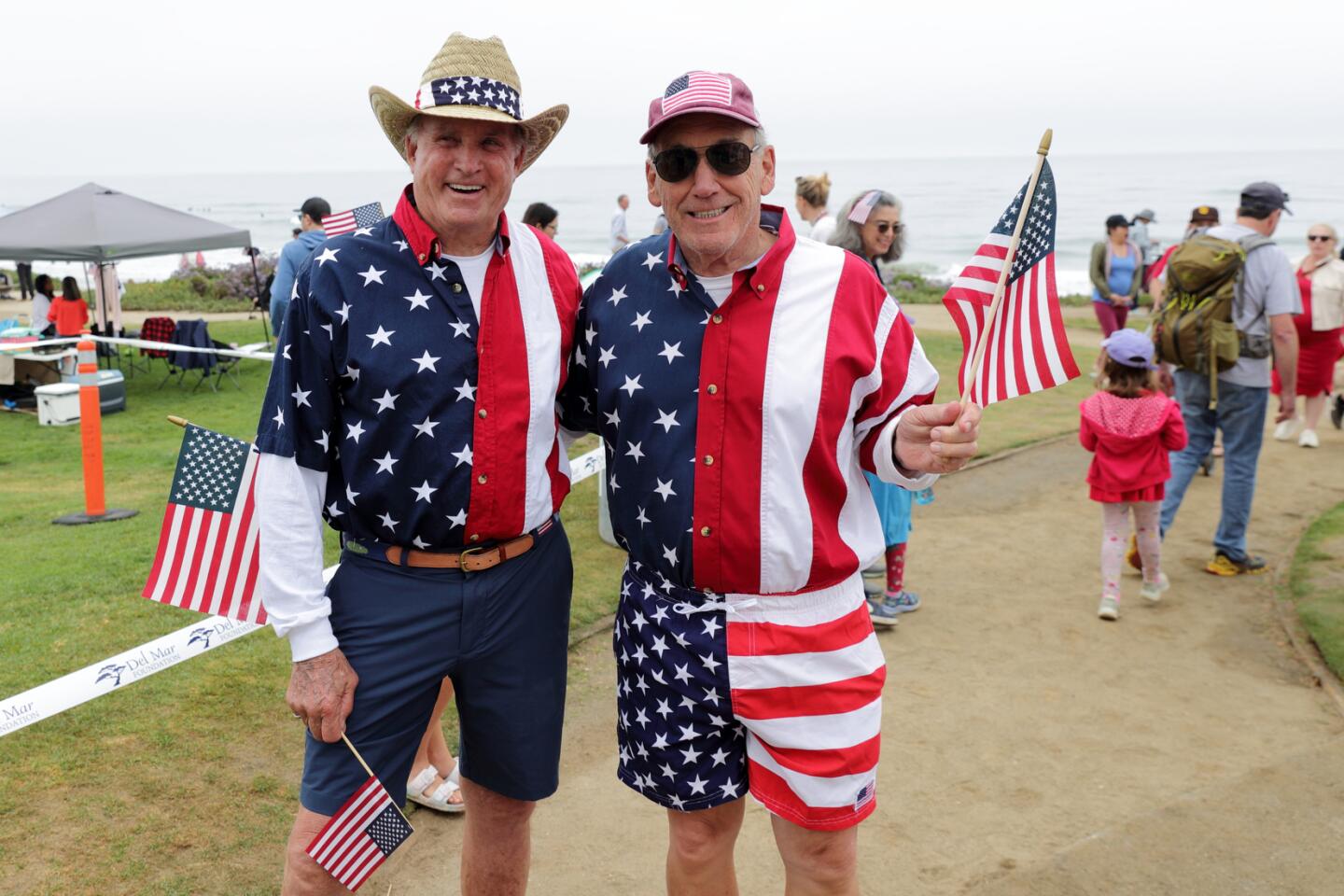 John Snyder, David Klose
(jon clark)
Del Mar Independence Day Parade 2023
(jon clark)
Del Mar Independence Day Parade 2023
(jon clark)
Del Mar Independence Day Parade 2023
(jon clark)
Del Mar Independence Day Parade 2023
(jon clark)
Del Mar Independence Day Parade 2023
(jon clark)
The Watts family
(jon clark)
Del Mar Independence Day Parade 2023
(jon clark)
The Nolen-Batter family and friends
(jon clark)
Jeff Kelley, Huck Wilson
(jon clark)
Joanne Sharp, Suzi Resnik, Linda Chisari
(jon clark)
Nina Detrow, Anna Wolf
(jon clark)
The Heine family
(jon clark)
Abigail, Elizabeth, and Zach Rubin (Uncle Sam) with council member Dave Druker
(jon clark)
Nikia, Eloise, and Bruce Birkel, JJ Cason
(jon clark)
The Lancaster family
(jon clark)
Harold and Olivia Kosakoff
(jon clark)
Families and friends gather for the parade
(jon clark)
Del Mar locals lead the National Anthem
(jon clark)
Alan Wittgrove, Mayor Tracy Martinez, Zach and Elizabeth Rubin, council member Terry Gaasterland, Karl Willert, Abigail Rubin
(jon clark)
Del Mar City Council members and junior lifeguards lead the parade
(jon clark)
Stan Marks, Dwight Worden (City Council), Betty Wheeler (Del Mar Foundation)
(jon clark)
Alan Wittgrove, Mayor Tracy Martinez, council member Terry Gaasterland, Karl Willert
Rolande Fyfe, Lois Lund
(jon clark)
The Del Mar Foundation presented the 2023 4th of July Parade at Powerhouse Park in Del Mar. In addition to a patriotic and festive parade celebrating Independence Day participants enjoyed light refreshments and more after the parade.
Photos by Jon Clark

Get the Del Mar Times in your inbox
Top stories from Carmel Valley, Del Mar and Solana Beach every Friday for free.
You may occasionally receive promotional content from the Del Mar Times.