Del Mar resident espouses support of San Diego Humane Society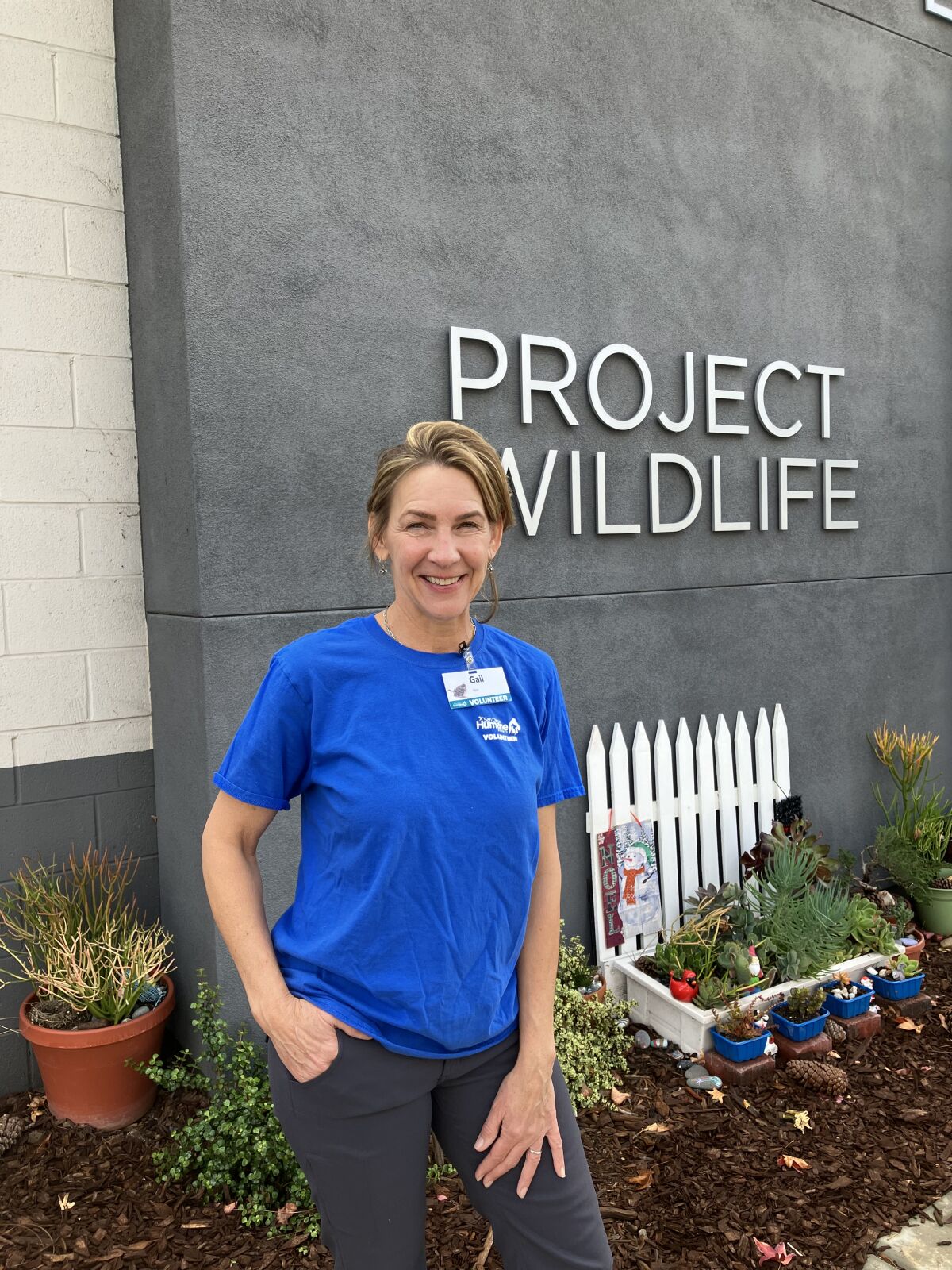 Gail Eyler promotes holiday donations and volunteers her time at wildlife center
Del Mar resident Gail Eyler thought up a unique idea for raising money during the last holiday season and in the future for the San Diego Humane Society.
Rather than the traditional gift-giving ritual, Eyler and her husband donated the money they would have spent on presents to the society and urged friends and family members to do the same.
Eyler, a volunteer and board trustee with the organization, plans to continue promoting the concept on birthdays, holidays and other celebrations during which gifts are typically exchanged.
"My husband and I told our kids who are grown up now that we really prefer donations for gifts," she said in a recent interview at the Del Mar Plaza. "It's a win-win. They don't have to figure out what to buy. They don't have to ship (gifts) and spend money doing that.
"We encourage other people to do the same because it benefits the Humane Society and the animals. The Humane Society gets a lot of donations and a lot is needed with the amount of animals they care for. I think for our family and friends, it was very successful. It was a great windfall for the organization."
Brian Daugherty, the society's senior vice president and chief philanthropy and communications officer, said Eyler has proved to be a vital contributor to the agency's activities.
"Gail's contributions to (the) San Diego Humane Society go well beyond the remarkable experience and background she brings as a board member," Daugherty said. "She's a leader in every sense of the word and values making an impact with her time (and) talent ... wherever she can."
Supporting a cause that involves the protection of both domesticated and wild animals is a natural for Eyler.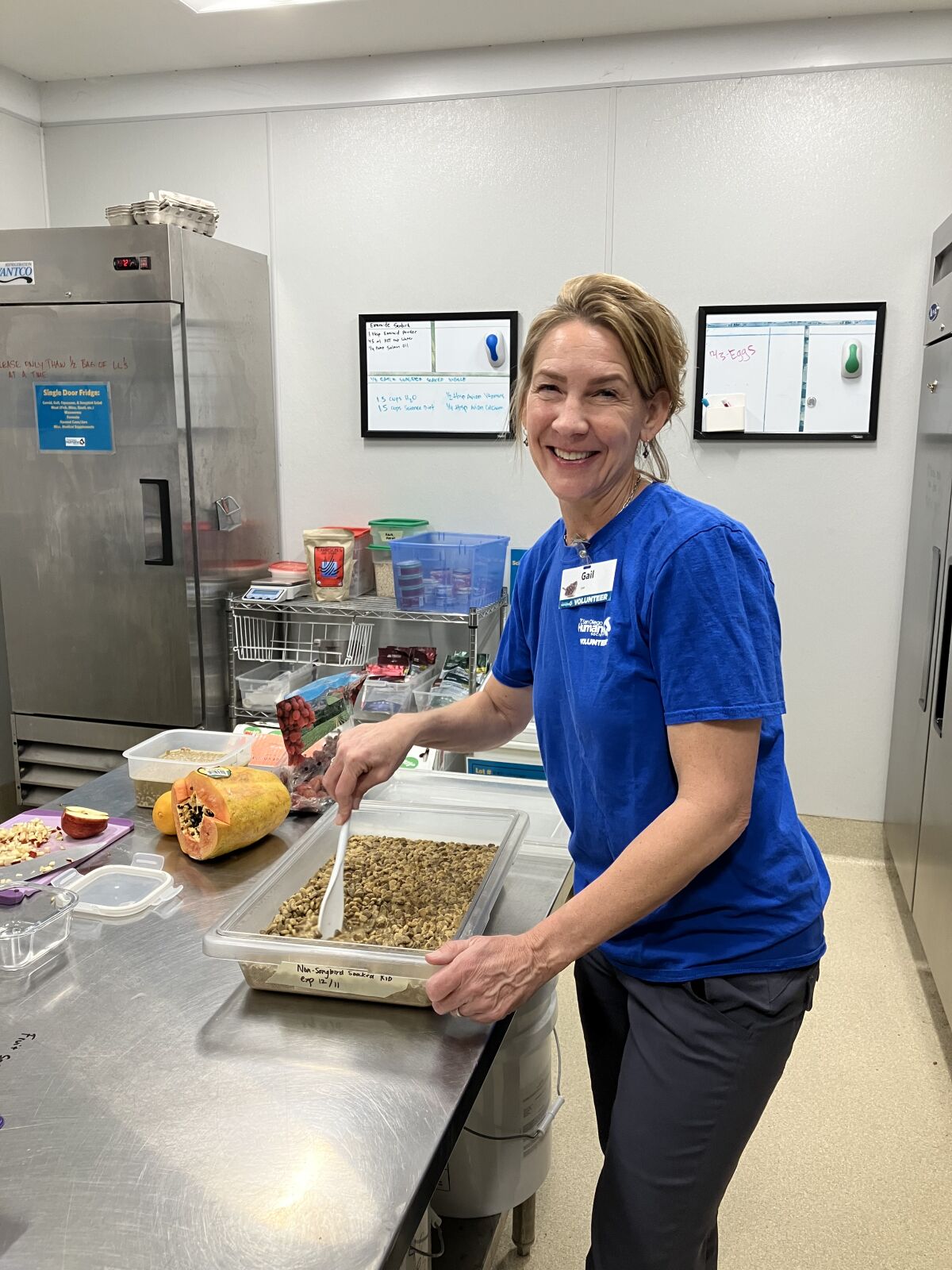 Growing up in the rural Illinois town of Naperville, Eyler was surrounded by farms and woods and the creatures living there.
"I've always had a passion for nature and animals," she said. "We had dogs, we had hamsters, we had gerbils, we had salamanders because we lived pretty rural. We had the cows behind us on the farm. We had the horses on the farmer's property behind us.
"We also traveled as kids with my family. We went to all the national parks. It was just an innate thing. I did my third grade report on panda bears and today it's still my favorite animal."
When she and her husband moved from New York's Hudson River Valley to Del Mar five years ago, she already had been involved in the World Wildlife Fund and remains vice-char on its national council.
After the move to Del Mar, Eyler said, she and her husband John were introduced to Scripps Institution of Oceanography and became co-chairs on Scripps' Birch Aquarium board.
"We just find (the region) very Midwest-friendly and it's been easy to get involved with organizations and in the community," Eyler said. "What's nice about that is you meet more people. When you get involved in something you're passionate about it, you meet a lot of like-minded people."
At the society's headquarters on Gaines Street in San Diego's Morena district, Eyler volunteers for a couple of hours once a week at the Pilar & Chuck Bahde Wildlife Center. Project Wildlife is the county's primary resource for wild animal rehabilitation and conservation education, society representatives said.
Eyler is one of about 200 volunteers at the center, which last year cared for 12,612 wild animals, according to the society's website.
"Their mission is to return animals to the wild," Eyler said. "I started with the wildlife center because my true love is wildlife. Project Wildlife alone takes care of (thousands) of animals a year and that's anything from raccoons to squirrels to bears to raptors to songbirds. There's a great, great need."
In all, the society has five shelters regionwide, which in addition to San Diego are located in Oceanside, Escondido, El Cajon and Ramona. The society supplies shelter services for North County coastal cities from Del Mar to Oceanside, plus Camp Pendleton.
The Ramona Wildlife Center opened in 2020, specializing in care for native predators and birds of prey, including hawks, owls, eagles, coyotes, bears, bobcats and mountain lions.
Last year, the organization admitted 44,483 animals into care and placed 29,474 pets into homes. Its officers responded to 38,696 calls, accorded to the society's website.
Eyler hopes at some point to help out with the pets across the street at the shelter, especially during the birthing season when demand for help increases.
She acknowledges she can't work in the cat room because she is severely allergic to their hair, as well as horses.
At the wildlife center, she does such chores as laundry, stacking supplies and preparing food for the animals.
"I love the people there," she said. "The staff is amazing and the other volunteers are amazing."
In addition to donating and volunteering at the wildlife center, Eyler, with her husband's support, participates in other Humane Society promotions, including the fundraising Walk for Animals.
Walk for Animals, North County, is scheduled Feb. 25 at Kit Carson Park in Escondido. Walk for Animals, San Diego, is set for May 6 at NCT Park in Liberty Station, Point Loma. Information is available at www.sdwalkforanimals.org.
"My husband and I volunteered for that event (previously) and we probably flipped 3,000 pancakes," she said. "There were a lot of UCSD students who volunteered. Some of them, I don't think, had ever flipped pancakes in their lives."
Said the society's Daugherty: "Whether it is advocating for us in the community, flipping pancakes at our Walk for Animals, or cleaning enclosures at Project Wildlife, we can always count on Gail to be there when we need her and to be there with a smile."
Information on how to donate to the San Diego Humane Society is available at sdhumane.org.

---
Get the Del Mar Times in your inbox
Top stories from Carmel Valley, Del Mar and Solana Beach every Friday for free.
You may occasionally receive promotional content from the Del Mar Times.