Del Mar teen hopes to add to his restoration project on Del Mar bluffs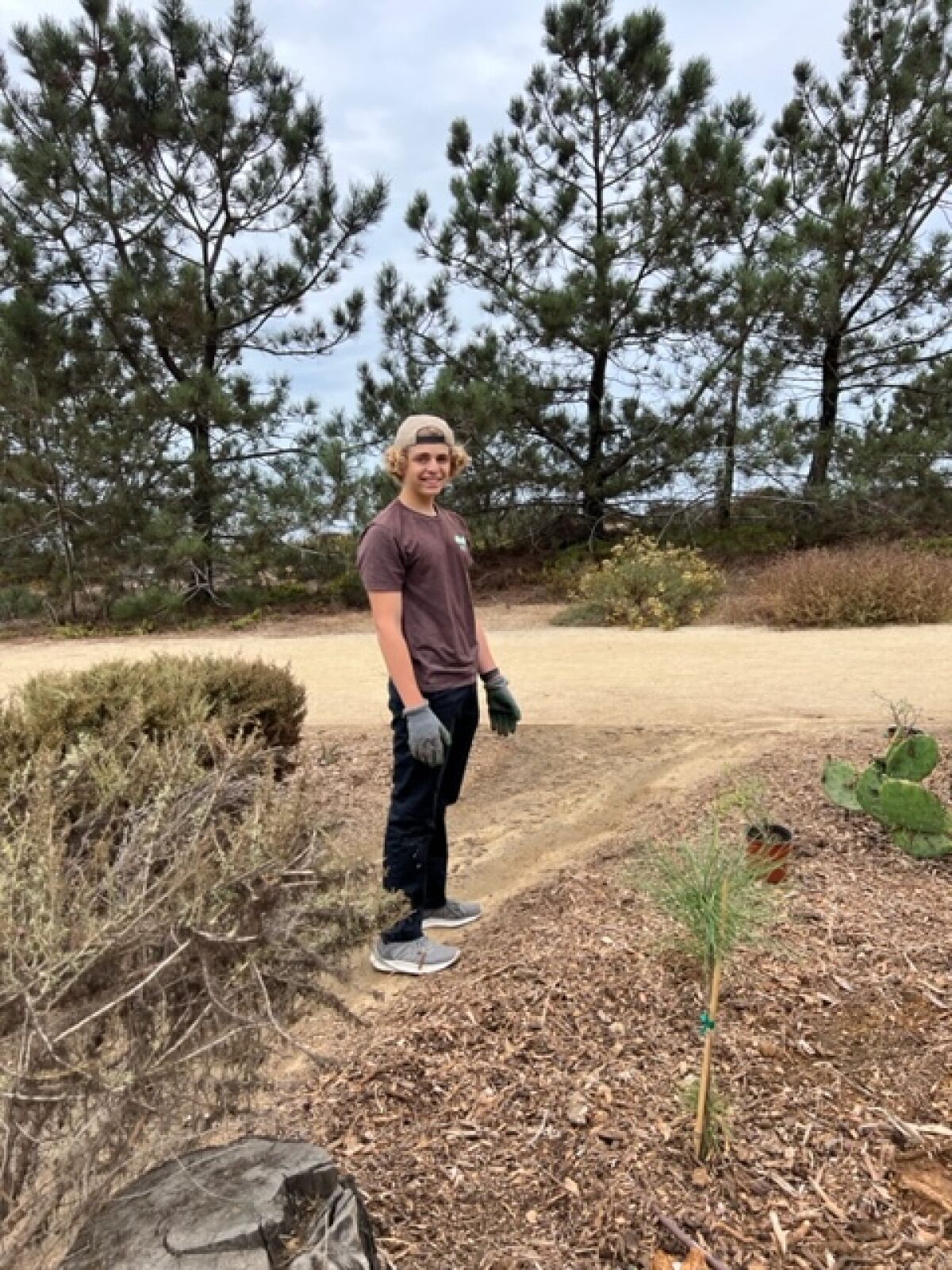 Del Mar native Tyden Chinowsky is dedicated to protecting the native plants, wildlife and open spaces of his hometown with his nonprofit Native Del Mar.
In February, Tyden went before the Del Mar Parks and Recreation Committee with the idea of expanding on his Adopt a Spot project on the bluffs of Del Mar Canyon Preserve (also known as Anderson Canyon) on Camino Del Mar, the area he gave new life to in 2020 and has been helping to flourish ever since.
Now a junior at Francis Parker School, Tyden was 13 when he started this effort to give back as a Bar Mitzvah project. It eventually grew into the Del Mar Native nonprofit with help from his father Steve.
Through the city's Adopt a Spot program, he picked his spot for his preservation work on the bluffs off Camino Del Mar, near the red-tailed hawk carved out of a dead Torrey pines. With its scenic views of Torrey Pines State Beach, it was a place he had admired from his surfboard and also by land. It took him a year to get through the permitting and approval process with the city and Coastal Commission.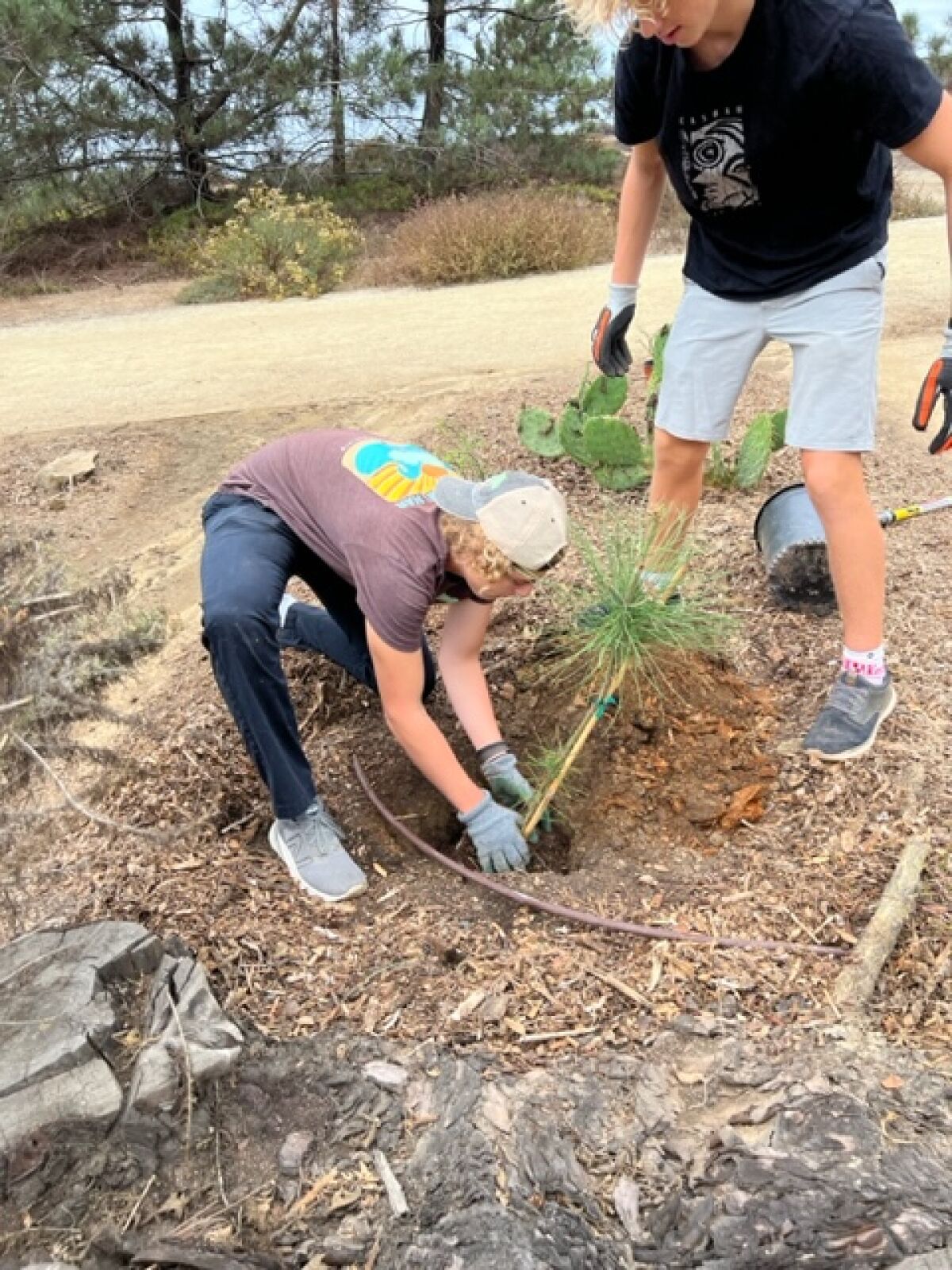 To help rehabilitate the area, he removed invasive species and planted native plants including Torrey pines, Shaw agaves and the very rare Del Mar manzanita. He created pathways for people to meander through and added boulders for interest. Since completing the restoration in January 2020 he has been taking great care of his spot.
For his expansion, which he is just at the beginning stages of, he would like for his project to continue down to the light that connects Torrey Pines Road to Camino Del Mar. He aims to get rid of non-native vegetation, extend the walking path and add more native plants. His plans also include integrating a chess board table for people to sit and stay awhile, to give it a little ambiance.
"It's pretty and we can fix it up and rehabilitate that land to be more immersive and available for the community," Tyden said.
Over the past year with Native Del Mar, Tyden has hosted volunteer planting events with groups such as Female Athlete Volunteers and his local temple Congregation Beth Am. His most recent planting event was on Jan. 29 and the recent rains have really helped the plants thrive.
"I hope to inspire others to work with native plants," Tyden said.
Tyden has also partnered with WIT (Whatever It Takes), a social entrepreneur and leadership program for high school teens, taking part in their coaching program. With WIT's help, he has learned social media techniques, revamped his website and upped his promotion.
"I continue to be impressed by how Tyden takes tangible actions on his ideas," said Sarah Hernholm, founder and president of WIT. "Tyden is also willing to step outside his comfort zone and 'do WIT'. Building a presence on social media wasn't something that came easy to him, but he knew it would help raise awareness and so he started an Instagram and is learning how to grow that account."
On his website and Instagram, he now sells native plant greeting cards to support his efforts, designed and hand-painted by his talented sister Kyla. Profits from sales of the cards will go toward purchasing plants and soil for the Native Del Mar projects he is so committed to.
"I really feel connected to that area, I love surfing and seeing the beautiful views," Tyden said. "It's really for the community…I really want the community to feel connected with the land around them."
Visit nativedelmar.org or follow on Instagram instagram.com/nativedelmarca

Get the Del Mar Times in your inbox
Top stories from Carmel Valley, Del Mar and Solana Beach every Friday for free.
You may occasionally receive promotional content from the Del Mar Times.