At La Clase Mágica benefits are multigenerational and multicultural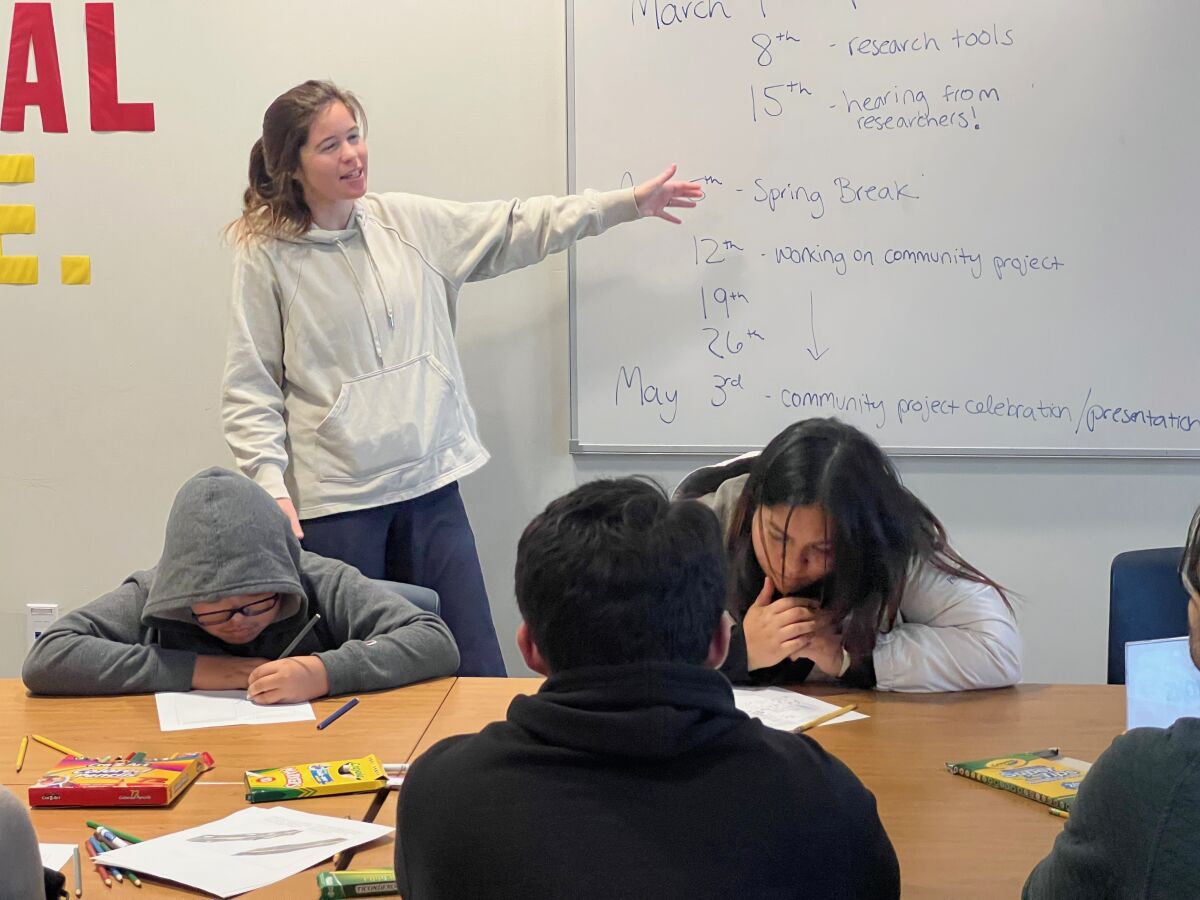 It can be hard to keep track of the many people who benefit from the after-school program at Earl Warren Middle School and Solana Beach Library.
The children—kindergarten through teenage—get homework help, learn leadership, play games and participate in creative, community projects.
Their parents—most of them Spanish speakers—find a safe and welcoming setting and the support they need to involve themselves in their children's educations.
Young adults from UC San Diego's Partners at Learning and College Corps programs can earn academic credits and financial assistance to pay down student loans.
For a UC San Diego professor and her students, the clean and fully-furnished multipurpose room serves as a research laboratory.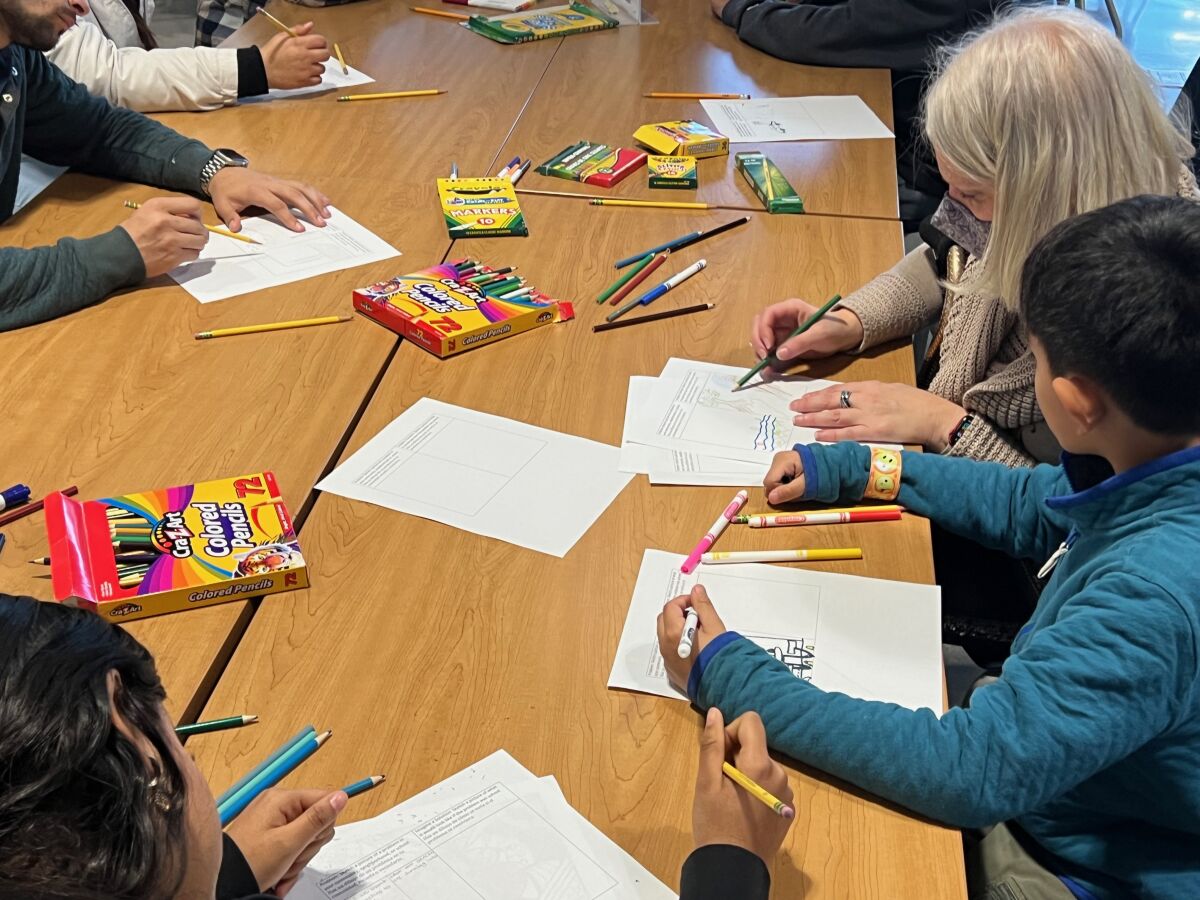 And for community volunteers—a retired pilot, a retired teacher, a physician, to name a few—comes the satisfaction of making a difference for children from low-income households, where language barriers and the need to work multiple jobs challenges parents to provide that most-important ingredient for student success: parental involvement.
You could say all of this is magic, which happens to be the name of the program: La Clase Mágica.
"We have designed La Clase Mágica to serve the entire family," said Manny Aguilar, president of La Colonia de Eden Gardens, Inc., a group that quietly runs social service programs in Solana Beach.
A recent session of La Clase Mágica opens with families and volunteers seated on comfy couches. Director of Education Susanna Romero-Reiss makes announcements and leads a brief, breathing exercise.
Then the gathering of about two-dozen people splits into groups.
Leading one of them is Amy Bintliff, assistant teaching professor from UC San Diego's Department of Education Studies.
On this day, Bintliff spreads a rectangular, plastic tarp onto the floor and herds about a half-dozen kids on top of it. Their challenge: to flip the tarp onto its other side using only their feet and, while doing so, for no kid to step off of the tarp and onto the carpeting, which she calls "hot lava." Once finished, and with no hot lava problems, Bintliff instructs her students to fold the rectangle into a square by using only their feet and taking care to stay out of the hot lava.
With one small tarp and some make-believe lava, students from elementary to university learn a big lesson on teamwork and problem-solving. Mission accomplished.
"We try new things with youth and their families to see how they're responding," Bintliff said.
Elsewhere, the multigenerational and multicultural collaboration spreads into study rooms where community volunteers and students huddle over books.
One volunteer reads Dr. Seuss to a boy wearing a puffy, hooded jacket. Nearby, Mary Jane Boyd, a former school teacher, finishes a lesson with one student and prepares to greet another.
"It's a wonderful experience," Boyd said of the tutoring. "They're all really eager to learn. Just a little individual help is all they need."
About 30 years ago, La Clase Mágica held its first sessions at St. Leo Mission Church. The program moved to the middle school campus in 2022.
Earlier this year, La Clase Mágica's program included robotics and coding in collaboration with students from Westview High School. Today, coding, 3D printing and other STEAM activities continue under the direction of Associate Director of Education Jordan Mora.
Today, under Bintliff's direction, students are laying plans for a community action project geared to prevent pollution at the beach. They'll create art and booklets. They'll hear from one of Bintliff's colleagues, a shark expert who will talk about how pollution affects marine life. And, of course, it will be a project for everyone.
"This community project idea—we're interested in how peers can help each other," Bintliff said. "How can we enable you to see your strength and apply it to real world problems?"
Support La Clase Mágica and learn more at lceg.org. — La Clase Mágica news release
Get the Del Mar Times in your inbox
Top stories from Carmel Valley, Del Mar and Solana Beach every Friday for free.
You may occasionally receive promotional content from the Del Mar Times.