Kitchen Shrink: Mother's Day breakfast treats tailor-made for moms of all tastes
Mothers — both real and fictional — throughout the ages have been treasured, adored and honored since the ancient Greeks held spring festivals to worship Rhea, Mother of the Gods.
On Sunday, May 14, treat your mom like a goddess with a customized breakfast indulgence, whether she's a sweet tooth, a meat tooth or something in between, to show your gratitude for all her years of unconditional love, devotion, worrying, caretaking, nurturing and guidance.
I've created customized menu options to suit most moms' gustatory idiosyncrasies, palates, and preferences along with a turn-key dad- and kid-friendly recipe that can be tinkered with to add a personalized touch. Cheers to all the women of valor out there who we call mom!
Gluten-free Gloria
If your mother suffers from gluten gut or has just chosen to give wheat (and other grains like rye and barley) the shaft, there are many sumptuous gluten-free options. For baking flours, try Bob's Red Mill 1-to-1 or King Arthur Measure for Measure that substitute perfectly for all-purpose flour with a blend of rice and whole sorghum flours, along with tapioca and potato starches.
For a sweet nuttiness that's high in protein and fiber yet low in carbs, try almond, walnut and hazelnut flours. Low-calorie casava flour from the yucca root imparts a deep earthiness, while tigernut flour derived from a tropical tuber is a gut-sustaining, resistant starch that adds a smoky richness and high-protein oomph to baked treats.
Gluten-free honorable mentions include quinoa, buckwheat, green banana, chestnut, amaranth, chickpea (gram) and teff flours. You can whip up fruity scones, protein pancakes, quiche crusts, quick breads or muffins with these easily digestible wheat alternatives that wash down nicely with a flute of pomegranate mimosa that's also gluten-free.
Keto Kelly
For the mom who is kicking carbs to the curb, including starchy vegetables and dense, sugary fruits, amp up breakfast foods high in fats and moderate protein levels.
Keto-friendly breads available at the market pair well with mashed avocado, fried eggs, breakfast sausages, bacon, New York strip steak or a variety of nut and seed butters such as almond, sunflower and tahini. Coconut cream chia seed pudding topped with fresh berries makes a sweet, keto-friendly treat.
Paleo Paula
Moms on this diet put the kibosh on dairy products, certain grains (wheat, barley, rice, oats), spuds, legumes, beans and booze.
No need to feel deprived, though, with plenty of fresh fruits, vegetables, herbs, seafood, lean, grass-fed meats, pasture-raised chicken, eggs, nuts, seeds and healthy oils including avocado, olive, walnut, coconut and flaxseed.
A savory egg scramble with a pistachio pesto drizzle, side of crisp turkey bacon and slice of seasonal melon is paleo paradise.
Saucy Suzy
This mom loves the heat, so whip up a side of spice such as fresh pico de gallo, mango salsa, Thai chili aioli, poblano hollandaise sauce, watermelon radish relish or Calabrian marinara to amp up egg and potato dishes, breakfast meats and sandwiches, and other savory delights.
New York State of Mom
For East Coast transplants, serve a traditional display of assorted smoked treasures from the sea (whitefish, sable, carp and lox), cheese blintzes or Danishes and a variety of bagels with "shmears" (cream cheese blends).
The kids can create a fun and easy bialy breakfast pizza topped with silky herb chevre, strips of smoked salmon, thinly sliced sweet onion, heirloom tomatoes and capers, along with a pot of hot "cwafee."
Hipster Toast Mom
She helped propel the trend that launched a thousand dips with smashed avocado piled on toast of all manner, whether sourdough, rye, multigrain, brioche or croissant.
You can serve it minimalist-style with a dash of Himalayan pink salt and squirt of Meyer lemon or flamboyantly dressed with any combination of sassy greens (baby arugula, spinach, endive), pickled vegetables (red onion, cauliflower, cucumber), feta crumbles, shaved radishes, edible flowers, poached shrimp, gravlax, candied walnuts, toasted hemp seeds, fried eggs and truffle oil drizzle.
This mom probably also would dig shakshuka, a North African dish of poached eggs in a spicy tomato, onion and red pepper sauce typically prepared in a cast iron skillet.
Farm-to-Table Mable
If Mom's an organic fanatic, visit a farmers market for pasture-raised eggs, goat cheese and the season's best bounty–tender asparagus, leeks and mixed mushrooms for a frittata accompanied by roasted rosemary fingerlings and wheatberry toast.
Or bake a batch of coconut and maple granola to sprinkle on top of a tropical acai bowl tricked out with bananas, fresh berries and cashew butter.
You can energize her day with an icy golden latte blending oat milk with turmeric, ginger, cardamom and raw honey, or warm the cockles of her heart with a steamy spirulina matcha latte (see the recipe on this page).
Carb Queen
These moms enjoy a hearty breakfast, throwing caution and calories to the wind. The line-up begins with a repertoire of French toasts, whether baked crème brulée style topped with liqueur-infused berries, or stuffed with lemon zest and mascarpone cheese, almond butter and jelly, or chocolate hazelnut spread.
The feast continues with a French ham or Dungeness crab croissant Benedict smothered in herb hollandaise along with potato latkes (pancakes). There's more. Biscotti, breakfast breads, Bananas Foster pancakes, pecan sticky buns, grilled pound cake, etc.
From one mom to another--soothe your soul and feast your eyes on this steamy blue beauty with a mother lode of antioxidants and love.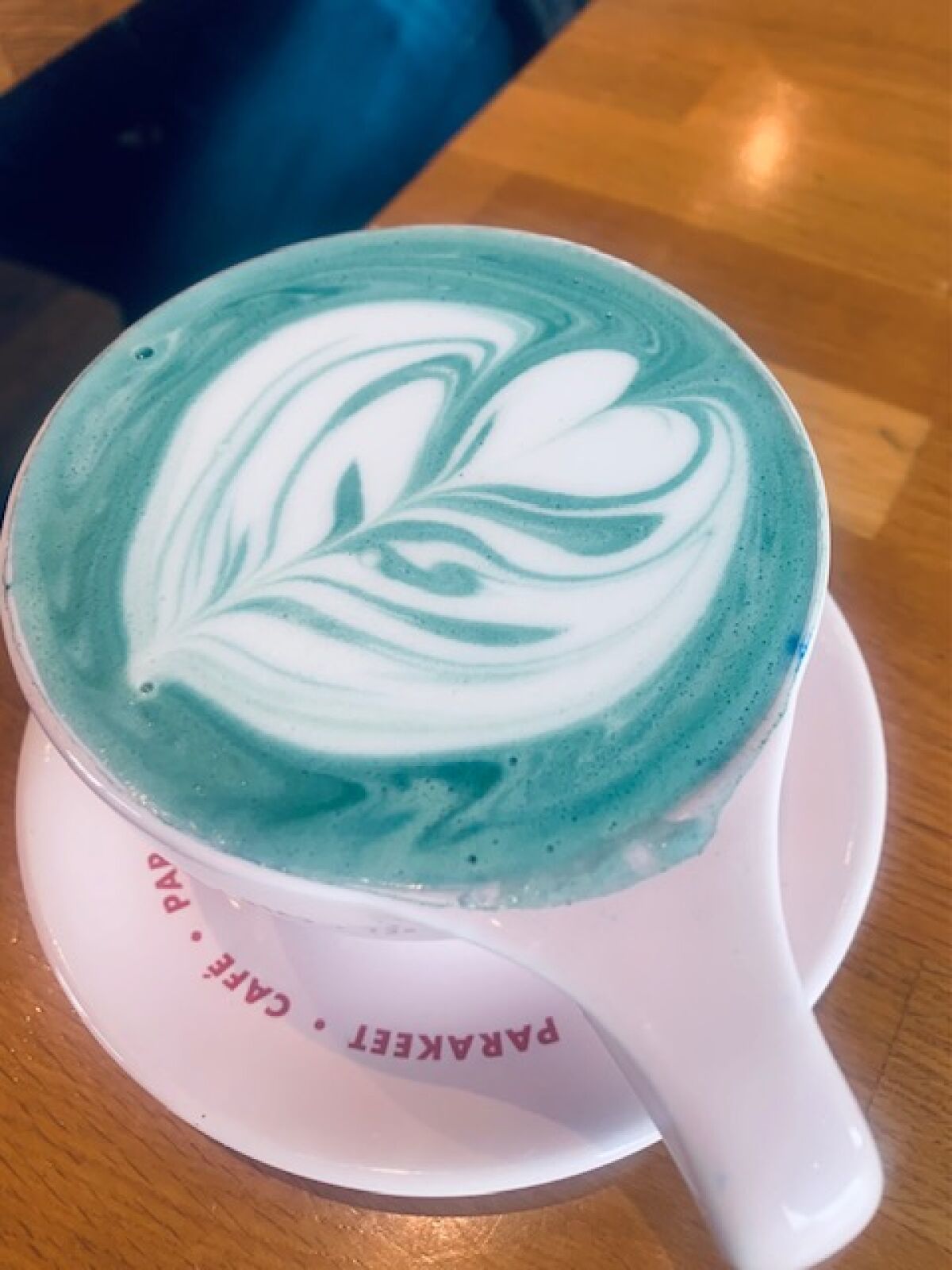 Recipe: Spirulina and Matcha Latte Love
1-cup oat milk
½-ounce raw honey
½-teaspoon blue spirulina powder
1-teaspoon ceremonial-grade matcha powder
In small saucepan heat milk on low. Add honey, then whisk in spirulina and matcha until dissolved. Transfer to mug. Make heart art using a pour of steamed milk and sleight-of-hand.
— Recipe courtesy of Parakeet Café
Get the Del Mar Times in your inbox
Top stories from Carmel Valley, Del Mar and Solana Beach every Friday for free.
You may occasionally receive promotional content from the Del Mar Times.