Coffee talk with Del Mar's Kini Coffee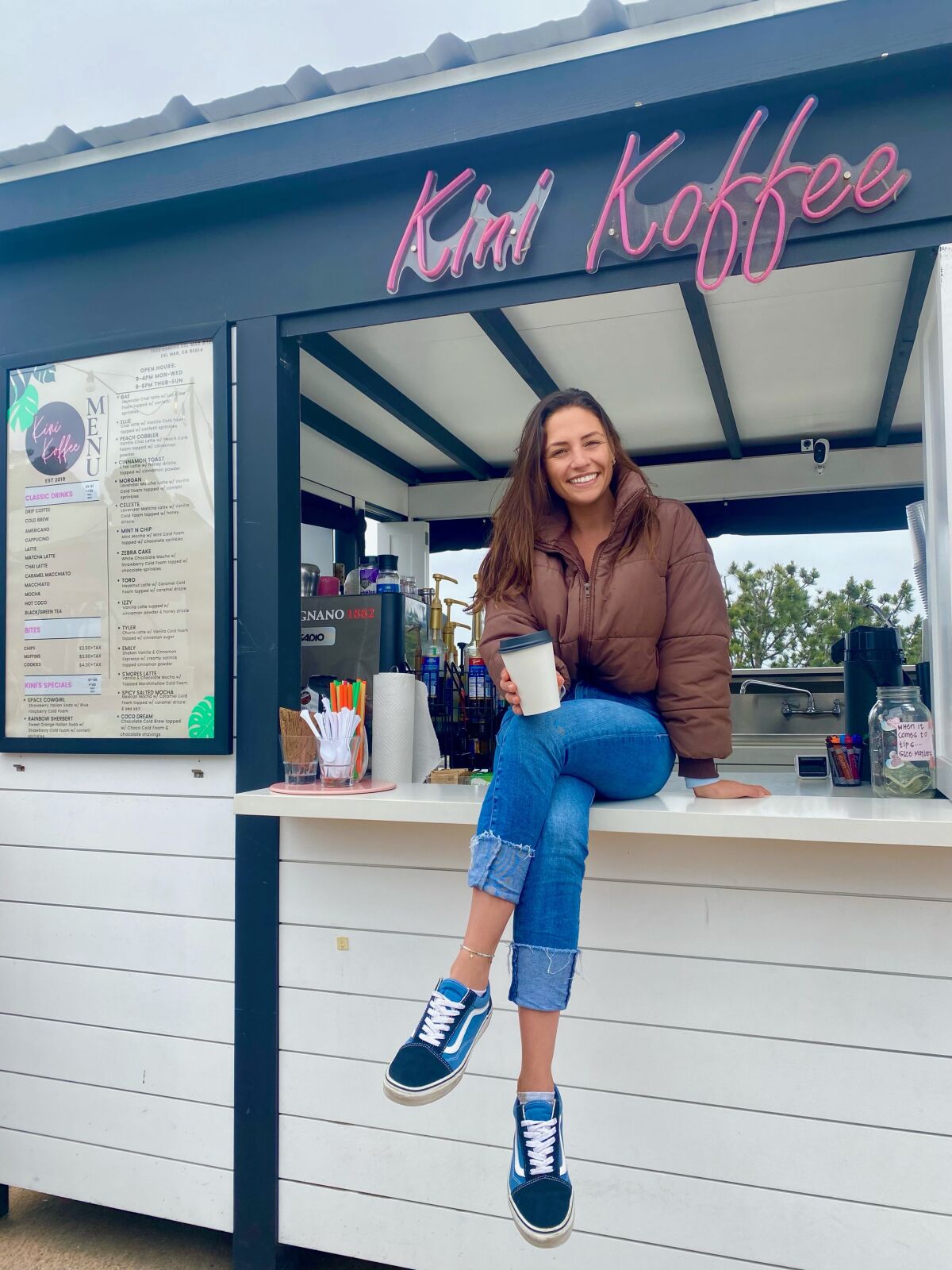 In 2021, Jewell Harloff fulfilled a caffeinated, cold foam-topped dream by opening up Kini Coffee locations on the deck of Del Mar Plaza and a drive-through in Encinitas' Santa Fe Square. Her little white and black coffee stands with neon pink sign signage serve up traditional coffee drinks as well as endlessly inventive and tasty concoctions.
We caught up with Harloff for to learn more about what makes her business buzz:
Are you a San Diego native ?
I feel like I am, I have lived in San Diego for 10 years. I currently live in La Jolla. I grew up in a tiny town in Washington state called Cathlamet on the Columbia River.
What's your background? Why coffee?
I started working as a barista at 16 and all throughout college. I always dreamed of one day opening my own coffee shop. I became a dental hygienist and gave up barista-ing for four years and really missed it, so I quit my dental hygiene job and went all in on my dreams to open my coffee shop by the beach, and it was one of the best decisions I ever made.
What do you love about the Del Mar location and what do you love about the Encinitas spot?
They are both so great and so different. What I love most about working at the Del Mar location is the vacation vibes! There are so many out-of-town visitors coming through the Del Mar Plaza, and it's so nice to meet people who are on vacation and just so happy to be there... also I have the best views from my "office".
The Encinitas location is so great because it is such a community, we have our regulars who are just coming back from surfing for their hot cup of black coffee, and our nurses who work the 12-hour shifts at Scripps Hospital who stop by daily for their quad shot lattes, and, of course, all of the students and teachers from SDA who drive-thru before class. It really is such a beautiful community, and I am grateful for the friendships I have made at both locations and for the opportunity to serve them.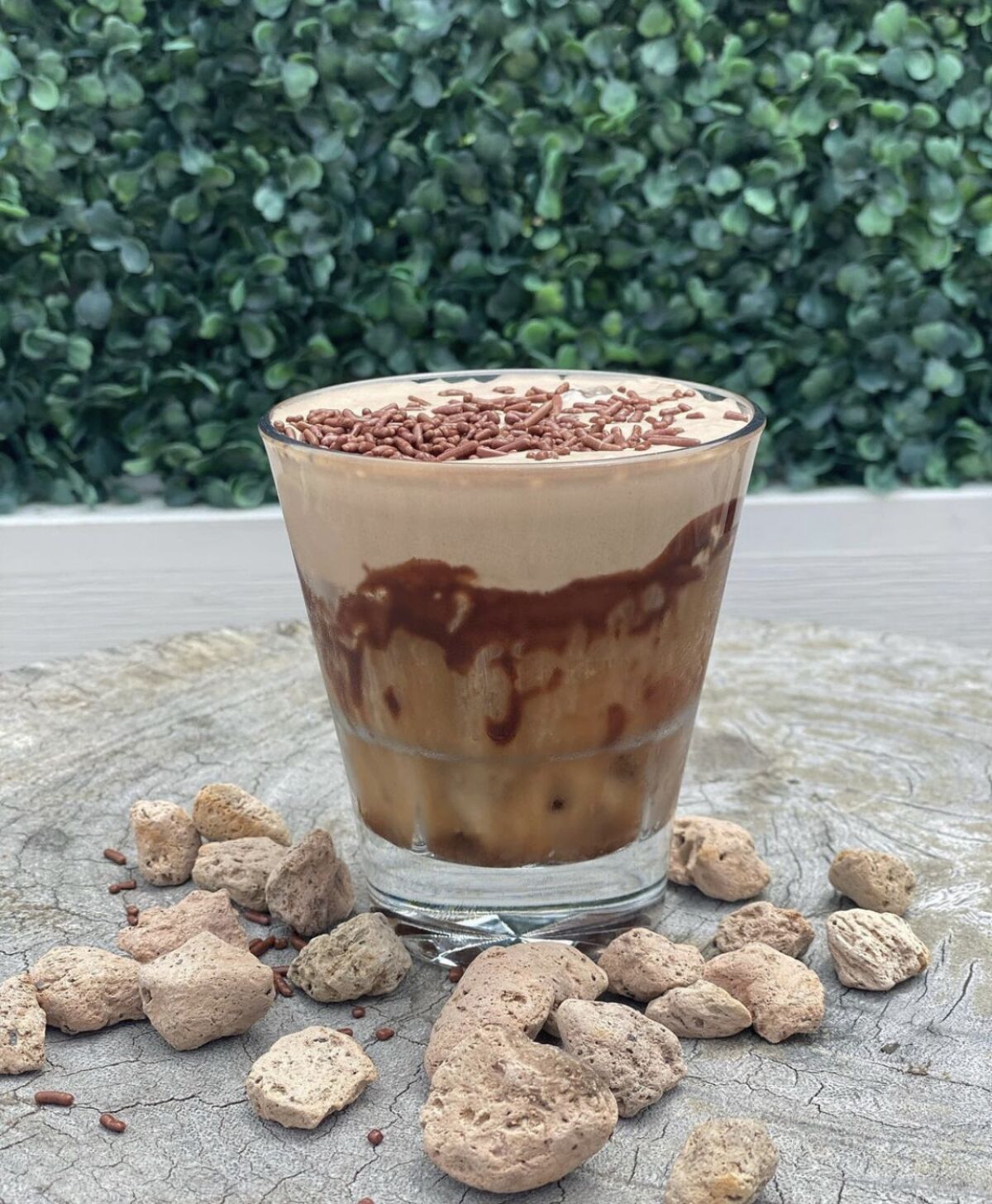 What makes your coffee unique?
The baristas! I have had the great pleasure of working with San Diego''s most creative baristas! It seems like every day one of the girls is coming up with a new drink and flavors I wouldn't have thought to mix... but it works.
How do you come up with your drinks? What are your newest specialties?
Like I said, the baristas are a huge help here. We really work as a team to keep the menu fresh and delicious. However, sometimes I get really lucky and recipes will come to me in my dreams, Like the Mint Chip Latte, (it tastes like mint chip ice cream with espresso over the top) and the Cinnamon Toast Latte also came to me in a dream ( my forever favorite latte). And lastly our Instagram and Tiktok followers are always giving us creative Ideas as well, we love to try new drinks and if it hits just right, its going on the menu.
Some new drinks we just added for summer are:

Coco Dream, a chocolate cold brew poured over ice and topped with a creamy chocolate cold foam and chocolate shavings.
Rainbow Sherbet, a blood orange italian soda topped with a strawberry cream cold foam and rainbow sprinkles.
S'more Latte, a vanilla and chocolate latte topped with a toasted marshmallow cold foam and garnished with mini marshmallows and chocolate drizzle
Mojito Lemonade, an iced minty lemonade topped with fresh mint leaves (non- alcoholic.)
What do you enjoy most about your business?
The people! I love connecting over a cup of coffee, and getting to know our guests. Also, it's the best to work with such inspired women. I learn something new every day, and get so excited to make new friends, and create new concoctions!
Get the Del Mar Times in your inbox
Top stories from Carmel Valley, Del Mar and Solana Beach every Friday for free.
You may occasionally receive promotional content from the Del Mar Times.