Diane Bell: Children of Holocaust are memorialized in German town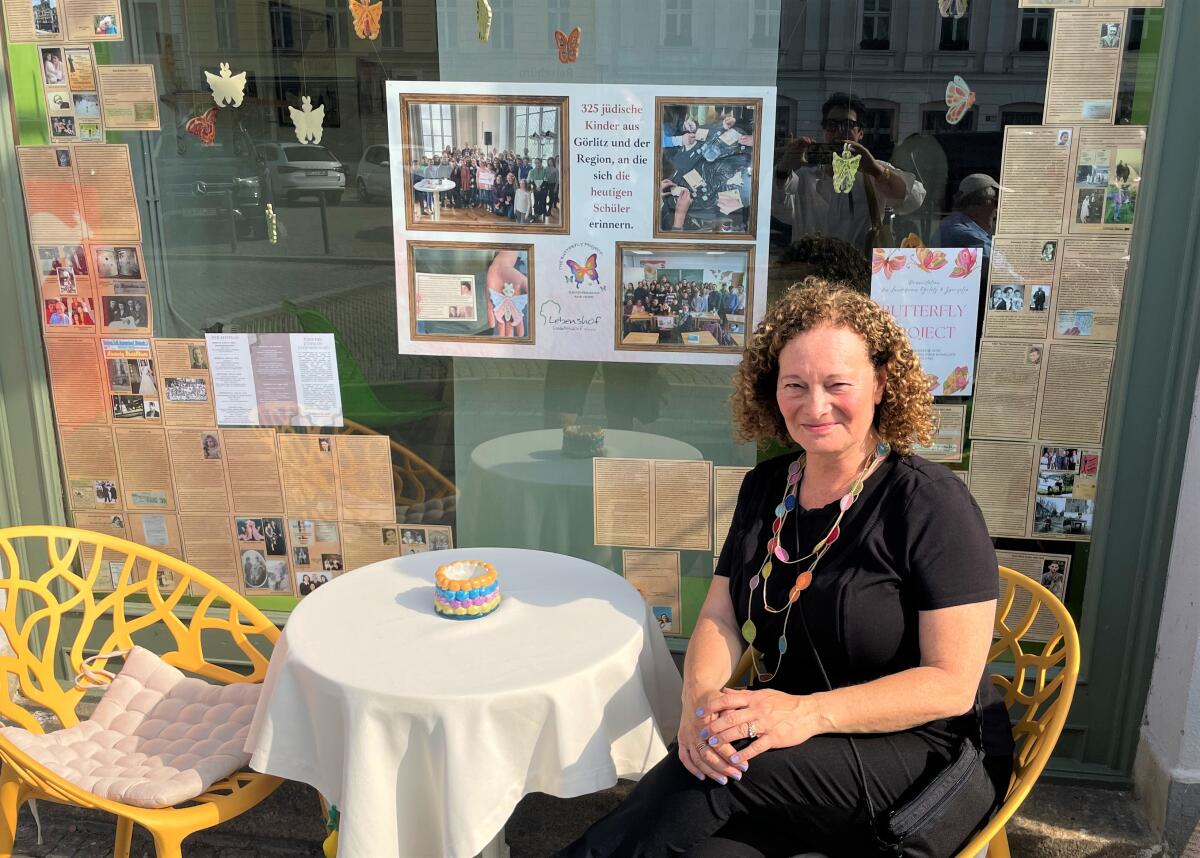 San Diego artist Cheryl Rattner Price helped launch The Butterfly Project to remember the 1.5 million Jewish children who died during Holocaust
Cheryl Rattner Price was simply a ceramic artist until butterflies came into her life and sent her on a worldwide quest.
It all started in 2006 when Jan Landau, then teaching at the San Diego Jewish Academy, began a monumental project to remember 1.5 million Jewish children who had perished during the Holocaust.
Landau's goal was to create a butterfly in memory of each child.
With the help of Price, then an artist-in residence at the school, Landau's initial wire and paperclip version soon gave way to ceramic butterflies from clay molds to which student artists added colorful glazes.
Seventeen years ago, Price never dreamed this endeavor would capture the imagination of others around the globe.
As demand grew, the two instructors created kits of 36 ceramic butterflies, with paints and brushes and 36 biography cards of children who died during the Holocaust. The kits were sent to school classrooms upon request. The endeavor now had a name — The Butterfly Project.
Each student adopted one child, read his or her story and painted a butterfly in remembrance.
"These butterflies need to be on display in schools and communities around the world," Price says. And that is happening.
Imaginative ceramic butterfly art projects sprang up in schools, universities, libraries and museums around the county and the country. Colorful butterflies hung from artificial tree limbs, swooped across building walls as murals, adorned statues and were suspended from ceilings.
In 2018, a German journalist, Nicole Nocon, did extensive research on Holocaust victims and pushed expansion of The Butterfly Project to towns in Germany.
This led, strangely enough, to Price flying late last month to Görlitz, on Germany's eastern border with Poland. Because the town survived German occupation relatively unscathed (a fate not shared by its Jewish residents), it has been the setting for movies, including "The Grand Budapest Hotel," "The Book Thief" and "Inglorious Bastards."
Price was invited to take part in Jewish Remembrance Week there from June 19-25.
Relatives of about 330 Görlitz children who had perished during the Holocaust congregated there from Brazil, Australia, Norway, the United States and elsewhere.
Through the genealogy research of American-born Lauren Leiderman, who now lives in Görlitz, and Ulla Hadar, of Israel, the biographies of these children were written. Students attending five schools in the Görlitz region painted ceramic butterflies in the name of each child.
Their creations copied the design of butterfly etchings found on nearby Jewish grave stones. They displayed them with photographs and memorabilia on tree cutouts that will be installed in the schools.
Family biographies and photos were mounted in the window of a ceramics cafe in town owned by Sybille and Ali Warnatsch. Their shop's name, Lebenskunst, seemingly in harmony with the project, translates to "The Art of Living."
"When I first arrived and walked through the town and saw the shop window filled with butterflies, I had to sit down," says Price, who was overwhelmed. So successful was the Nazi campaign that today, Price reports, only one Jewish family now lives in the town of about 56,000.
San Diegan Steven Schindler traveled with Price. His late parents, Rose and Max Schindler, were imprisoned in concentration camps during the war, married after their release and settled in San Diego.
Schindler, founder of GenerationE, first connected with Nocon while doing family research. She is from Cottbus, near Görlitz, where his father grew up. His father's sister, Cäcilie Schindler, died as a child, along with her mother, in a concentration camp in Poland.
GenerationE works with Holocaust education organizations such as The Butterfly Project to encourage schoolchildren to stand up against hatred and discrimination and reject intolerance.
Price never dreamed The Butterfly Project would take her life in a new direction and result in exhibits in the Jewish Museum in Athens, Poland Museum in Warsaw, Pittsburgh Holocaust Museum, World War II Museum in New Orleans, The Museum of Tolerance in Los Angeles, and others.
The butterflies have been painted by VIPs and celebrities, including Hillary Clinton, John Kerry, Barbara Boxer, Sherry Lansing and Marvin Hamlisch.
The project even turned the Carmel Valley ceramics artist into a filmmaker. She co-produced a 58-minute documentary, "Not the Last Butterfly," about Holocaust survivor Ela Weissberger in 2016, that won recognition on the film festival circuit. She went back with Weissberger to Terezín in the Czech Republic, where the Nazis had a concentration camp.
"I put my heart into this. I fell in love with the survivors and felt like they adopted me. I had to do this and come through for them," says Price, who searches for a silver lining to give hope to survivors.
She especially was touched to see the Görlitz students talking to relatives of children in whose memory they had painted butterflies.
Nevertheless, she and her colleagues have a long way to go. "We need to grow and scale up. Amazing stories are left untold," Price says.
After 17 years, they have printed the stories of 330,000 of about 1.5 million nameless child victims, thus bringing them to life. "If we stay at this pace, it will take us 22 years to finish," she says.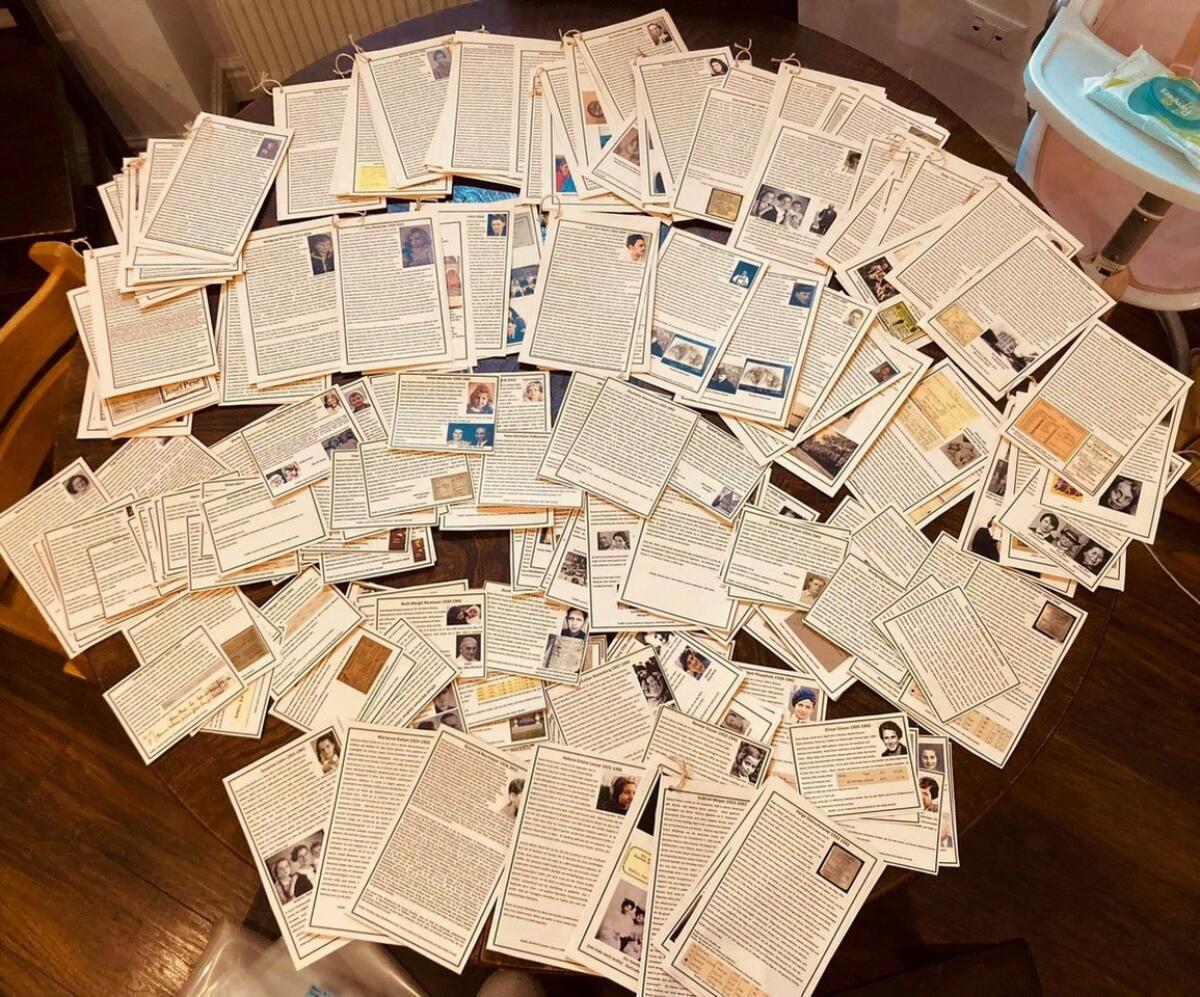 Eighty-five years after the Kristallnacht pogrom, she participated in a Butterfly Project presentation during Jewish Remembrance Week. She calls the community an outstanding model for the rest of the world.
"We must continue to educate and raise awareness about the good work that's happening to give us the strength to address the challenges in today's world," Price stresses.
As the Fourth of July is celebrated in the Unites States as a symbol of this country's independence and freedom, including religious freedom, we need to remember the lessons of history and sacrifices of others.
Get the Del Mar Times in your inbox
Top stories from Carmel Valley, Del Mar and Solana Beach every Friday for free.
You may occasionally receive promotional content from the Del Mar Times.