Pure Cupcakes opens new cupcakery in Carmel Valley
After 11 years and over 1.5 million cupcakes made in their small Pacific Beach shop, Pure Cupcakes has made the move up to Carmel Valley's Del Mar Highlands Town Center. A 2013 Food Network Cupcake Wars champion, Pure makes a wide variety of densely delicious cupcakes piled high with frosting and creative cakes decked out for every theme imaginable.
"I knew it would be a great fit," said owner Mary Sarain of the Del Mar Highlands location, where they transformed a former tanning salon into a cupcakery.
Pure opened before they even had an official sign out front —Sarain said she kicked open the door on July 31, ready to go. Finishing touches like artwork for the walls are still coming but the bakery cases are full of cupcakes: the vanilla bean, salted caramel, cookies and cream, Vietnamese coffee and the "Lime in the Coconut", a vanilla and toasted coconut cupcake topped with lime buttercream and rolled in coconut flakes with fresh lime curd.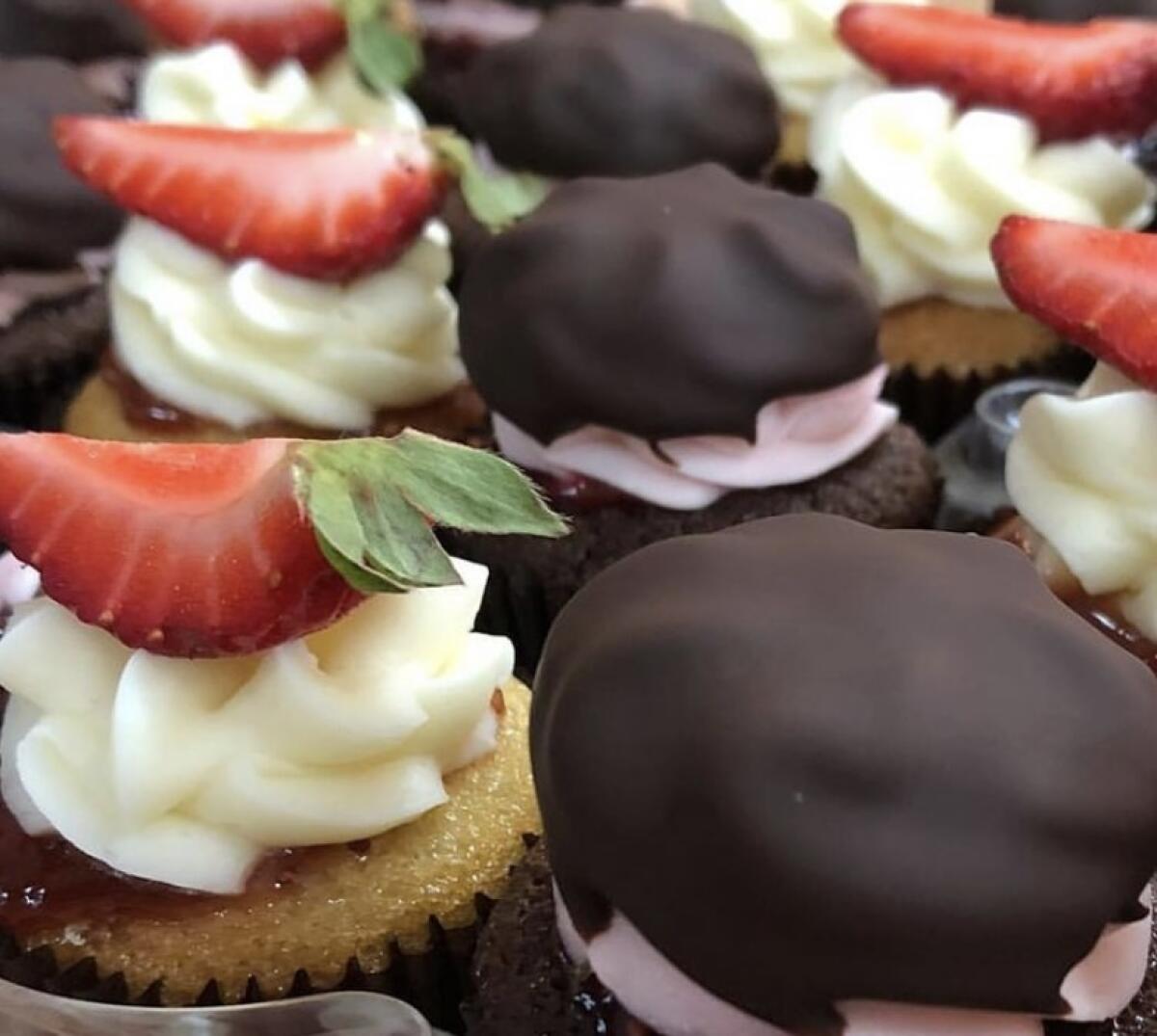 In addition to their highly inventive and fun custom cakes and cupcakes, Pure also has cookies, cake pops, mini cakes and lemon bars.
Cupcake Wars came calling before they even had a storefront and served as the impetus to get up and running. The first bakery opened in Pacific Beach in 2012—coming from the corporate world, Sarain said she had a mid-life crisis in her 40s. She was working for the medical technology company Becton Dickinson and doing cupcakes and cakes on the side with friend Nikki Black. When her department transferred to the East Coast, she took a buyout and used all of that money to start the business with her friend: "And I spent every penny."
Pure had outgrown the Pacific Beach spot five years ago, despite three remodels. Sarain said they always had an eye on North County as so many of their customers and corporate clients were in the Del Mar-Carmel Valley area. Del Mar Highlands had actually approached Pure in 2019 about taking over a space down near the pop jet fountain (now home to Meats & Eats) but Sarain wasn't sure the space would work. "I'm glad I didn't because the pandemic hit five months later," she said.
This new space at the top of the center near Ike's Sandwiches and Rubio's and which they were able to completely custom build out, better suits their needs.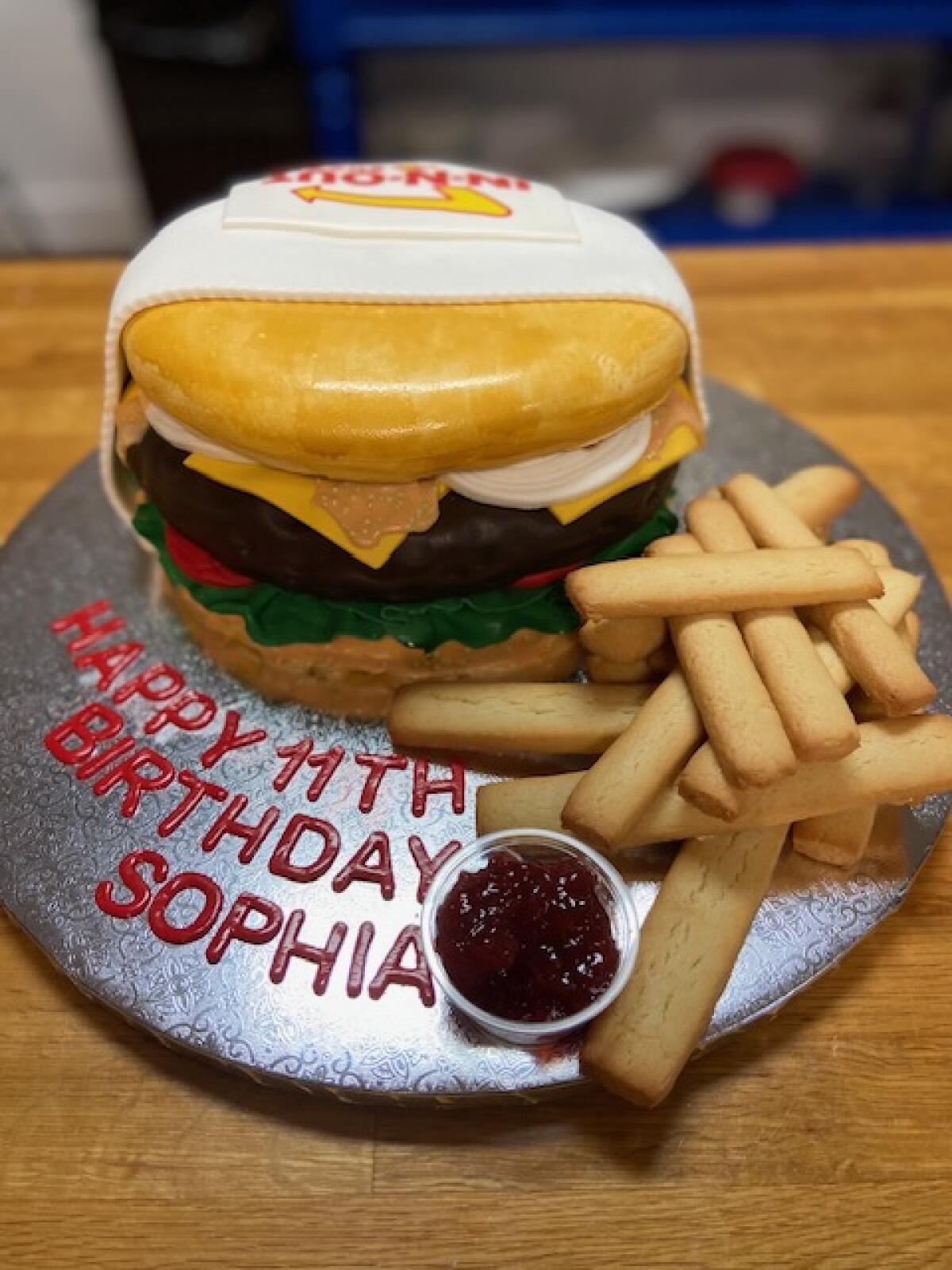 In Carmel Valley, Pure has tripled its staff, happily employing a lot of students from the local high schools.
Sarain said Pure is baking six days a week with cold ovens only on Sundays—she is "very persnickety" about the quality and taste of her baked goodies, using ingredients like fresh cream and sweet butter, Belgian chocolates, spices and home-made curds. As a scratch bakery, almost everything is made in house, including their vanilla extract. The only ingredients that come from outside the cupcakery are the red dye for red velvet cupcakes and the sprinkles. "I also don't make my own caramel because we go through an incredible amount," said Sarain.
Pure is known for carrying a constantly rotating menu and a lot of unique flavor profiles.
"Our Rol-e-ol-e-o cupcakes are very popular," she said of the play on the Rolo candy—a chocolate cake cupcake filled with caramel sauce, topped with a caramel buttercream dipped in a dark chocolate shell.
About six years ago, Pure Cupcakes also started offering vegan and gluten-free variations which have been very well-received with cupcakes, cakes, cookies and cake pops—their vegan chocolate mousse is a favorite.
Since moving into Del Mar Highlands Town Center, two times a week they have been delivering treats to all of their neighbors in the shopping center. They have almost hit every business in the center, working their way toward the Sky Deck now. Sarain said it's a fun way to get their name out there, letting everyone know the new sweet new offering in town.
Pure is open seven days a week, 10 am. to 9 p.m. on weekdays and 10 a.m. to 6 p.m. on Saturdays and 11 a.m. to 6 p.m. on Sundays. 3545 Del Mar Heights Road, suite C7. Visit purecupcakes.com

Get the Del Mar Times in your inbox
Top stories from Carmel Valley, Del Mar and Solana Beach every Friday for free.
You may occasionally receive promotional content from the Del Mar Times.