Business Spotlight: Parisi Speed School builds kids' inner strength as it trains their bodies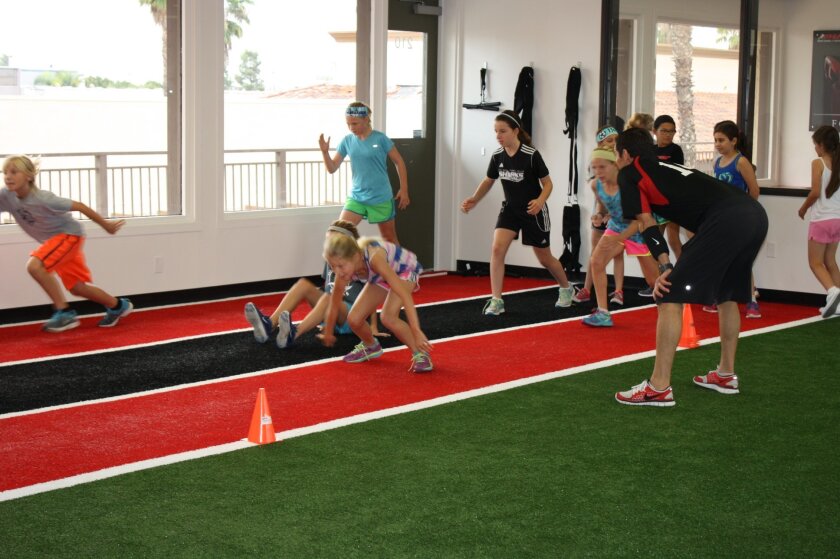 Local youths who aspire to be faster, stronger and more confident can get a head start at Parisi Speed School of San Diego.
Owned by Torrey Hills residents Joe Virga and his wife, Trisha, the school helps its students develop skills such as acceleration, reaching maximum speed, properly changing directions, strength training and overall conditioning. There is a focus on core strength in every session, Joe Virga said, and the kids can apply their newly learned techniques in any sport they desire.
"Our program is unique in that it's for really young athletes," Virga said.
Most students are between ages of 7 and 18, and a maximum of 10 are enrolled per class, which allows for more personalized attention.
Virga, who is a trainer and co-owner of CKO Kickboxing — which is just down the street from Parisi, on Miramar Road in San Diego — first became inspired to work with children after a conversation with his friend Joe Defranco, one of the top strength coaches in the country. Defranco talked about his experiences training youths in various sports, and how it was rewarding to have such a big impact on their lives.
At the time, Virga was also seeking to enhance his knowledge in the areas of strength and conditioning, with a goal of helping clients achieve their maximum potential.
"It was like a light went on," Virga said.
He proceeded to earn his strength and training certification in November 2013, and offered to work with his friend Adrian's 7-year-old son, Austin. Virga began training Austin at CKO Kickboxing, and "within weeks, the dad saw a noticeable difference in his son," he said.
Austin's friends started taking notice as well, and a group of them started coming to the gym.
In March 2014, Virga received an email that Parisi Speed School representatives were doing a presentation in San Diego.
The school is the brainchild of Bill Parisi, a two-time NCAA Division I All-American in the javelin throw in the late 1980s, who also qualified for the Olympic trials. In 1992, Parisi bought a $500 van and began driving to high school and youth recreation departments in his home base of New Jersey to give free clinics and seminars on speed training and motivation. He opened his first facility in 1993, and over the years worked with clients such as former NFL players Phil Simms, Amani Toomer and Chris Calloway. Parisi began to sell his Speed School franchises in 2005 and, today, there are more than 85 locations in about 30 states. Recently, Parisi Speed School was named No. 1 Gym in America by The Active Times.
Virga was intrigued by the idea of owning a Parisi Speed School franchise.
But "my wife thought I was crazy and was convinced I was losing my mind," he said with a laugh.
When Joe and Trisha attended the presentation, "we were both just floored," Joe Virga said. They loved the idea that not only does the school help kids get faster and stronger, but also builds their confidence, he added.
Last April, the Virgas signed up to open the first San Diego franchise, and they found the perfect location at 7060 Miramar Road, Suite 208. The 5,000-square-foot facility opened in the fall, with features such as a three-lane, 25-yard track; a large artificial turf area; and a strength-training area.
When the youths first arrive at the Speed School, they undergo a performance evaluation, which measures their speed, strength, agility, endurance and flexibility.
Virga then assesses the results and makes class recommendations. Five types of classes are offered — in the areas of strength training, changing directions, speed and overall conditioning — and they are broken down by age groups. Jump Start is for ages 7-11, while those 12 and older are enrolled in Total Performance classes. With the small class sizes, instructors are able to personalize instruction and give the athletes tips and tools to improve their abilities.
To help motivate the kids, there is the Cat Club, a scoring, evaluation and testing program that ranks and charts their progress every 8-12 weeks. The Cat Club has eight levels, starting at Bobcat and ascending to Cheetah, and the youths can check boards for their results.
"When they see what they can achieve, it sends their confidence to the moon," Virga said.
The cost for Parisi Speed School participants is $109 a month for unlimited training sessions. Initial performance evaluations are offered free through June 30; otherwise, the fee is $49.
Besides working with individuals on their performance, Parisi Speed School also provides team training on- and off-site.
In addition, parents and other interested adults can take advantage of Trisha's Bootcamp, a six-week course consisting of fitness classes, group training and nutrition coaching, with a specialized focus on TRX Suspension Training. Classes are at 6:15 a.m. Monday and Friday and 8:45 a.m. Tuesday; the private group session is around 8 a.m. Saturday. The cost is $299.
Parisi Speed School hours are from 3:30 to 8 p.m. Monday through Thursday, 3:30 to 7 p.m. Friday, and 8 a.m. to noon Saturday.
For information, call 888-695-9960 or go to www.parisispeedschoolsd.com.
Business spotlights are developed through this newspaper's advertising department in support of our advertisers.
---