Rancho Del Mar Physical Therapy focuses on individual care programs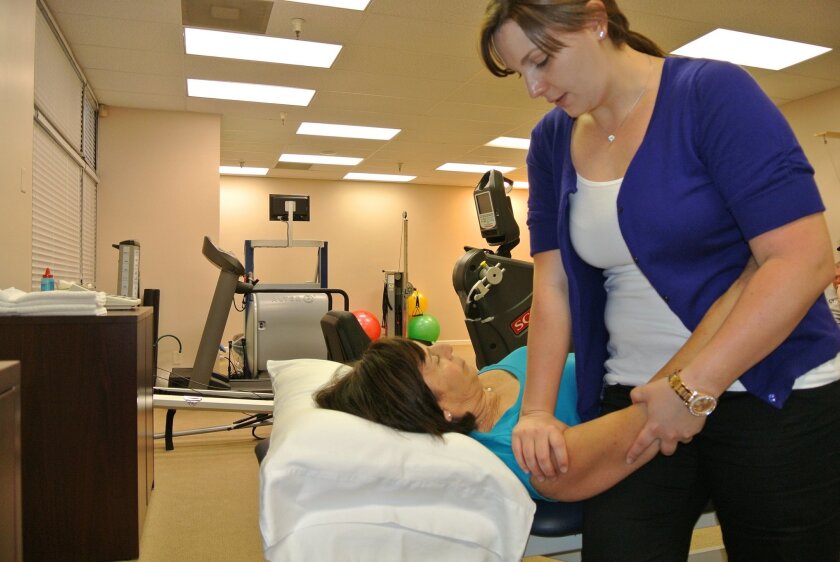 No matter the time or day, Tracey King is committed to providing one-on-one care at Rancho Del Mar Physical Therapy. That's why she opened a private physical therapy and rehabilitation center nearly two years ago.
"We strive to provide good quality of care," King said. "Our goal is to give personalized care where we can actually focus on the individual instead of getting as many patients in here as possible."
Combining manual techniques with exercises, King works individually with every patient to improve quality of life in an energetic environment. The clinic features specialized equipment for optimal rehabilitation of the lower extremities, whether rehabilitation is needed because of overuse, stress injury or joint replacement.
Among the center's specialized equipment is the AlterG's Anti-Gravity Treadmill. Used by professional athletes and sports teams, the weight-adjustable treadmill allows patients to exercise without pain — even while they are recovering from injury or surgery.
Runners and triathletes often use the treadmill at the clinic, whether they are recovering from injuries or simply aiming to reduce the impact on their joints, King said.
"It's a great tool for everyone," she said.
The clinic offers other cash-based, cost-effective services, such as a screening and exercise education program for golfers so they can improve their game.
King's love of sports and passion for helping others led her to a career in physical therapy.
Originally from Johannesburg, South Africa, King grew up swimming and playing field hockey, squash and tennis.
She came to the United States for college, earning a bachelor's degree in kinesiology with an emphasis in pre-physical therapy in 2006 at San Diego State University. In 2009, she graduated from the University of Colorado with a doctorate in physical therapy.
Throughout her career, King has worked at the Veterans Affairs Hospital in Colorado, Naval Medical Center San Diego and various outpatient orthopedic clinics, where she's participated in sports rehabilitation and functional, vestibular and balance training, in addition to treatment for individuals with Parkinson's disease.
After working at a North County outpatient orthopedic clinic for two years, she decided to open her own practice, working one-on-one with individuals of all ages and needs.
With a need for a physical therapy center in Del Mar and the surrounding communities, King opened her clinic in June 2013 on Via de la Valle. She often welcomes patients from Del Mar, Solana Beach, Carmel Valley, Rancho Santa Fe and other areas.
"It's a convenient location," King said. "I've enjoyed helping people and seeing people heal and go back to what they enjoy. That's what's most rewarding."
Rancho Del Mar Physical Therapy is at 3790 Via de la Valle, Suite 205, in Del Mar. Office hours are 7:30 a.m. to 6 p.m. Monday through Friday. The clinic is closed Saturday and Sunday.
For more about Rancho Del Mar Physical Therapy, call 858-350-6500 or visit www.ranchodelmarpt.com.
Business spotlights are developed through this newspaper's advertising department in support of our advertisers.
---