Fitness is in the bag with CKO Kickboxing workouts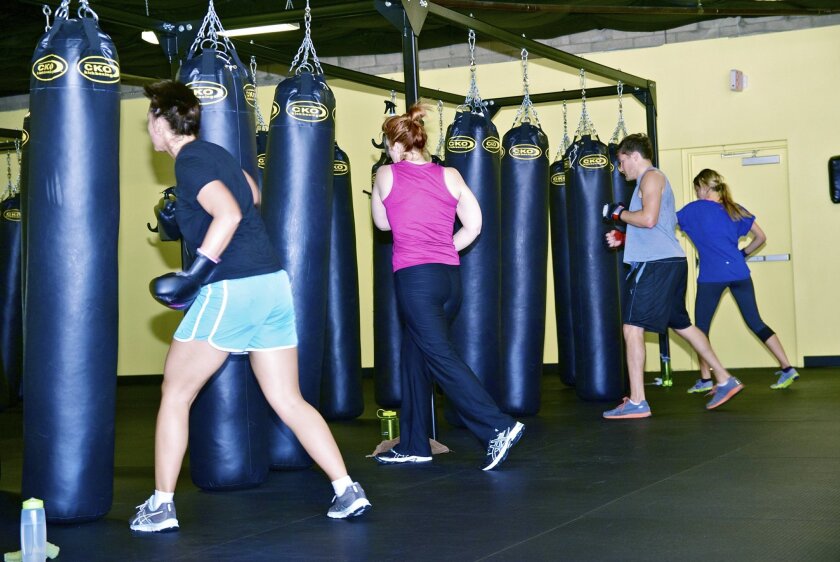 From the time he became a client at CKO Kickboxing in Hoboken, N.J., Joe Virga has been hooked on the martial art.
"Stress relief drew me in," said Virga, who was working on Wall Street when he first started visiting the gym in 2005. "I loved kickboxing … I had something to look forward to at the end of the day."
Over time, that love grew to a passion, and today, Virga owns a CKO Kickboxing franchise with his wife, Trisha, at 7094 Miramar Road, Suite 116, in San Diego.
At CKO — which stands for Club Knock Out, the franchise's original name — patrons can take one-hour, instructor-led classes where they punch and kick bags that weigh 125 pounds.
"We offer a very intense workout that can be done at your own pace and in a non-intimidating environment, since we don't offer contact with other people, just heavy bags," Virga said.
The Miramar location is not the Virgas' first CKO gym. In 2006, while still a client at the original CKO in Hoboken, Joe Virga attended an informational meeting about CKO's desire for expansion through franchises. In April 2008, the Virgas opened the company's first franchise, in Brooklyn, N.Y.
The opportunity for the couple to open their second CKO Kickboxing location arose several years later. The East Coast-based Virga family came to San Diego in 2011 for a vacation to San Diego, and they fell in love with the area.
"I have three boys (two at the time), and I loved the idea of my kids being on the beach in December," Virga said.
He added that not long afterward, doors began to open for him and his wife — who was originally from Modesto — and they explored the possibility of setting up a CKO Kickboxing in San Diego. The Virgas relocated to the West Coast in April 2012 and opened their Miramar gym that June. The Torrey Hills residents sold their Brooklyn facility in 2013.
At CKO Kickboxing in Miramar, Virga said no experience is necessary, and the classes are geared toward all fitness levels. People can burn up to 1,200 calories during the classes, and Virga noted that the workouts are a great way to burn fat and keep it off.
"It happens so fast, and it stays off if you continue to do it," he said. "I know women in their 50s who say they are in the best shape of their life."
Virga also emphasized that gloves or hand wraps are required for the classes, but those who don't have them can buy them through CKO if desired.
Along with taking the hourlong classes, patrons are welcome to use the strength training area before and after classes.
For unlimited classes and the use of weights during class sessions, CKO charges $89 a month. Personal training is also available to help people build strength, for a separate fee. New clients are eligible to take advantage of a free week of classes.
"If people take two to three classes, they can already feel the difference," Virga said.
Hours of CKO Kickboxing in Miramar are from 9 a.m. to 8 p.m. Monday, 6 a.m. to 8 p.m. Tuesday through Thursday, 9 a.m. to 7 p.m. Friday and 8 a.m. to noon Saturday.
For information, call 858-437-9880 or go to www.ckomiramar.com.
Business spotlights are developed through this newspaper's advertising department in support of our advertisers.
---