Solana Beach Storage boasts a longtime record of exemplary customer service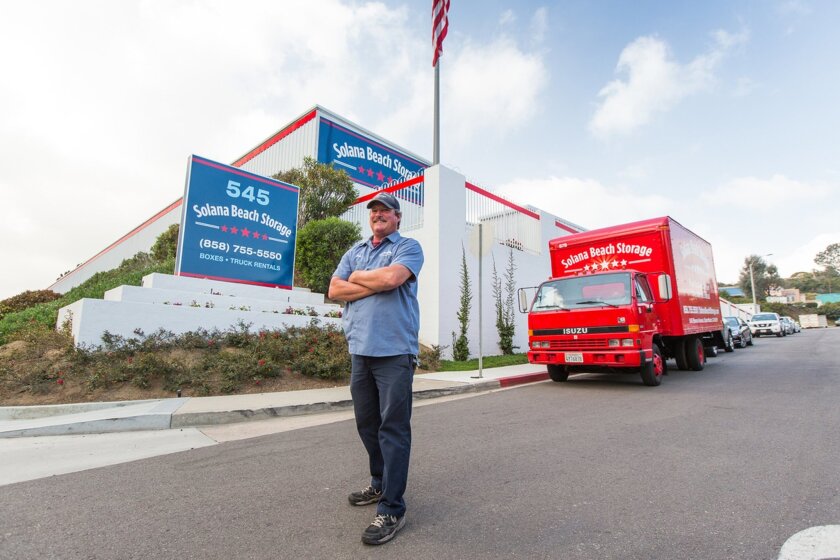 Transitions are part of life. Whether it's relocating to embark on a new career, going to a four-year college, paring down from a family home into a condo, or world travel — chances are when you experience the change, you'll need to store your stuff.
For North County coastal residents, that's where Solana Beach Storage fills the need, a company that proudly considers itself in the people business.
"We are assisting people with big changes in their lives," said Ellen Wayne, director of marketing. "We do things differently here, and we offer services that truly set us apart from other storage facilities."
Solana Beach Storage, locally owned and operated, is conveniently located on Stevens Avenue, where it has been since 1973 and was the first storage company located there.
Community oriented, with more than 40 years since its founding, Solana Beach Storage is a member of the Solana Beach Chamber of Commerce and shows its local involvement by lending its trucks out for events like Movie Night at Fletcher Cove, Fiesta Del Sol and Chamber events in Solana Beach.
"We really enjoy being out in the community and meeting everyone," said Wayne.
The main factor in its longevity is a track record of unsurpassed customer service. Unlike others, it offers a free truck and helper — who assists with loading the truck — with every room rented.
One of the biggest obstacles that clients face — customers who are located in Encinitas, Rancho Santa Fe, Del Mar, Solana Beach and Carmel Valley — is when they have to store their belongings, they are faced with how they are logistically going to transport them to a storage facility.
"Well, we take care of all of that for our clients with a complimentary truck and help on board," said Wayne. "We make it really easy to get your items here."
Consequently, whenever a customer is on site, they are there helping them unload or load their property into a storage room.
The company strives to keep everything spotless, it is constantly cleaning and repainting. And the facility offers bottled water, coffee and tea and has a lobby that offers full packing supply items like boxes, bubble wrap and tape and other essential moving materials.
Solana Beach Storage has a special offer for new clients with half-off the regular price on select rooms, which are specifically named to reflect the company's more personable approach. "It's like this is the client's place, and they are checking into a hotel," explained Wayne.
The smallest room at Solana Beach Storage is a 3-foot-by-8-foot room, or 24 square feet, which starts at $79 a month.
The largest measures 10-feet-by-20-feet, with extra space in a loft up to 300 square feet of storage, which is ideal for business and personal storage. Free shelving and plastic to cover items in the storage rooms are also offered.
Rental includes a protection plan for belongings, and online bill pay with no upfront deposit required. The onsite office is open seven days a week, and there is 24-hour recorded video surveillance.
Pest control is offered for every unit, and complete business center amenities are available that include free Wi-Fi, onsite fax, computer and copier. There is also a referral reward program.
Customers have access to a conference room, if they would like to work or just check their emails.
"We wanted to differentiate ourselves from others in the industry, " said Wayne. "We strive to create an environment of safety, spotlessness and help."
Find Solana Beach Storage at 545 Stevens Ave., Solana Beach, CA 92075.
Call 858-755-5550 or visit www.SolanaBeachStorage.com.
Business spotlights are developed through this newspaper's advertising department in support of our advertisers.
---