Swell Coffee team reawakens longtime Flower Hill coffee shop space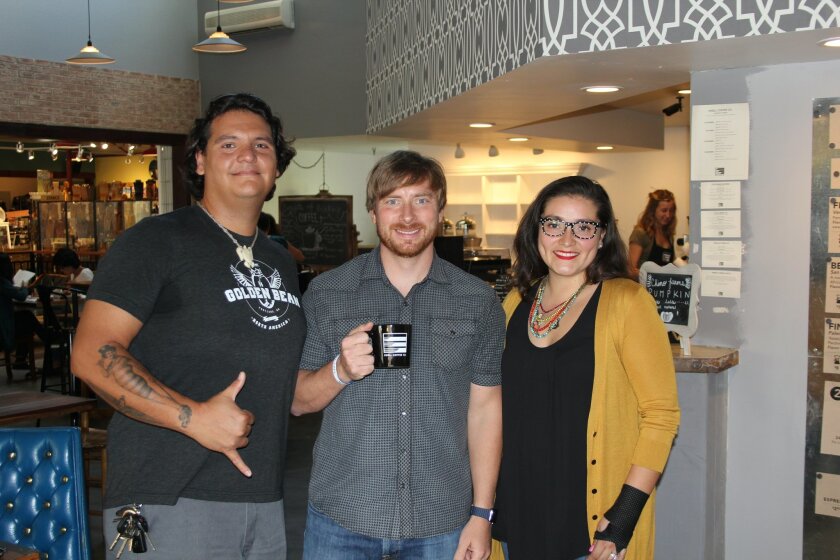 When the Swell Coffee team gets together to drink coffee, it is quite the experience. Owner John Vallas and staff slurp (the accepted term) from their cups, trying to capture all of the different flavor notes on their taste buds.
They take note of the aroma and always make sure to taste blends at different cooling points as a cup could taste like chocolate and caramel when hot — but like fig and molasses when it cools a bit.
Last week, their refined coffee palates were able to pick up notes of lemon, grapefruit and white pepper in a newly acquired bean from Kenya.
"Needless to say, everyone's always really wired at Swell," said Vanessa Corrales, the general manager of Swell Coffee in Mission Beach and its new location in Flower Hill Promenade.
Swell slid into the former Pannikin Coffee spot on Aug. 1, taking over Café Cantata after a brief run. Flower Hill sought out Swell to fill the longtime coffeehouse space, as over the past eight months, Swell has really started to flow, launching its own coffee roasting operation.
Swell Coffee has been around since 2011, when Vallas bought Café Mono in Mission Beach.
Although he has been drinking coffee since he was 12 years old, the coffee business world was very new to Vallas when he purchased Mono — he had been in the Navy for 10 years, working on submarines, doing things like explosive ordinance disposal.
"The first time I pulled an espresso shot was after I bought the café in Mission Beach," Vallas said.
Though he was new to the business, he had developed a passion for coffee while working 12-hour shifts during his six months of deployments on the subs. He would chug coffee to stay awake for late-night shifts that started at 11 p.m.
After he got out of the Navy, he wasn't sure what to do next — but he recalled his youth in Raleigh, N.C., where he'd always enjoyed spending time in the "super warm environment" of coffee shops. He said he had his "a-ha moment" when he came across a paper from a personal development class where he'd listed his passions as his daughter, good food, good coffee, surfing and being by the beach.
"I thought, 'Forget everything else, just find this and I will be happy.' I looked around to find something in alignment with my passions, and I found the café. There were so many red flags, but I couldn't let it go."
Vallas said after he bought Mono in November 2011, he promptly ran out of money by February 2012. But spring break came, with tourists and beachgoers, and he was OK. Then he made it to summer.
Swell was able to get its feet planted and has grown steadily from there, including roasting all of its own coffee. Swell's roasting facility is in Point Loma, and the shop has partnered with the Patio Restaurant Group to supply coffee to all of their eateries. Flower Hill approached Swell about taking over the Café Cantata space, which struggled after Pannikin's closure in 2014.
"This was not planned. This was an opportunity that presented itself, and I couldn't say no," Vallas said. "This is a very special place."
Because of Swell's relationship with the restaurant group, he said, the shop is able to use a diverse variety of resources to make a location like Flower Hill's successful.
"There is an energy here. This is a community place, and the café is part of the fabric of this place," Vallas said.
He said the clientele is all locals, very different from the scene at Mission Beach.
Mondo Rodriguez, Swell sales and logistics manager, said the staff sees those loyal local customers every day, coming in Monday through Friday like clockwork, staying six to eight hours. The customers have become very endearing to them, he said.
Rodriguez was a welder before fortuitously meeting Vallas at the then-Café Mono while he was on a weeklong vacation from Portland.
He and his wife had been ready to make a change and moved to San Diego a year later. Rodriguez got in touch with Vallas, wanting to do something "more down-to-earth, more personal."
"The passion that I saw in John for this company was enough for me to make that change and pursue this as a career," Rodriguez said.
People seem to be drawn to Vallas' passion. General Manager Corrales started her career in the hotel industry and was part of the opening team for the Grand Del Mar (now the Fairmont Grand Del Mar). She worked for Stone Brewing and was always more a part of the craft beer world before finding Swell.
"It was the right fit and just clicked, and it felt like home. Everybody here is family; we all work so well together," Corrales said.
What makes Swell special is that the staff strives to find unique coffees from all over the world.
While in places like Peru, Colombia and Costa Rica, Vallas and his employees are meeting and connecting with specialty coffee farmers, learning the attributes of their products and how they are grown. By using their beans, they are supporting the farm families and their communities.
Upon entering Swell, guests first choose their coffee, which rotates frequently. Recent options were Finca El Soccorro from Guatemala and Beach Goth, Swell's blend of Mexican and African coffee with notes of bitter chocolate and black grape. Beach Goth recently took silver at the North American Golden Bean Coffee Competition in Portland.
Customers then choose how they would like the coffee prepared, brewed by V60 pour-over coffee maker, French press or Chemex, a manual glass coffee maker.
Espresso beverages like lattes, cappuccinos and macchiatos are available, and the menu will always include "A Barista's Whim," where creativity runs wild with whatever fresh ingredients are available. Recently they were serving up Swell's take on an all-natural pumpkin spice latte with Chino Farm's Napoletana squash, beans roasted with cinnamon and brown sugar, simple syrup infused with fresh ginger and cayenne, espresso and steamed milk.
The food menu includes breakfast and lunch offerings like French toast, parfaits, salads and panini, but a new menu will roll out on Nov. 6.
At Swell, they use a lot of local ingredients — Mikolich Family Honey from Temecula, Madagascar vanilla for their syrup, and single-origin Nibble chocolate for their mochas.
"Nothing comes out of a can," Corrales said. "We make our own syrups, which we are really proud of."
Organic Straus Milk is used at both Swell locations.
"We're making sure we're using coffee to its fullest extent and not taking the flavor out of the bean," Corrales said. "We want to make sure we represent the farmer and their hard work and everything it took to create that special bean."
Vallas said they have merely "put lipstick" on the Flower Hill location, just to get it up and running as soon as possible. In January, they will close for a full renovation. Part of the changes will be a major kitchen renovation, which will allow them to diversify their food menu. They are also in the process of getting a liquor and beer license.
Swell will also take over the space next door, which was once a gourmet chocolate shop and, for a short time this summer, a juice bar. Vallas said they are hoping to offer health-focused fare like smoothies, grab-and-go snacks and breakfasts. He plans to have it up and running before Thanksgiving.
Longtime visitors to the coffee shop need not worry — any changes to the décor and layout will be mostly for efficiency and functionality.
"We are not going to take the soul out of this place; that's something we're really interested in preserving," Vallas said. "We're really strongly passionate about the essence of this place."
---