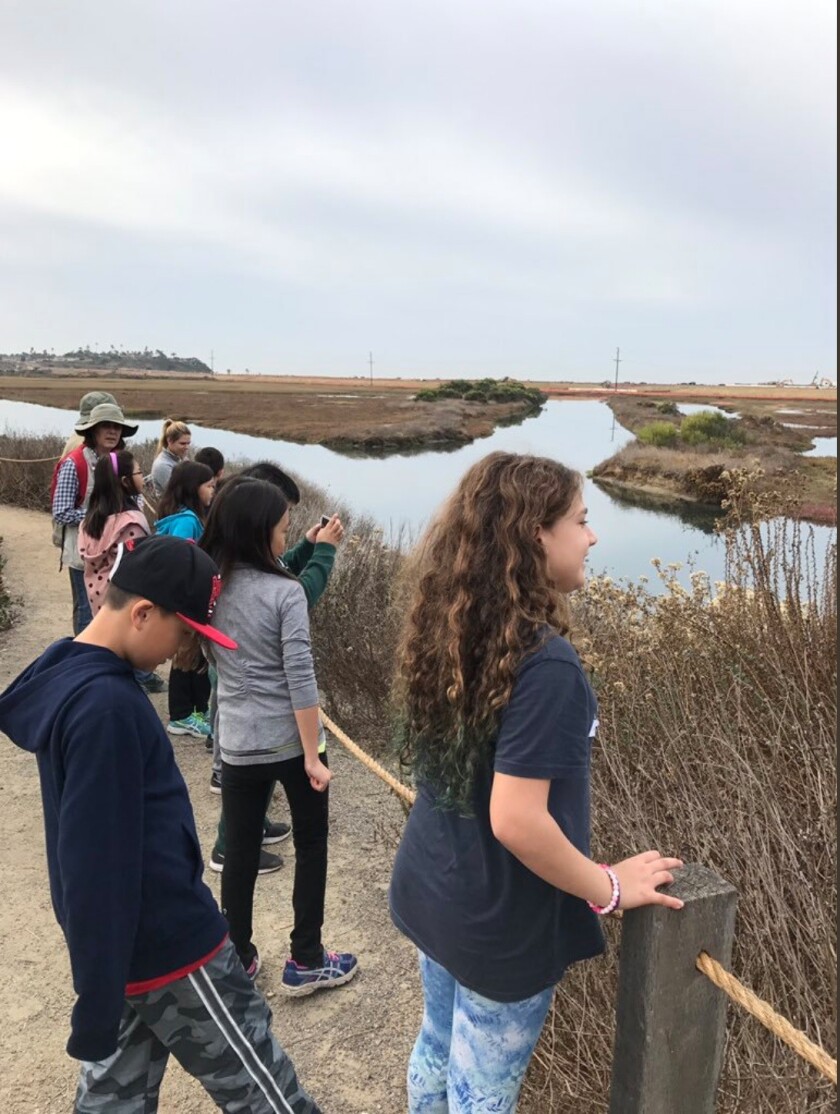 "Outside the classroom, children tend to observe things more keenly and ask more questions."
~Deborah Meier, Central Park East Schools
Leaving a school campus to take a field trip has been a timeless highlight for students, and now the Del Mar Union School District is working to develop expeditionary partnerships, mutually benefiting students and their mentor organizations. Beyond a one-time field trip tour, expeditionary partnerships provide an authentic purpose for learning.
Del Mar School's Coordinator of Curriculum & Instruction Dinah Brown first worked with Tara Faud, education director of the San Elijo Lagoon Conservancy, to organize lagoon tours for all of the district's 3rd grade students. In the summer of 2017, a cohort of science specialists and teachers met to develop a Design Thinking challenge to extend the place-based learning experience.
Recently, students from Sycamore Ridge Elementary School arrived at the San Elijo Lagoon prepared to make observations and ask questions regarding the health of the lagoon based on related California Next Generation Science Standards and information provided by docents.
Students returned to the classroom filled with empathy and curiosity, ready to conduct further research to understand the specific needs of lagoon organisms, and were empowered to design solutions to maintain a healthy lagoon.
Individuals and small groups developed solution prototypes based on student strengths and interests, and entered a feedback and revision cycle involving grade-level and upper peers.
An exhibition was held to share the learning and solutions with second grade students, who were dazzled by the presentations of skits, songs, works of art, digital media and physical models.
The exhibition also included opportunities for feedback from special guests, including Faud and Kristen Hoffman, school program coordinator, who commented that the solution proposals far exceeded their expectations.
In turn, Faud and Hoffman received input from 3rd grade teachers on ways to improve lagoon visits. As a result, a Design Thinking Project Toolkit was developed and is now available to help guide all teachers following a visit to the lagoon. In addition, student projects were highlighted in the lagoon's e-newsletter with plans for others to be displayed at the San Elijo Lagoon Nature Center.
---