CCA student raising awareness on human trafficking
Shawdi Sani, a junior at Canyon Crest Academy, has made raising awareness about human trafficking a personal mission. To help spread the word to her school and community she held an event on Friday, March 1 in The Nest, CCA's student café.
Shawdi wanted to share the "shocking" statistics she had learned—that San Diego is on the FBI's list of the 13 highest child sex trafficking areas in the nation. The average age of a victim is 16 years old —"the same age as me," Shawdi said.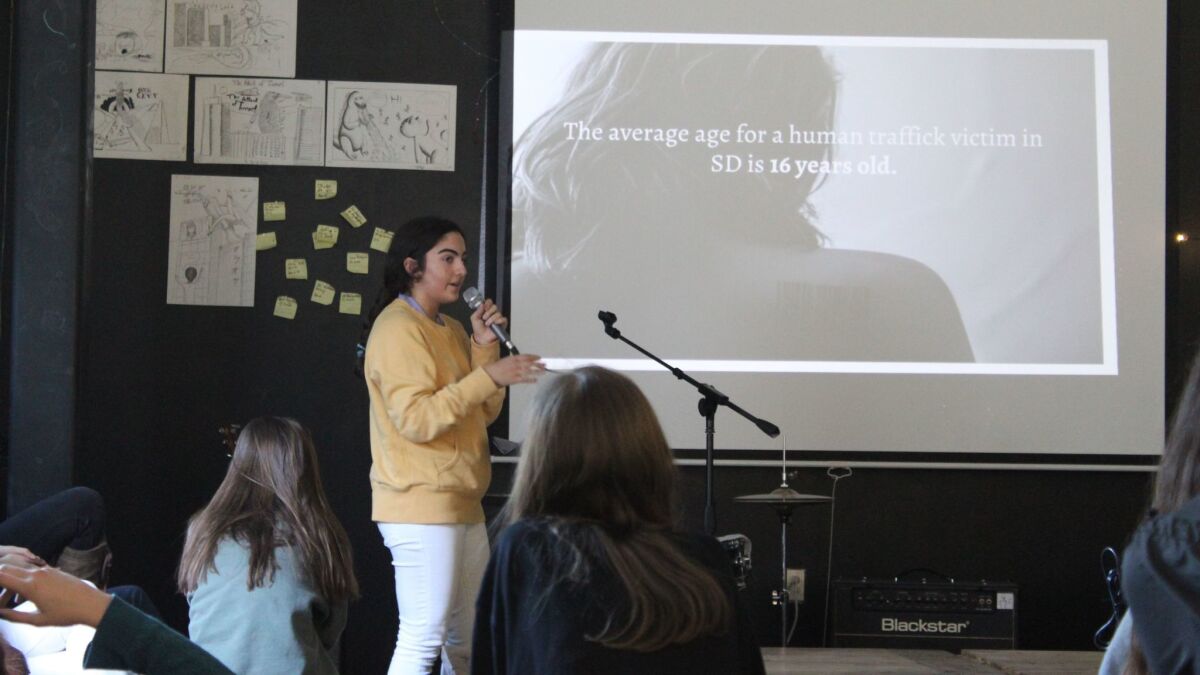 "We need to erase the mindset that human trafficking only happens 'over there' and not near us. We need to be proactive and spread awareness," Shawdi said. "I believe we need to discuss it and discuss ways of prevention to make sure that no one in our area is vulnerable or uninformed about the issue."
At Shawdi's event, students perched on couches and chairs in The Nest on campus and settled in to watch a livestream of a benefit concert featuring Aloe Blacc and Mt. Joy hosted by YouTube and Not for Sale, an international anti-human trafficking nonprofit. CCA student band Second Impression, featuring Josh Urich, Saket Arora and Nick Abaunza, served as the live opening act for the concert and CCA Younglife club leaders provided food from Chick-fil-A.
Shawdi, a Rancho Santa Fe resident, first became interested in human trafficking in Jennifer Travasos' AP English class, where she had to complete a research project on a current day issue.
"At first I thought it was something that only happened in developing countries, certainly not the United States," said Shawdi. She soon stumbled across a research paper on human trafficking in San Diego — "The statistics made me sink in my seat when I read them. I had no idea that human trafficking was such a huge problem in San Diego, our hometown," she said.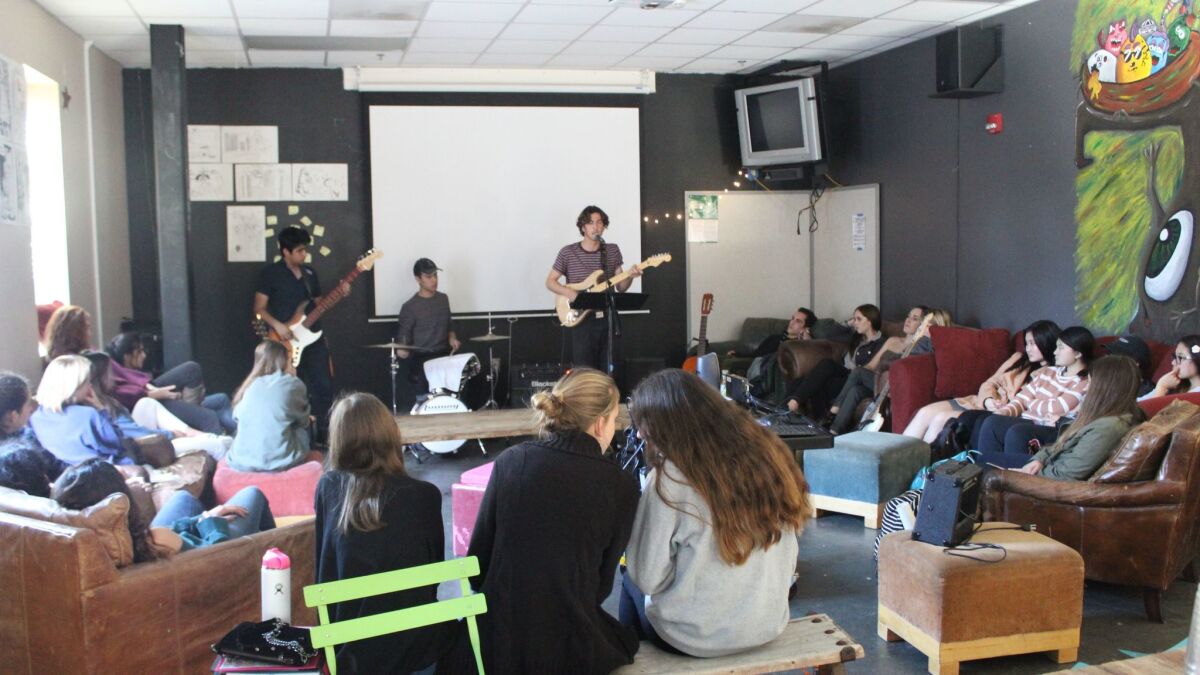 The study Shawdi found was research conducted by Dr. Jamie Gates of Point Loma Nazarene University and Dr. Ami Carpenter from the University of San Diego— one of the largest, most comprehensive human trafficking case studies in the U.S.
The study revealed that human trafficking is the second largest underground economy in San Diego after drug trafficking, representing $810 million in annual revenue. The scope of trafficking in San Diego County is wide—according to the study, victims identified either living or "working" in every city of the county, in areas both wealthy and impoverished.
Shawdi pointed to a map of places of arrests for trafficking in San Diego—most were in south San Diego, downtown and closer to the border although there were a few in North County.
"Where we live is kind of a bubble. We can't stay a bubble forever and we're not immune to human trafficking, nobody is," Shawdi said. "I don't want us to be a victim and we can't just pretend it won't happen. Prevention is the most important thing in combating human trafficking."
Shawdi is working with the Raven Abolitionists at Canyon Crest as well as fellow junior Marcus Fallor of the school's Humanitarian Cause Club to bring a school-wide assembly on human trafficking in May.
Significant recruitment happens at San Diego high schools, particularly through social media, so Marcus said they want to raise awareness on signs and prevention tips to make sure it doesn't happen at CCA.
To spread the message to other high schools and the community at large is also important to the teens: "Our main goal is make sure it wouldn't happen anywhere," Marcus said.
To learn more, visit humantraffickinghotline.org. For immediate assistance, call the National Human Trafficking Hotline 1-888-373-7888 or text HELP to BeFree (233733).
---
Get the Del Mar Times in your inbox
Top stories from Carmel Valley, Del Mar and Solana Beach every Friday for free.
You may occasionally receive promotional content from the Del Mar Times.