BikeWalk lessons keep Solana Beach students on safe path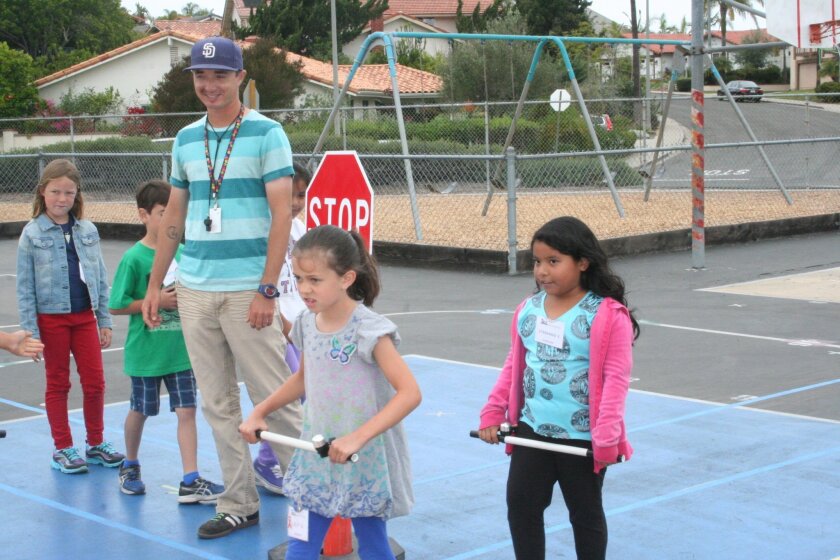 In honor of National Bike Month, students learned basic bicycle and pedestrian safety skills May 4-8 at Solana Vista School.
"We're encouraging them to ride their bikes or walk to school, so it's important to teach them how to do so safely," said physical education teacher Robin Park, whom the children call "Coach Park."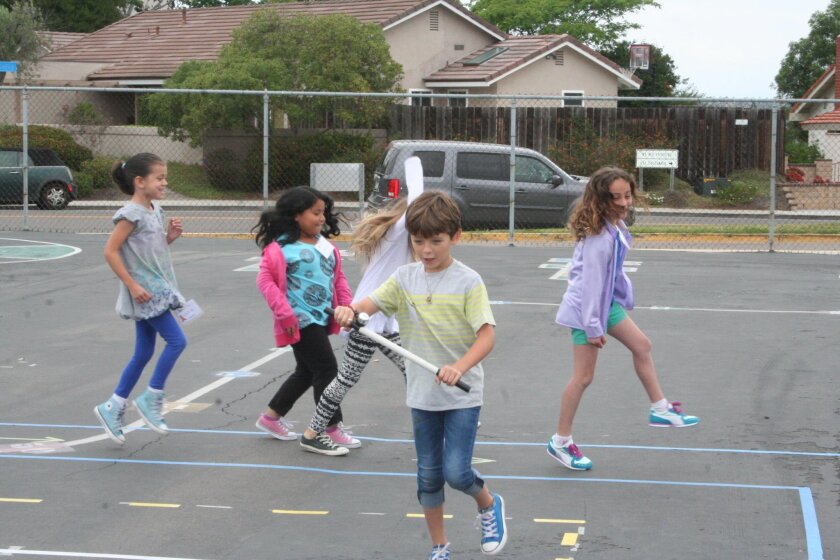 A portion of the playground was transformed into a four-way intersection, complete with stop signs, crosswalks, sidewalks and simulated cars. Using PVC pipes designed to look like handlebars, students pretended to be cyclists while others pretended to be pedestrians.
This is the second year Solana Beach resident Karl Rudnick coordinated the on-campus program, which he created with his wife, Jill Cooper, last year.
Led by Rudnick, the bicycle and pedestrian safety skills program was held during physical education classes throughout the week and just in time for Bike to School Day May 6 and National Bike to Work Week May 11-15.
Rudnick is a certified instructor with the League of American Bicyclists, an organization that promotes cycling for fun, fitness and transportation through advocacy and education, as well as a founding member of BikeWalkSolana, a local community group that advocates for better and safer bicycling and walking facilities, and promotes cycling and walking in Solana Beach.
He holds Smart Cycling classes in Oceanside, teaching children and adults bicycle safety skills. In addition, he leads Bike Safety Rodeo weekend events for children in Solana Beach.
"It's really important because I'd love to see more kids riding their bikes to school," Rudnick said. "It's good for the environment and their health."
During the program, children "rode" simulated bikes and walked through a safety course, learning to safely watch out for each other, and for cars — poster boards held by Rudnick and volunteers. Students also learned a song about the importance of looking left, right and left again before crossing the street.
Cooper, a retired teacher who used to teach at Solana Vista School, taught the song to the children. Some of them remembered the words from last year.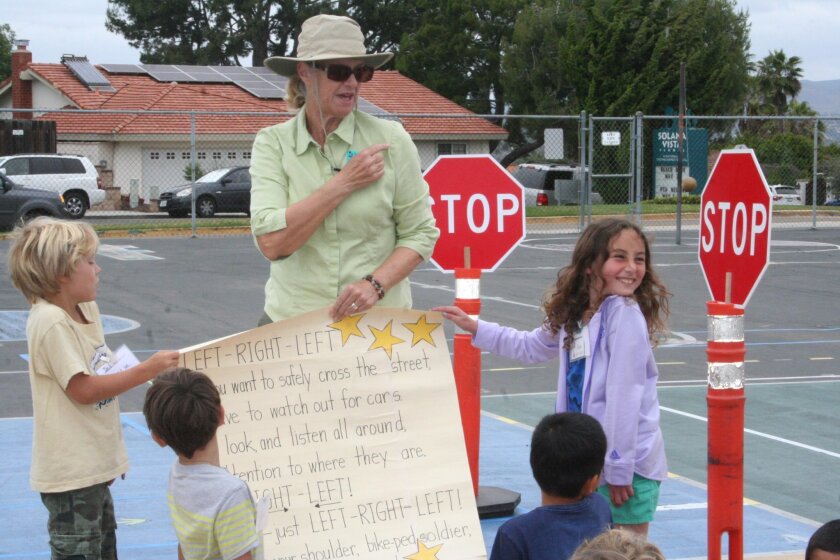 With plans to bring a similar program to Escondido schools, Bike Walk Escondido member Greg Birch observed some of the sessions.
"It's the first time I've seen this," Birch said. "I think this is great. I think it will be something that we'll try in Escondido."
"This is happening all around the county," Rudnick added.
By the end of the week, about 450 transitional kindergarten- through third-grade students had completed the program, which allowed students to demonstrate their skills through role-play.
"It's the whole school," Park said. "And more than half of them remember what they learned last year."
"That's the whole thing — you just teach this program that's so simple it will be ingrained," Rudnick added.
For information about the League of American Bicyclists, visit bikeleague.org.
For information about BikeWalkSolana, visit bikewalksolana.org.
---
Get the Del Mar Times in your inbox
Top stories from Carmel Valley, Del Mar and Solana Beach every Friday for free.
You may occasionally receive promotional content from the Del Mar Times.