CCA Envision students perform, win awards during memorable trip to Europe
Forty-two Canyon Crest Academy Envision students had the rare opportunity to communicate with diverse audiences through music when they recently traveled to Paris and Amsterdam.
It was a six-day, whirlwind tour, packed with activities headed by Envision instrumental music coordinator Amy Villanova and Envision vocal music coordinator Anne Whatoff.
The tour group included 10 parent chaperones and two family groups. A party of 56 flew from San Diego to Amsterdam on April 4 to embark on an adventure that crossed musical and cultural boundaries.
The trip brought opportunities for CCA's concert choral and instrumental musicians to perform in several historical settings and to compete with groups from Canada, the Netherlands and California.
In Amsterdam, the choir, orchestra, and band participated in an adjudicated festival held at Het Concert Gebouw (The Concert Hall), completed in 1886 as a gift to local citizens and long-famed for its acoustics. It provided a dignified setting for their performances.
Each group was critiqued and rated by Christian Bohm, faculty of Sacred Heart Cathedral, San Francisco; British conductor Colin Touchin, composer in residence at UK's Warwick School and King Henry VIII School; and orchestral composer Johan de Meij, famed for his "'Lord of the Rings' Symphony," said Whatoff.
The choir earned a gold award; the band earned silver; and the orchestra, bronze. In addition, CCA won the Dutch Masters Award.
Groups performed in the smaller venue of Amsterdam's Engelse Kerk (English Reformed Church) on April 7 and their grand finale on April 9 was a concert — to an audience of about 200 — at the revered Saint-Germain-des-Prés, the oldest church in Paris.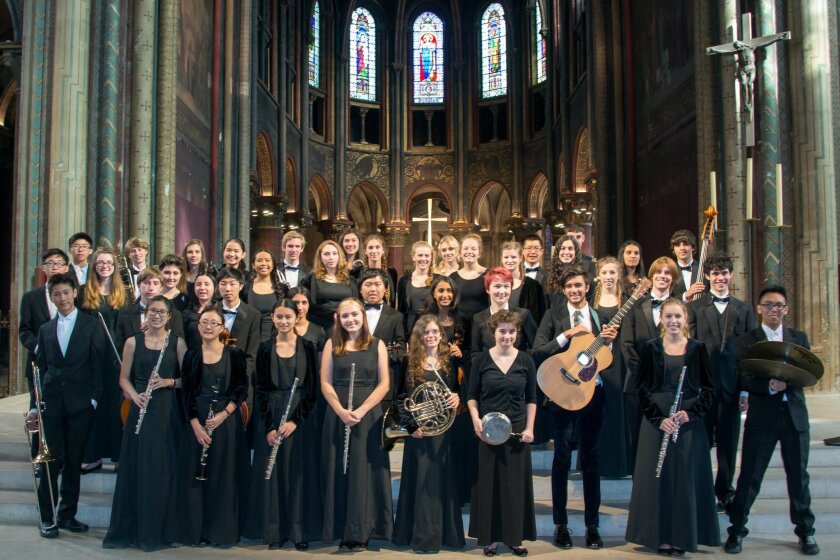 The instrumental groups performed works by Vivaldi, Granger, Ticheli and Kinley Lange, and featured soloists Ryan Murphy, Alexander Zhang and Javan Tahir.
The choir performed an 800-year-old Icelandic hymn. Featured solos were sung by Lauren Bitter, Guy Eckstein, Katie Finkbeiner and John Paul Welch.
Beside offering the opportunity to perform in such venerable settings, the trip also included sightseeing.
The group toured the Anne Frank house and saw famous works of art in Amsterdam's Rijksmuseum. In Paris, the Louvre provided ample opportunity for selfies to be taken beside Da Vinci's "Mona Lisa."
Other stops in Paris included the Palais Garnier opera house, Basilica of Sacré-Cœur, l'Arc de Triomphe and Notre Dame Cathedral.
Ed Murphy, whose son, Ryan, is a trumpet player, was one of the parents who chaperoned the students, documenting the entire trip photographically.
Moving the students from the U.S. to Amsterdam, to Paris, back to Amsterdam and then home was no small feat, but it went surprisingly well. "And we didn't lose any kids!" Murphy joked.
Traveling by train from Amsterdam to Paris and back was an adventure. Some of the equipment was oversized, and hauling it through crowded streets to the station was not easy. Boarding the train, the group eventually filled an entire carriage, "completely stuffed with instruments, kids and luggage!" Murphy recalled.
For music students, the logistics of transporting instruments and music stands presents an additional challenge not generally associated with school trips. Despite that, the Envision music department organizes an overseas trip every two years. Other destinations have included China and Ireland, with Australia being a strong contender for the next trip.
"International trips like these are valuable for our students as they get out of their bubble to hear and make music with students from around the world, perform in world-renowned venues and gain firsthand experience of other cultures," said Villanova.
They also allow students to have tangible experiences that link them to their studies in music as well as history. "They are seeing, feeling and experiencing the pages off their textbooks," said Whatoff.
It is also an opportunity for the music to transcend language. Music, said Whatoff, is such a great medium "to bring together people from all over, and it was amazing to watch audience members mouth the words along with some of our soloists or to watch toes tap and see their smiles.
"Even if we couldn't converse in Dutch or French, we were still communicating through a shared musical experience."
---
Get the Del Mar Times in your inbox
Top stories from Carmel Valley, Del Mar and Solana Beach every Friday.
You may occasionally receive promotional content from the Del Mar Times.