Canyon Crest Academy's TEDxYouth event brings ideas to the table March 29
For some Canyon Crest Academy students facing global issues and starting a conversation about solving them cannot come quick enough.
CCA's TEDxYouth organizers have created a short-format event that will be held at the school campus on March 29 to bring the conversation into the present. TEDx is a program of local, self-organized events devoted to ideas worth sharing.
The free event, "We Can't Wait: Conversations That Matter," will feature three TEDx expert speakers and a music performer, who will address some of the issues affecting the young generation, according to Sonia Rhodes executive producer, licensee and curator for TEDx youth San Diego.
It will be attended by 400 high school students from all over San Diego, who applied to participate.
In November, when talks first started about the event planning, grim news dominated the media.
"The Ferguson riots had erupted, the campus sexual assault crisis was all over the news, teen suicide was ramping up, there was a global crisis of a magnitude that started to feel like, 'Oh my gosh, we are this young generation and we want to be the ones that change everything. How can we if we don't engage in these conversations?'" said Rhodes.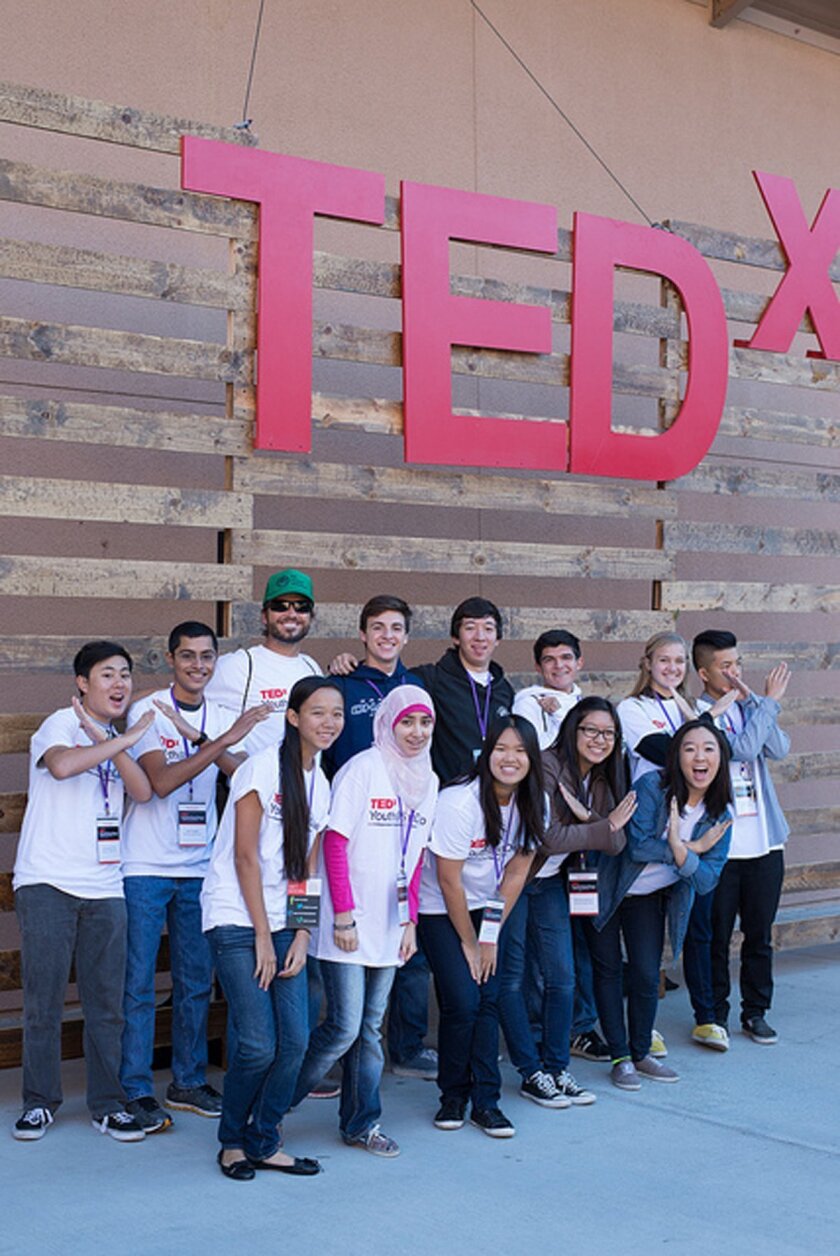 With the aim of cultivating empathy and widening circles of compassion, the three-hour engagement is a mini-version of CCA's signature November TEDx day that is also in the planning phase.
The idea came from topics — shared among student organizers — about current affairs that directly affect high school students and their immediate futures. The "We Can't Wait" theme has a dual meaning.
"On the one hand, there's no time to waste — we have to talk about these issues now," explained CCA junior Annika Patton, one of the organizers. "But also it is the sense of excitement and being so thrilled to be able to tackle these issues, and that we are the ones to positively impact the future."
Annika and CCA senior Nick Ravazzolo have been working hard behind the scenes to make the event happen. Seventeen students are on committees, paired with business or educational mentors who have the skill-set matched with each committee role.
Committees include video and tech teams, a speaker team, a sponsor team, a hospitality team and more.
Annika — on the speaker team — said she had to become an "expert at sending a lot of emails ... and tweeting." But more so, her main job was to foster the relationship with each speaker. "We help them shape their talks, to pinpoint what ideas they can share with our audience, and to make sure what they are saying is relevant to our lives."
Nick — on the hospitality team — learned about business strategy, communication and rejection. "It's easy to say 'no' to an email or phone call, but when you have a group of kids physically in your store, it's a lot harder to say 'no,'" he said.
Added Annika, "It's a great sense of pride for us — we get to have our hands in everything. The adult mentors guide us and push us to be independent and make it happen so we are learning very valuable life skills."
The event speakers, whose names have yet to be released, include a college professor, a civil rights leader, and an urban educator who will talk about new ways to imagine current event crises not generally addressed in schools, along with a singer-songwriter who has written a song specifically for the event.
"The talks aren't meant to necessarily prescribe something to fix these issues, but more to create a dialog between the attendees and the speakers to make all the students more cognizant about what is going on around them," said Nick.
As an innovative short-format TEDx event, it is hoped that TEDxYouth will serve as a model for others to replicate, said Rhodes. "It will also allow students to rapidly create a forum of dialog if more pressing topics comes up."
---
Get the Del Mar Times in your inbox
Top stories from Carmel Valley, Del Mar and Solana Beach every Friday for free.
You may occasionally receive promotional content from the Del Mar Times.