Lunchtime Storytellers Club sparks new writers at Del Mar Heights School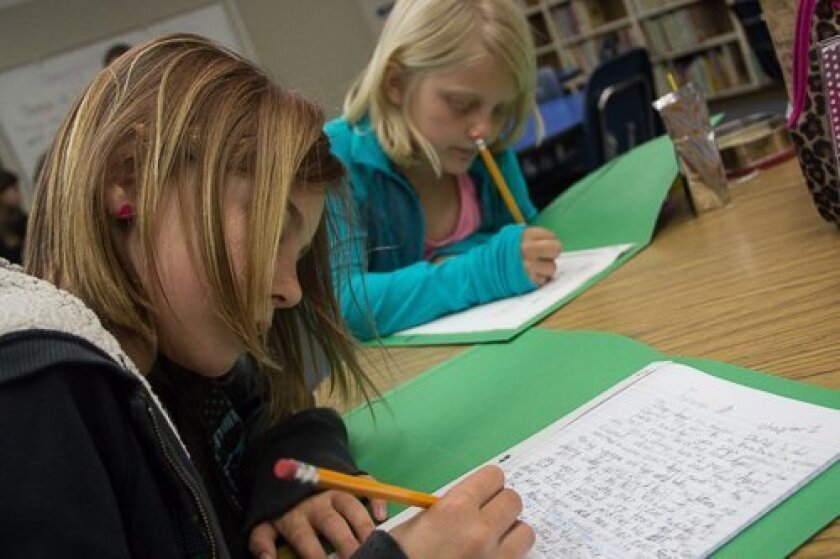 If you step into the Del Mar Heights School library on a Monday or Tuesday at lunchtime, you'll be treated to a variety of stories. You'll hear about warrior fairies, rock 'n' roll hamsters and evil robot substitute teachers.
These are just some of the thrilling, fantastic tales being told by students in the lunchtime Storytellers Club, a new program at Del Mar Heights School.
The goal of the club is to make connections and spark a passion for writing while giving students the skills they need to tell great stories. Storytelling is also a vital way to teach life lessons such as empathy, identity and respect. These lessons mirror the vision, mission and core values of Del Mar Heights School.
Already in its second session, the Storytellers Club is structured in the read-and-critique workshop format used by many adult authors. Each student has the opportunity to have writing read aloud and critiqued. In the workshop format, students learn from each other while having fun.
At the end of each eight-week session, students should come away with a chapter, story or scene that will hook an audience. With that in mind, revision is a key lesson taught in the Storytellers Club. Many new writers quit after being critiqued or abandon their stories in the middle when it gets hard, but the students at Del Mar Heights are learning to be fearless and resilient.
Members of the Storytellers Club can also submit their writing to be performed by the Imagination Machine in an assembly at Del Mar Heights School this spring. You can find samples of their writing at www.amybmair.com/storytellers.
---
Get the Del Mar Times in your inbox
Top stories from Carmel Valley, Del Mar and Solana Beach every Friday.
You may occasionally receive promotional content from the Del Mar Times.