Del Mar Union School District board selects Gretler as new trustee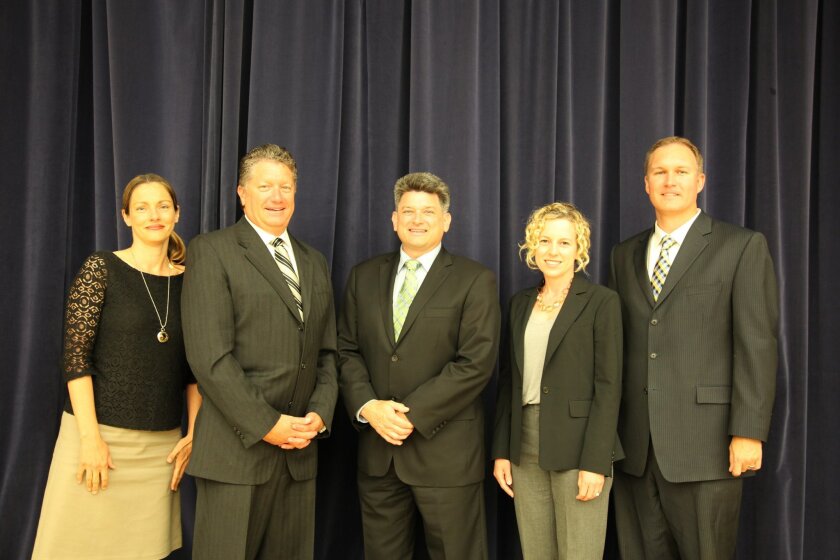 Darren Gretler was appointed as the new trustee on the Del Mar Union School District board after a public interview session with one other candidate on Aug. 6.
His appointment fills the seat vacated by Alan Kholos.
Gretler had also been a candidate to fill Doug Perkins' seat in March and was ranked highly on the board members' lists. He remarked that he remembered the long walk from the Del Mar Hills art room to face the board's public interview questions; it wasn't any less nerve-wracking the second time around.
The trustees remarked that they were impressed by the high quality of the candidates, Gretler and Daniel Lee, and trustee Scott Wooden made the motion to appoint Gretler for the rest of Kholos' four-year term, up for re-election in November 2016.
"Both Darren and Daniel have very similar attributes," Trustee Kristin Gibson said in seconding the motion. "Darren has quite an understanding from working in government, which sets him apart."
Gretler received his undergraduate degree from UC San Diego and his MBA from San Diego State University. He has worked as an administrator with San Diego County for 15 years, starting as a policy adviser for Supervisor Dianne Jacob.
He ran the division of public works and served as chief of the building division in planning and land use for five years. He is the assistant director of the department of planning and development services. After the 2014 wildfires, he served as the recovery manager for the county, coordinating restoration needs.
"A highly effective board member will do the hard work necessary for sustaining the district's excellence, building on accomplishments and assisting in ensuring the continued success of the district," Gretler said. "This will take the efforts of a board member who is engaged at all levels of both development and implementation of sound policy."
Although Gretler noted it was awkward to talk about himself, he said he believes in putting service before self and that he possesses the attributes a board member needs, such as strong fiscal discipline, strategic planning capability, a head for successful advocacy and the ability to work as part of a team.
He said a board member's role is "boots on the ground," communicating with stakeholders and understanding that each school site has its own personality, and understanding the needs of more than just the school your kids attend.
"I want to be part of a team whose role extends beyond board meetings to articulate the district's message, engage stakeholders and the community and support the administration and district staff so they can focus on student's success," Gretler said.
The father of two boys, one a Sage Canyon first-grader and one who is 3 years old, Gretler is a member of the Dad's Club at Sage Canyon. His wife, Erika, has served as a room parent, is on the PTA executive board and is a Running Club volunteer.
Jim Neves, a Sage Canyon parent, said that Gretler is a very capable leader who is very involved in the community. Joshua Hill, a Del Mar Hills parent, also endorsed Gretler and said he would be a great role model for others on the board.
Trustee Erica Halpern said she appreciated Gretler's understanding of issues in public education, budgeting, finance and experience in consensus building and teamwork.
"It's important to have demonstrated involvement in the schools, and that last one stands out to me as an important factor that Darren brings to the table," Halpern said.
---
Get the Del Mar Times in your inbox
Top stories from Carmel Valley, Del Mar and Solana Beach every Friday for free.
You may occasionally receive promotional content from the Del Mar Times.