Second Canine Companion 'enrolls' in Del Mar district to help students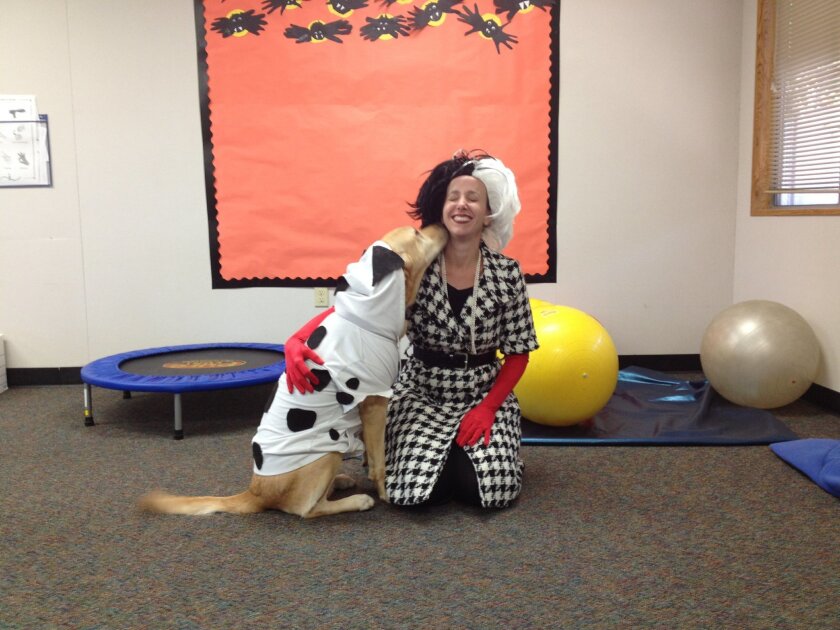 Del Mar Union School District now has two furry friends helping special-needs students.
The district recently welcomed its second facility dog from Canine Companions for Independence, a nonprofit that aims to enhance the lives of people with disabilities through trained assistance dogs and ongoing support.
Omeeka II, a Labrador-golden retriever mix, works with special-needs students alongside occupational therapist Bree Dambacher. Dambacher is the second of four occupational therapists at the district who has partnered with a facility dog.
"I use Omeeka in just about every activity I do with students," said Dambacher, who has worked at the district for seven years. "Kids are more motivated. Everything is fun."
With Omeeka's help, Dambacher helps children in kindergarten through sixth grade with moderate to severe disabilities, including autism, Down syndrome and speech delays, at Del Mar Heights Elementary School, Del Mar Hills Academy and Ashley Falls School. Using Omeeka's speech commands, the students work on fine motor skills and therapeutic goals.
When children are working on dressing, they button Omeeka's shirt. When they are writing, Omeeka brings them pencils. And when they are practicing their fine motor skills, they put Omeeka's kibble in her bowl using chopsticks, and water in her bowl using droppers.
As a reward for kids with behavioral issues, students get to play fetch and walk Omeeka.
"It's been great to work with her," Dambacher said. "I'm really lucky to have her."
Dambacher wanted to work with a facility dog ever since she heard about Melissa Buffin's work with her canine companion, Teal, during a presentation at Del Mar Heights School.
Buffin, who has worked as an occupational therapist at the district for five years, partnered with Mr. T — short for his given name — in August 2011. She and Mr. T work with children in preschool through sixth grade at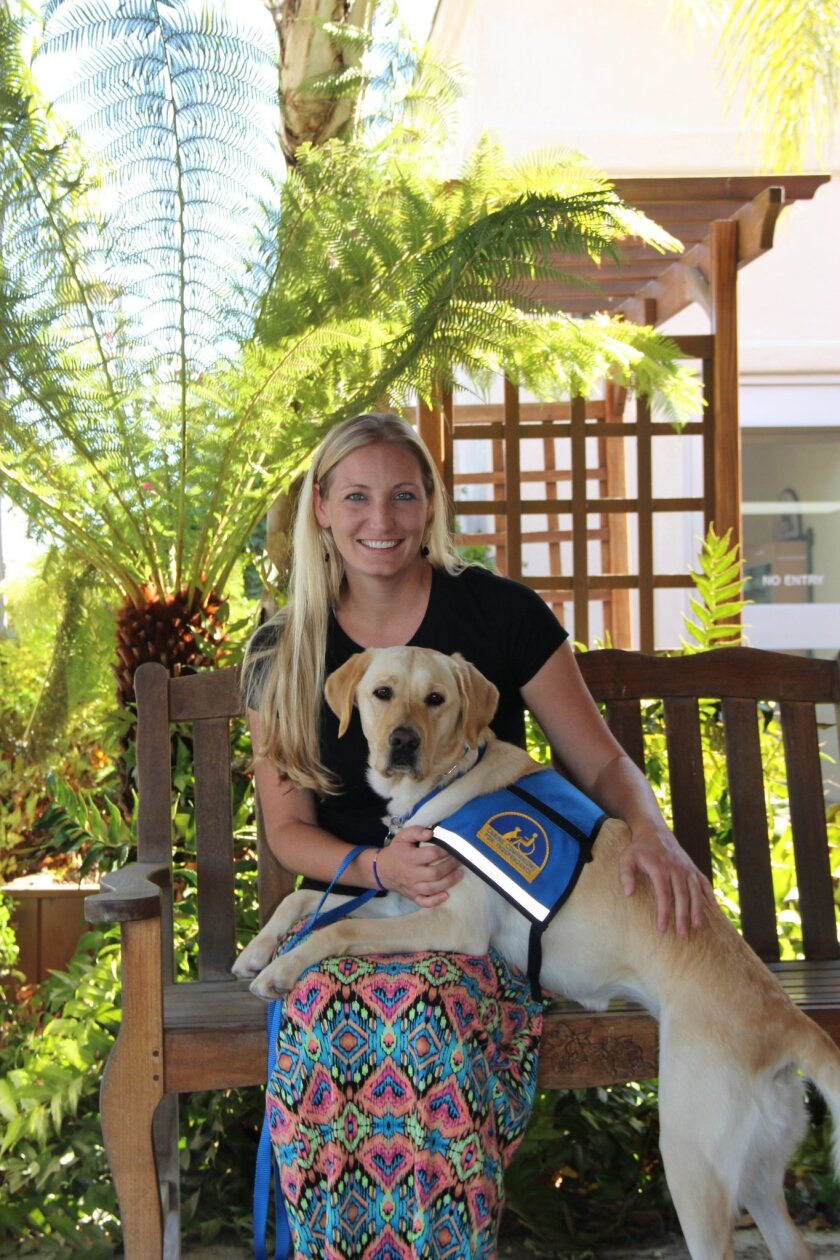 Sage Canyon School, Sycamore Ridge School and Sycamore Ridge's Child Development Center.
"I feel like I can accomplish things faster," said Buffin, who is on maternity leave. "Their goals are met faster, they are more engaged and they are highly motivated. You can see the difference."
Canine Companions for Independence dogs are trained for two years, learning more than 40 specialized commands before they are ready to graduate. Both Buffin and Dambacher had to complete a rigorous team-training course at Canine Companions' Southwest Regional Training Center in Oceanside, where they were matched with their respective assistance dogs and learned how to work with them safely and effectively.
"They continue to work with me and with him to contour his commands to what the kids I work with need," Buffin said. "I wasn't even expecting that. I think it's incredible the amount of support that they give to these dogs and the people that work with them."
Some of the special commands Omeeka and Mr. T have learned include the "crash" command, where the dogs lie on top of children with autism, applying pressure. This serves as a sensory break when a student feels overwhelmed.
Another command is the "step" command, where the dogs place their feet on a child's feet or wheelchair footplate to get up close and personal.
Some of the most special moments, however, stem from small activities, Buffin said.
During every Halloween parade and graduation ceremony, she and Mr. T dress up to encourage timid children to participate. The pair have dressed up as a crayon and a piece of paper, and Cruella de Vil and a Dalmatian, among other costumes.
"It's not even a part of therapy, but it's him being a part of our program," Buffin said. "Because of Mr. T, kids that normally wouldn't participate, participate. I think that's awesome.
"I'm thankful that Del Mar Union School District has been so supportive," Buffin added. "I think that shows their dedication to cutting-edge intervention for kids and being open-minded."
Founded in 1975, Canine Companions has six training centers across the country, including the Oceanside center. Thanks to the organization's supporters, the dogs, their training and ongoing follow-up are provided free.
"As a therapist, you always want to be as effective as possible. With Mr. T, I feel more effective," Buffin said. "I think that's the most rewarding thing you could ever ask for in the field that I'm in. It's just such a positive experience."
For more about Canine Companions for Independence, visit www.cci.org.
---
Get the Del Mar Times in your inbox
Top stories from Carmel Valley, Del Mar and Solana Beach every Friday.
You may occasionally receive promotional content from the Del Mar Times.