Local students among 28 joining Bishop's Cum Laude Society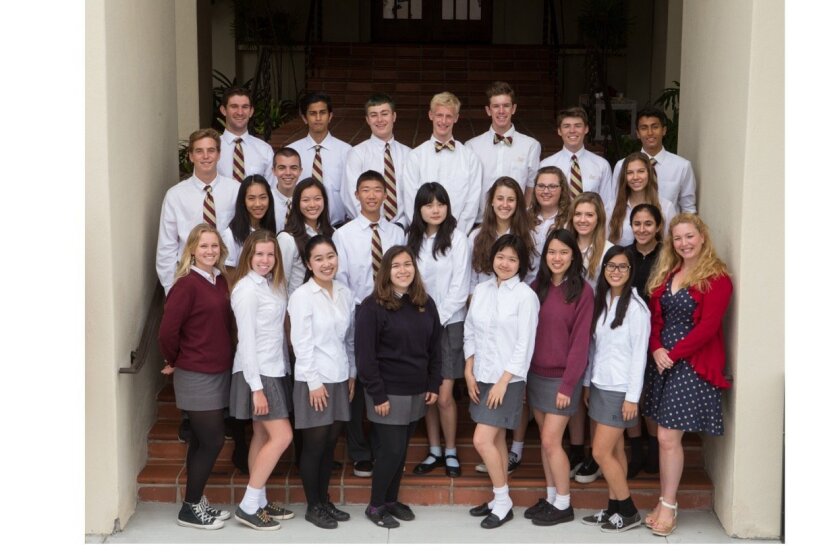 At a convocation at St. James by-the-Sea Church in La Jolla, Head of Upper School Bill Goss recognized 28 members of the Class of 2015 as having received membership in the Cum Laude Society.
The students are Ian Banta of University City, Abigail Bertics of La Jolla, Virginia Boldt of Scripps Ranch, Nadine Bradbury of La Jolla, Shanelle Chen of La Jolla, Zachary Cohen of La Jolla, Serina Curtis of La Jolla, Dylan de Waart of Carmel Valley, Justin Geier of Carlsbad, Peter Griggs of Rancho Santa Fe, Carley Haft of University City, Conor Hayes of Rancho Santa Fe, Jack Kimmel of La Jolla, Alexandra Krstic of Carmel Valley, Daphne Lin of Carmel Valley, Neil Lunsford of Rancho Santa Fe, Madeleine Morales of Point Loma, Madeleine Nagle of Pacific Beach, Nikhil Palanki of Encinitas, Ashley Peng of Torrey Highlands, Justin Ruggiero of Del Mar, Carleen Su of La Jolla, Caroline Thomas of Rancho Santa Fe, Victoria Tran of Rancho Santa Fe, Alice Wang of Carmel Valley, Jennifer Wang of Carmel Valley, Gloriana Xia of La Jolla and Eric Yu of Carmel Valley.
Bishop's juniors and seniors, families of honorees, faculty and staff heard from new society members Ian Banta '15 and Nikhil Palanki '15 and alumna Stephanie Baker-Baum Battani '99. The speakers offered words of wisdom for the students who will be making the transition from high school to college in just a few short months.
Banta and Palanki encouraged their classmates to find what is beautiful to them, as "filling a life with what one finds beautiful will make us content. You should be content with all of the choices you made and confident that you made them according to your own internal judgments. Only you can judge what is truly beautiful to you, only you can find it and choose to pursue it."
Battani, now a teacher herself, shared stories of her Bishop's teachers and the role they played in helping her learn the importance of resilience. She said, "The No. 1 thing that makes people unhappy is living in fear. The best way to get out of this trap of fear is to practice resilience. How can you practice resilience? Don't rest on your laurels or reputation, but instead take risks and accept constructive criticism."
The Cum Laude Society was founded in 1906 for the purpose of recognizing superior scholarship in independent school students. The founding model was very much like Phi Beta Kappa at the collegiate level, which recognizes and encourages true academic scholarship. Today, Cum Laude has grown to 382 chapters mostly in the United States; over 350 chapters are in the independent school arena. Bishop's chapter was founded in 1956. Approximately 4,000 students nationwide will be inducted into the society this year.
For more about The Bishop's School, visit www.bishops.com.
---
Get the Del Mar Times in your inbox
Top stories from Carmel Valley, Del Mar and Solana Beach every Friday for free.
You may occasionally receive promotional content from the Del Mar Times.