Solana Beach art students open their hearts to help others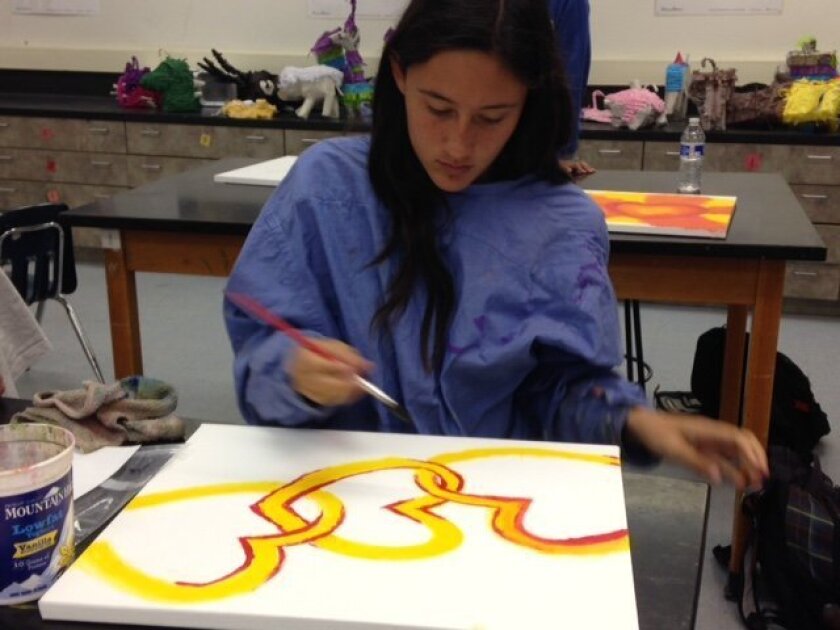 Using art, Solana Beach students are sharing their hearts to help heal others.
Cardiff artist Gerrit Greve, founder and director of the Hearts for Healing Foundation, is working with students at Earl Warren Middle School to create art pieces that will be auctioned off to help support local health centers.
"A lot of the paintings actually have a heart (in them) to remind the students who are working on it and anybody that looks at it that this is someone giving you their heart, their love," Greve said. "It's a gift, and that's powerful."
In the program's ninth year, Greve shares the healing power of art with youth through the Hearts for Healing Foundation, a nonprofit community outreach. With the help of personally trained assistants, Greve works with youth in local schools and community centers, teaching students artistic skills, but also to explore self-expression and the ability to communicate feelings through art.
Greve has worked with more than 1,000 students in private and public schools, including Santa Fe Christian Schools in Solana Beach and R. Roger Rowe Middle School in Rancho Santa Fe.
This is his first time working with Earl Warren Middle School. He is working with 87 seventh- and eighth-grade students in Tami Austin's three studio art classes.
"This is more than I've ever worked with," Greve said. "It's fun."
After meeting Greve at a Solana Beach Library art exhibit, Austin was inspired to collaborate with him on a unit for her students.
Austin and Greve launched the four-week acrylic-on-canvas painting unit in mid-April. The students will each create two pieces, with the prompts "Art With a Heart" and "Healing Waters." Other than those themes, the students are encouraged to use their creativity.
"I think it's a really unique opportunity for middle school students to work with acrylic on canvas. That's something that's usually reserved for the high school level, if not college," said Austin, a studio art teacher who has worked at the middle school for five years and in the district since 1998. "It's also a wonderful opportunity for the students to give back to the community."
The Hearts for Healing project grew out of a program called Arts for Healing.
With art collectors Ralyn and Nate Wolfstein, Greve co-founded Arts for Healing in 1993 at Scripps Memorial Hospital La Jolla. The program promotes healing for patients, their families, and staff members through an aesthetically enhanced hospital environment.
In 2003, the program expanded to Scripps Memorial Hospital Encinitas, and since then, has expanded to additional hospitals and medical clinics through Hearts for Healing.
After students donate their work, it is displayed in a rotating exhibit at Scripps Encinitas. The art pieces are later auctioned with a portion of the proceeds supporting Hearts for Healing and most of the proceeds benefiting Family Health Centers of San Diego, a private nonprofit community clinic that has 36 sites, including 19 primary care clinics, six dental clinics and four behavioral health facilities. Annually, Family Health Centers of San Diego provides care to more than 180,000 patients through more than 677,000 encounters.
"They're giving up their work," Greve said of the students. "They're creating it to give away, to do good. That's quite a concept."
In January, Hearts for Healing held an auction featuring more than 80 art pieces created by students from R. Roger Rowe Middle School in Rancho Santa Fe.
Although the foundation's next auction has yet to be scheduled, the pieces by Earl Warren students will also be auctioned to benefit Family Health Centers of San Diego. Some pieces will be donated to local health centers.
"This teaches kids that they can very singly help someone — someone that they may never meet," Greve said.
For more about Hearts for Healing, visit www.heartsforhealing.net.
---
Get the Del Mar Times in your inbox
Top stories from Carmel Valley, Del Mar and Solana Beach every Friday.
You may occasionally receive promotional content from the Del Mar Times.