Solana Beach Schools Foundation ready for new school year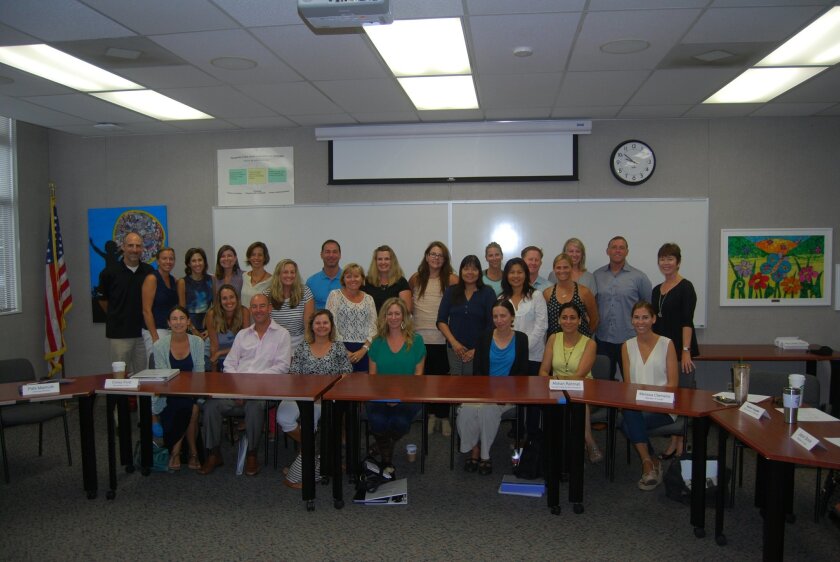 With summer coming to a close and school almost back in session, the Solana Beach Schools Foundation is gearing up for another year of fundraising to support local students.
"We've been working hard all summer getting everything ready," said Patti Malmuth, executive director of the foundation.
The Solana Beach Schools Foundation raises close to $1 million each year to support school programs and students in the Solana Beach School District. Founded in 1987, the foundation supports six of the district's seven schools, including Skyline and Solana Vista in Solana Beach, Carmel Creek, Solana Highlands and Solana Pacific in Carmel Valley, and Solana Ranch in Pacific Highlands Ranch. The Parent Teacher Organization at Solana Santa Fe heads fundraising for the Rancho Santa Fe school.
Last year the foundation raised $970,000, turning over $800,000 to the district in quarterly donations, Malmuth said. Funds help schools offer Discovery Labs, which focus on science, technology, research, engineering, arts and math, or STREAM, and supplemental physical education.
"We are so fortunate to have the support of the foundation," said Solana Beach School District Superintendent Terry Decker. "Their efforts ensure that our students receive an enriched learning experience and are an integral part of the success of our schools. We are grateful for their hard work and dedication to the children of Solana Beach School District."
Because the all-volunteer foundation board believes that the district's children deserve a complete education beyond reading, writing and arithmetic, the foundation has always focused on supporting instructors in art, science and technology.
Since 2014, donations from parents and the community have helped district schools offer Discovery Labs, formerly called Wheel Day and Pull-Out Classes at some of the schools, to supplement existing curriculum with hands-on, interdisciplinary lab-based activities. The foundation's contributions help cover the cost of materials, supplies, equipment — even instructor salaries.
The foundation pays for art, physical education and technology instructors at the schools. With the district, the foundation also shares the cost of full-time credentialed STREAM teachers.
"Without the foundation, we wouldn't have as robust of a STREAM program," Malmuth said. "The kids wouldn't have art classes. They do get some PE through their teachers, but it certainly is enhanced by having a PE instructor. I think it just really enriches the education of our kids."
Most funds are raised through the district-wide nonprofit's annual fund drive. Funds are also raised at a variety of fundraising activities and special events throughout the year, including school-based fun runs, and the annual Halloween Carnival and Solana Beach Bash, both of which benefit Skyline and Solana Vista.
As in previous years, the foundation is kicking off its fundraising with the annual Fund Drive. Through brochures and presentations, parents will learn about the foundation and specific school site needs on Back-to-School Night at the different campuses.
"That's always a big push," said Malmuth, noting that the foundation usually raises about $600,000 through its Fund Drive.
"We do our fundraising from the bottom-up so basically it starts in the spring by talking to principals," she added. "They tell us what they need."
The foundation also recently started a major donor program. Having already held one event, the program helps the foundation reach out to the greater community, from civic leaders to past board members.
"We want to let them know what's happening in the schools, let them know how great our schools are," Malmuth said. "Our schools have changed a lot in the last five years."
The Solana Beach Schools Foundation is driven by volunteers.
In addition to Malmuth, a part-time accountant supports the foundation. Other than those two paid positions, volunteers play a large part in keeping the foundation running.
"There's no way I could run this million-dollar organization without these incredible volunteers," Malmuth said.
The 30-member foundation board includes representation from each school, including Solana Santa Fe. Parents and community members also help support the foundation's various committees, including the fundraising committee, finance committee, marketing committee and school site development committee.
"It's really an amazing community effort," Malmuth said.
"This community is so lucky to have the schools that we have," she added. "We're just so proud that we can help support the schools."
For more about the Solana Beach Schools Foundation, or to donate or volunteer, call 858-794-7180 or visit www.solanabeachkids.org.
---
Get the Del Mar Times in your inbox
Top stories from Carmel Valley, Del Mar and Solana Beach every Friday for free.
You may occasionally receive promotional content from the Del Mar Times.