Taekwondo standout wins $10K for Solana Ranch School in Super Dentist contest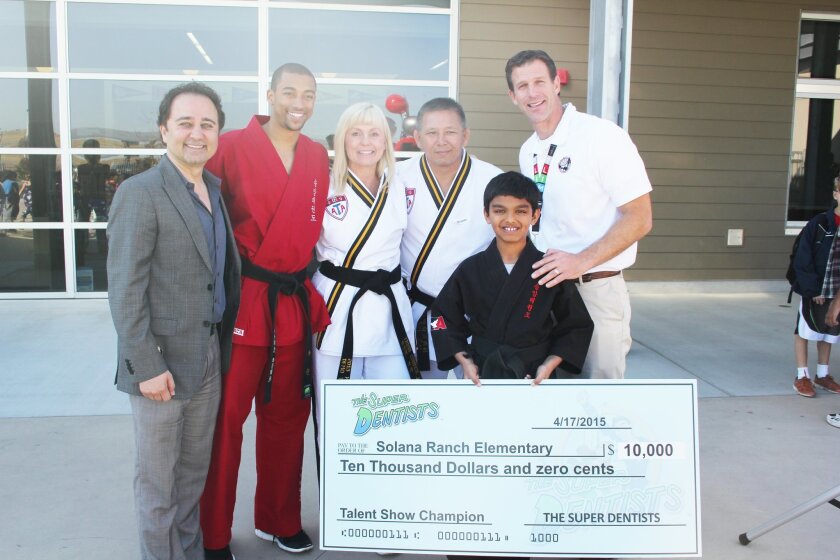 While upon first impression 10-year-old Aarav Chandra may appear shy, he transforms into a fierce and confident performer with a taekwondo bo staff in his hand.
Aarav used those well-practiced skills to win the Super Dentists Carmel Valley Spring Fair talent competition, winning a $10,000 for his school, Solana Ranch.
The giant check was presented to the school at an April 17 assembly with Super Dentists Carmel Valley owner Dr. Kami Hoss, also known as Dr. Have One Super Smile.
Aarav was one of 10 finalists and won by a San Diego-wide vote on Facebook, receiving 1,442 "likes" on Facebook. In addition to the $10,000 for his school, Aarov also won a two-page spread in Seventeen Magazine.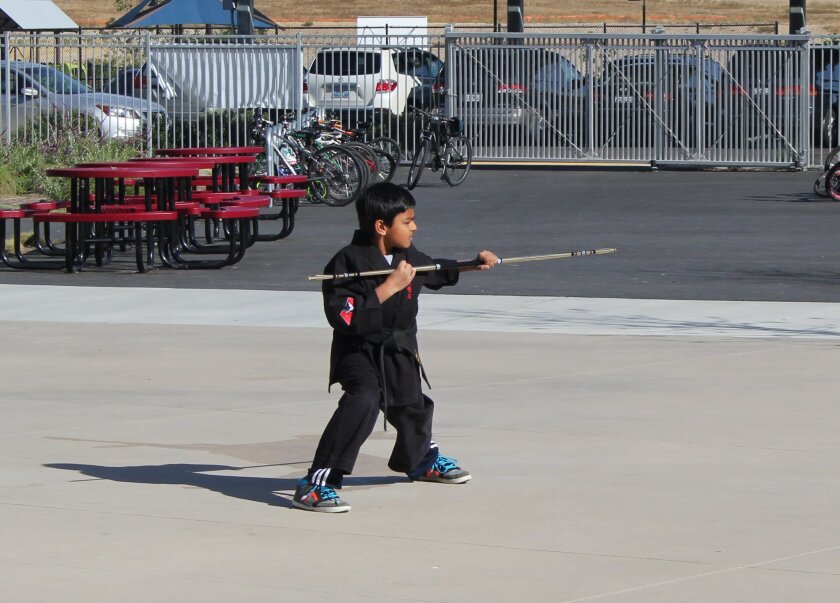 Solana Ranch Principal Jerry Jones said that since the school believes in student leadership, Aarav and a group of other students would meet to brainstorm things they would like to see done at Solana Ranch with the "magnanimous" donation, for which he was incredibly grateful.
Aarav's taekwondo teachers from Carmel Valley's Church's ATA Martial Arts, Senior Master Ken Church, Patricia Church and Ciel Solwazi proudly attended the assembly on Friday and thanked the school for supporting Aarav. Solwazi performed an exciting demonstration for the kids, and Aarav showed the school his winning routine.
Aarav, who has been taking taekwondo since he was 4 years old, is a world champion in 9-11 boys first degree traditional forms. His twin brother, Advay, is a world champion in creative forms but did not participate in the Super Dentist contest because he was in a speech contest that day.
Aarav said his favorite thing about the sport is making friends — he has friends all over the country from his various competitions. He really likes to perform in front of a crowd, like he did at the Spring Fair and in front of his schoolmates that day.
"It gets me energized and excited," Aarav said of the crowd.
He was happy to win the money for his school and said he isn't sure yet what they should do with the extra funds. Aarav's mother, Malini Vittal, said the contest winnings were a nice way for her son to learn about the importance of giving back.
---
Get the Del Mar Times in your inbox
Top stories from Carmel Valley, Del Mar and Solana Beach every Friday.
You may occasionally receive promotional content from the Del Mar Times.