Scientist's words resonate with Torrey Pines High students: Listen to, support each other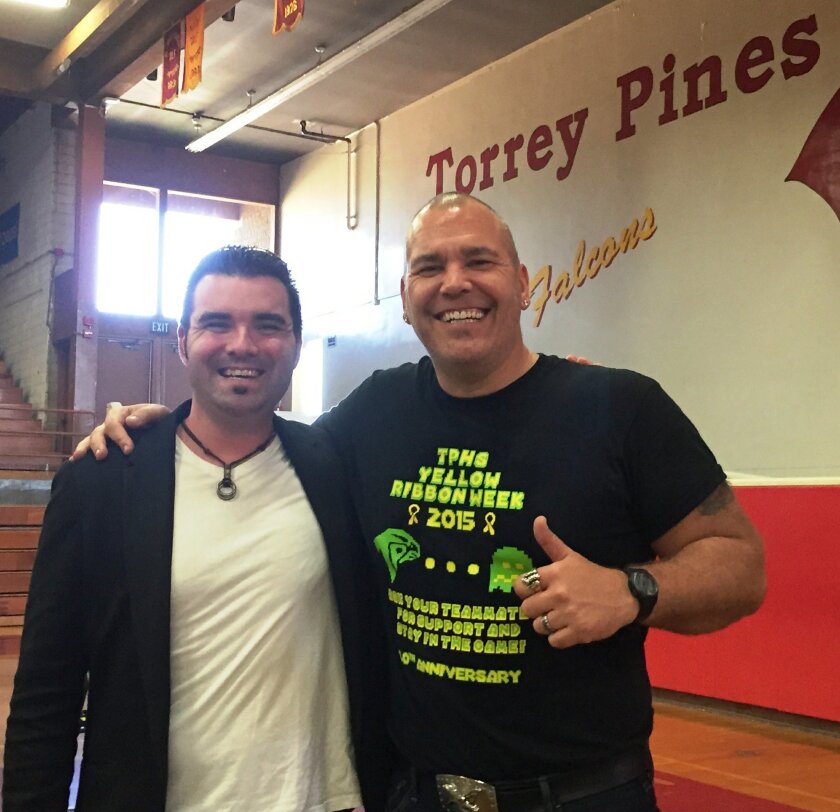 It says a lot about a school when its students gather around a scientist to sing his praises and eagerly ask questions as though he were a rock star.
That's what happened at Torrey Pines High School last week after Bradley Voytek, assistant professor of computational cognitive science and neuroscience at UCSD, spoke to more than 2,000 students about stress and the brain.
His presentation was part of Torrey Pines' Yellow Ribbon Week, the school's annual campaign to raise awareness about suicide prevention and eliminate the stigma of mental illness.
Led by Teacher of the Year Don Collins, the week-long event featured more than 500 posters hung around campus, all highlighting 1-800-273-TALK, the National Suicide Prevention Lifeline.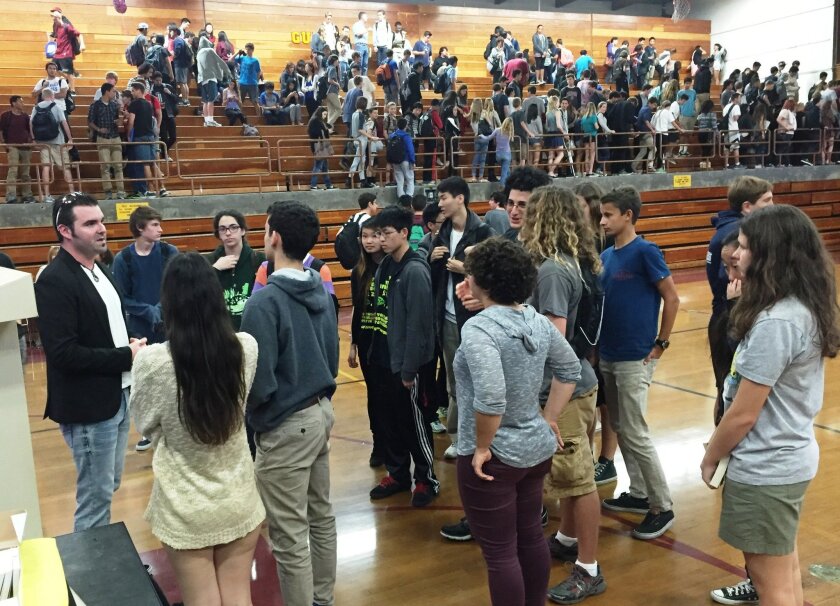 "By the end of Yellow Ribbon Week, there's not a kid out of 3,000 who hasn't seen the posters, heard the message and learned that help is available," said Collins. "I hope they see the solution to troubled times is to reach out for support, not to end your life."
That message of support was the focus of both Voytek's speech and Collins' introduction.
"The purpose of this week is to remind you it's OK to ask for help," Collins told the packed gym. After pointing out that "you can be the deciding factor in someone's life," he asked each student to turn to the person next to them, look them in the eye and say, "I care about you."
Collins shared some shocking statistics: More than 5,000 junior high, high school and college students commit suicide every year, and a staggering 500,000 seriously consider it. More kids kill themselves than die in car accidents, and the number continues to grow every year.
"Last week at San Dieguito Academy, a 14-year-old ninth-grader committed suicide," Collins said. "I want this week to honor him."
He then introduced Voytek, who was back by popular demand after speaking at the school in December.
Voytek started out by acknowledging the students' stress level — which was met by a lot of nodding and nervous laughter — and shared his own story of walking away from a high-level position at Uber in 2011 when it was a $20 million company on its way to doubling those numbers.
"You have to ask yourself why you're doing the things you're doing," he told the audience. "That will help you figure out if you're doing what you want to do or what others want you to do."
He explained that the more stressed you are, the less you sleep and the worse your memory becomes. Your body responds unconsciously, often resulting in physical symptoms and full-fledged anxiety.
He talked about a fascinating Stanford University study in which students were divided into two groups. One was given a two-digit number to remember, the other was given a seven-digit number. The subjects were then asked to walk down a hall, where they were offered two snack options — a bowl of fruit salad or a slice of chocolate cake. Those who were asked to remember the seven-digit number were twice as likely to choose the chocolate cake.
"This is why obesity is on the rise," Voytek explained. "Stress causes us to make bad decisions."
Voytek shared some cutting-edge scientific advances in stress management, including nasoduodenal fecal transplantation, which had students in stitches because it involves, as he put it in layman's terms, "implanting a healthy person's poop through the nose of someone suffering from anxiety."
On a more practical note, he reminded students to put down their electronic devices and spend time with their friends. "Having friends is one of the best indicators in alleviating anxiety," he said.
He also revealed that, according to a National Institute of Health study, the No. 1 factor in keeping your brain healthy for the long term is exercise. Just 10 minutes a week can make a big difference.
Voytek's most powerful message for kids, though, was that scientific studies prove it will get better.
"When you talk to people 20 years after a failed suicide attempt," he said, "the thing you hear most often is how thankful they are that it didn't work."
Voytek's presentation resonated with the students, dozens of whom were late to lunch because they wanted to stay and talk to him afterwards.
"I've overcome challenges myself, and Professor Voytek's speech was really important," said sophomore Madison Sayre. "It's good that we're talking about this subject."
Sophomore John Bae agreed. "I thought it was great when he said not to tell people who are suffering from anxiety to get over it, that there's nothing to worry about. Sometimes you just have to listen to them and acknowledge their feelings."
Collins is hopeful that Voytek's words and Yellow Ribbon Week will change students' lives for the better. "Even if they don't need these resources now, they may in the future," he said. "Given the number of students struggling with despair and suffering, it's our job to let our young people we care about them, and we want them to live their lives to the fullest. It may be stormy now, but it can't rain forever."
Voytek is among five UC San Diego faculty members being honored by the Alfred P. Sloan Foundation with Sloan Research Fellowships for 2015.
For information about Torrey Pines' Yellow Ribbon Week, visit www.tphspals.wix.com/falconpride.
---
Get the Del Mar Times in your inbox
Top stories from Carmel Valley, Del Mar and Solana Beach every Friday for free.
You may occasionally receive promotional content from the Del Mar Times.