Torrey Pines wins 2015 North County Academic League Championship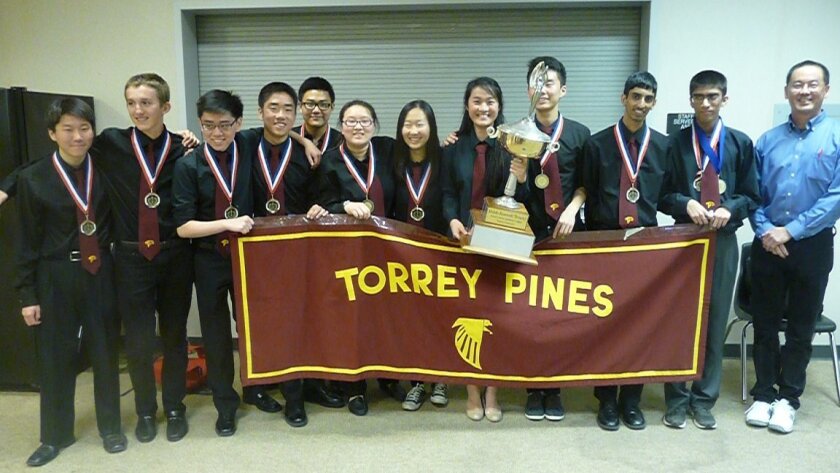 Torrey Pines High School captured the North County Academic League championship recently with a victory over rival Canyon Crest Academy in the title match at Westview High School, earning the right to represent North County at the county playoffs in April.
Canyon Crest Academy quickly pulled out to a 40-point lead in the first minutes of the 35-minute final match against the Coast Division champion Falcons. After a time-out called by Torrey Pines, the Falcons began to claw their way back. Once Torrey Pines had overcome the Ravens, the Falcons never looked back on their way to their 127-80 win.
Torrey Pines was awarded the North County Academic League Varsity Championship Trophy, named the Boldt-Roswell Trophy in honor of Patricia Boldt and George Roswell, two of the NCAL's founders who have been involved in the league since 1982. Roswell moderated the championship match.
Torrey Pines will attempt to keep the San Diego County championship trophy in North County when it competes against the champions of the county's three other leagues live on ITV the evening of April 23. North County's Westview has won the county championship for the past two years.
The Falcon team consists of Varun Bhave, Eric Chen, Jessica Choi, Thomas Freedman, Alex Jen, Kevin Jiang, Michel Lee, Emily Sun, Eric Tang, Vasu Vikram, and Jacqueline Yau. Torrey Pines is coached by Andrew Kahng. Torrey Pines last won the NCAL championship in 2011.
The North County Academic League playoffs involved the top two finishers from its four divisions. Torrey Pines' road to the league championship began with a first-round victory, 111-28, over Classical Academy, the runner-up from the Valley Division. Torrey Pines, champions of the Coast Division this year, went on to defeat the North Division champ, Mission Hills, 117-55, in their semifinal. The Grizzlies had downed Coast Division runner-up, Pacific Ridge, 79-21, in a first-round match.
Canyon Crest Academy, runner-up of the Coast Division, earned its place at the championship table by first defeating the Coast Division champion, Carlsbad, 94-50. The Ravens went on to beat Mission Vista, the North Division runner-up, 94-43, in their semifinal match. The Timberwolves had defeated Valley champ San Pasqual, 62-58, in an exciting, come-from-behind first round match. This marked the young T-wolves' first appearance in the NCAL championship playoffs.
The NCAL Junior Varsity and Freshman championships will be held March 26 at Canyon Crest Academy, beginning at 6 p.m.
Find more about the North County Academic League at https://groswell1.wix.com/ncal.
---
Get the Del Mar Times in your inbox
Top stories from Carmel Valley, Del Mar and Solana Beach every Friday for free.
You may occasionally receive promotional content from the Del Mar Times.