Yellow Ribbon Week speaker encourages Torrey Pines High School students to 'stay in the game'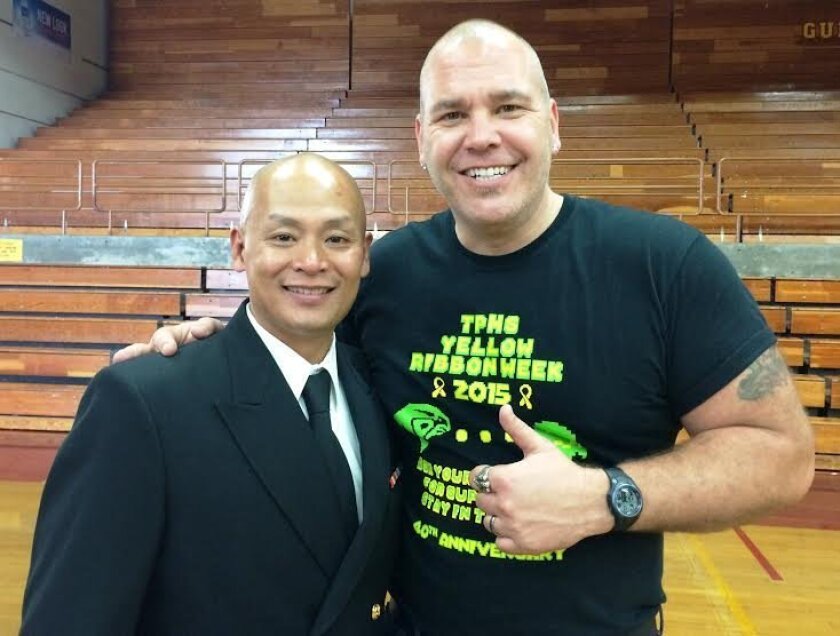 Yellow Ribbon Week at Torrey Pines High seeks to remind students that they are not alone. The week designated to draw attention to combating suicide has never been timelier, as suicide has become a major public health issue. San Diego County had 441 suicides in 2013, the highest number in county history.
Roughly 41,000 suicides occur each year in America, and suicide is the second-leading cause of death among children and young adults ages 10-24. More than 5,000 teens and young adults die by suicide each year, more than in car accidents.
As Don Collins, teacher and PALs adviser, told the gym packed with 2,400 students, a San Dieguito Union High School student had committed suicide just the week before. He was 14 years old.
"There's no shame in asking for help. There's no shame in saying 'I'm having a tough time and I need some support'," Collins said. "Things may be stormy right now, but it is not going to rain forever."
The school's PALs (Peer Assistant Leaders) designed Yellow Ribbon Week around a video-game theme, encouraging students to "stay in the game" with informational posters and a lineup of guest speakers that included Cmdr. Andrew Doan, M.D., Ph.D., the head of mental health addictions and resilience research for the Naval Medical Center in San Diego. Doan is not only a staff opthalmologist and ocular pathologist, but is an expert in technology and video game addiction.
"We do better when we know better, and Dr. Doan gave us some vital information not just about how too much technology can impair performance, undermine success, and create suffering, but key ways to develop skills for communication, relationships and empathy," Collins said.
"His presentation was a great reminder that teenage brains are still developing and that too much of anything can create life-long problems, especially if these habits get established at a young age."
Doan spoke about having his own share of stress and issues growing up. He was teased about his Vietnamese name. He was a teen at the time the film "Sixteen Candles" was released, and peers called him "Long Duk Dong" like a Vietnamese character in that movie.
Doan said his immigrant parents put a lot of pressure on him to become a lawyer or a doctor, and even though he was a letterman in sports and got excellent grades, his self-confidence was low.
When he got into Johns Hopkins Medical School on a full-ride scholarship, some relatives remarked that it "wasn't Harvard," even though it was the top medical school in the country at the time.
Doan said he knows many students at Torrey Pines are probably feeling the same kind of stress and pressure.
"If you don't have a healthy way of dealing with stress, it can really get destructive," he said, adding that his father struggled with mental illness after worrying and burying his concerns about his immigration status.
He said a remedy for stress is having a healthy mind, body and spirit. He advised students to get plenty of sleep and rest (nine hours a night, doctor's orders), exercising regularly and taking the time to unplug, using methods like meditation or yoga.
Doan talked about gaming and social media as the new "digital drug" and explained how video games work to reprogram the brain through a process called neuronal plasticity. He said the brain "lights up" with exposure to gaming in the same way it does for those addicted to drugs or alcohol.
He said 1 in 11 people is addicted to gaming, and there have been some extreme cases of addiction over the last several years.
A mom in New Mexico was sentenced to 25 years in jail after her baby starved to death while she was busy playing "World of Warcraft." A Jacksonville, Fla., mother shook her baby to death because the child interrupted her "Farmville" game. A 20-year-old Xbox addict died because he went on a marathon playing session, ignoring a blood clot that formed in his lower extremities that traveled to his lungs.
Doan spoke not only as an expert in video game addiction, but also from his personal experiences. He was addicted to video games at one point and also felt responsible for his son Nicholas' addiction to gaming.
Nicholas became extremely addicted to video games, particularly "Call of Duty." Nicholas became withdrawn, didn't spend time connecting with people and had a difficult time in school.
Using his experiences with gaming addiction, Doan slowly cut back on Nicholas' gaming. It wasn't easy, but Nicholas slowly started participating in other activities and was encouraged to go out for track and field.
It turned out he was an extremely fast runner, running a 4.11 mile and helping lead his team to the state championship in Oregon. After only 18 months of running, Nicholas is now committed to run Division 1 at the University of Portland.
The key to the last 400 meters of the race is having adrenaline left in the tank — adrenaline that Nicholas would not have if he wasted it on gaming.
"Time is a precious gift. Every child is gifted with a special talent waiting to be unleashed," Doan said. "Unplug and discover the gift."
As with gaming, Doan said, teens can become addicted to social media, obsessing over "likes" and "friend" lists, constantly checking Instagram feeds or using Snapchat or Kik.
Doan said overuse of social media can lead to a lack of communication skills, empathy, reflective thoughts and self-control. No online friend can replace what a real-life friend or family member can provide, he said.
"You need close relationships to make you feel content and happy," Doan said, recommending that people make a list of five people in their life and work to foster those relationships.
"Our society is facing a crisis: We're afraid of being bored," he said. "I encourage you to be bored. When you're bored, you have original thoughts; you create and explore."
After the week's presentations, many teachers emailed Collins to thank him for bringing the speaker to campus for Yellow Ribbon Week.
"I think it's impressive how many teachers immediately asked how to get this talk to share it with parents and students who weren't able to attend. It shows the concern the staff has for the well-being of our community," Collins said.
"Plus, the requests are coming from science and math teachers as often as they are from our English, art and social studies teachers. That tells me the teachers are teaching kids here, not topics."
Collins said the interest from staff in sharing the presentation also shows their investment in supporting students' full development — and making sure that all kids "stay in the game."
To view Yellow Ribbon Week videos and presentation, visit the PALs website, linked from tp.sduhsd.net. If you are thinking about suicide or are concerned about a friend, call the National Suicide Prevention Lifeline, 1-800-273-TALK (8255).
---
Get the Del Mar Times in your inbox
Top stories from Carmel Valley, Del Mar and Solana Beach every Friday for free.
You may occasionally receive promotional content from the Del Mar Times.