Communications pioneer gives $50 million to UC San Diego for ophthalmology research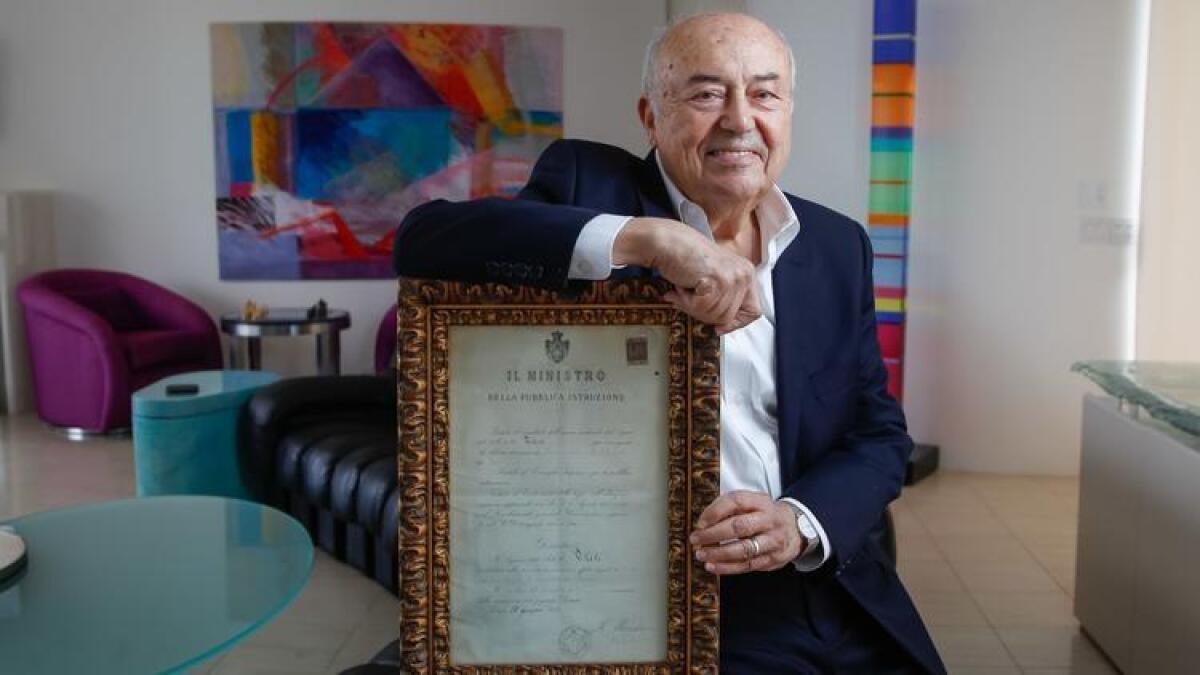 Fleeing fascist Italy in 1939, Dr. Achille Viterbi, an ophthalmologist nearing his 60th birthday, arrived in the United States faced with the daunting task of restarting his career at an age when many men start to think about retirement.
Forced to retake his medical boards and cope with rules that kept recent immigrants from practicing at the most prestigious hospitals, the physician never managed to regain the kind of financial footing that would have allowed him to fund exciting new research in his field.
Not to worry. His son, Andrew Viterbi of La Jolla, has that angle covered with a donation valued at $50 million to the UC San Diego School of Medicine. Announced Thursday, Aug. 23, the gift will fund six new endowed chairs in the school's Department of Ophthalmology, which will be renamed the Viterbi Family Department of Ophthalmology.
Plans are also in progress to build the Viterbi Family Vision Research Center next to the university's Shiley Eye Institute, expanding and consolidating lab and meeting space with the goal of fostering the kind of collaboration that could quite literally end up restoring sight to the blind.
Viterbi, 83, said his father, who was a socialist in his youth, would surely have been tickled at the prospect of supporting such a lofty public goal.
"Ophthalmology's on the cusp of great, great things. We're talking potentially giving sight to the blind. I think UCSD has one of the strongest programs in the nation in moving down that path," Viterbi said.
It is finding the right path that has firmly set the Viterbi name in the firmament of electrical engineering. The Viterbi algorithm revolutionized electronic communications through its ability to sift a signal from noise using a clever statistical model to predict the correct "path" of values among myriad dead ends.
Used in everything from satellite communications to cell phones, the algorithm produced the critical insights that eventually led to Viterbi becoming a co-founder of Qualcomm Inc. and its predecessor Linkabit Corp.
Achille Viterbi never got to see his son's ultimate success. He passed away in 1966 one year before Andrew Viterbi proposed the algorithm that led to the kind of success that has resulted in pile of awards, including the National Medal of Science.
Philanthropy has been an ongoing interest for decades with contributions to the Massachusets Institute of Technology, his alma mater, and the University of Southern California where he earned a doctorate in 1963. The USC Viterbi School of Engineering was renamed in his honor after a $52 million donation in 2004.
His gift to UC San Diego connects to a $2 billion fundraising campaign aimed at increasing the university's teaching capacity and staff recruitment ability.
UCSD Chancellor Pradeep Khosla said endowments like the six included in Viterbi's donation are what allow a public institution to compete with well-funded private schools such as Harvard and Stanford for top talent.
"Having endowed chairs to offer definitely allows you to compete in the big leagues, and having the name of someone with the stature of an Andrew Viterbi attached to our program is invaluable," Khosla said.
Since 2012, the university's aggregated endowment total has increased from $555 million to about $1.64 billion.
In the world of opthamology, UCSD's program already enjoys significant national stature. In 2016, the Journal of Clinical Ophthalmology ranked UCSD second in the nation for eye-related research.
Dr. Robert Weinreb, head of the Shiley Eye Institute, said it's not too crazy to think that Viterbi's gift could play a significant role in helping find the path forward for successfully transplanting the stem cell-derived optic nerve and retina cells that UCSD researchers are already able to grow in the lab.
"We're looking forward to the time in hopefully the not-too-distant future where we can take the optic nerves and the retinal organiods and place them in humans that have been blinded by glaucoma or macular degeneration and restore their vision," Weinreb said.
"I believe that the medical breakthroughs we're going to make in the next decade will dwarf those made in the last century, and Mr. Viterbi's generosity will allow us to lead that innovation," Weinreb said.
The donation includes $10 million in cash to fund six endowed chairs, one of which will be named for Achille Viterbi. A second chair will be named for internationally recognized ophthalmologist Alfred Vogt, the elder Viterbi's colleague and mentor whose support was critical in making the family's immigration to the United States possible.
Viterbi will also transfer his 33-acre estate in Rancho Santa Fe to UCSD. Proceeds from the sale will be used to support the ophthalmology department and to build the research center building.
Today, Weinreb said, many of the university's vision science labs are scattered across campus, but the new building will allow everyone to work in one place in addition to providing new space for the six new researchers hired to fill the six new endowed chairs.
"This will serve as a real hub for our research, and it will make it much easier to do interdisciplinary collaborations with other disciplines like engineering, computation, life sciences, neurosciences and bio-engineering," Weinreb said.
UC San Diego's $2 billion fundraising campaign, which started in 2012, has now raised $1.6 billion. For more information, visit campaign.ucsd.edu.
--Paul Sisson is a reporter for The San Diego Union-Tribune
---
Get the Del Mar Times in your inbox
Top stories from Carmel Valley, Del Mar and Solana Beach every Friday for free.
You may occasionally receive promotional content from the Del Mar Times.