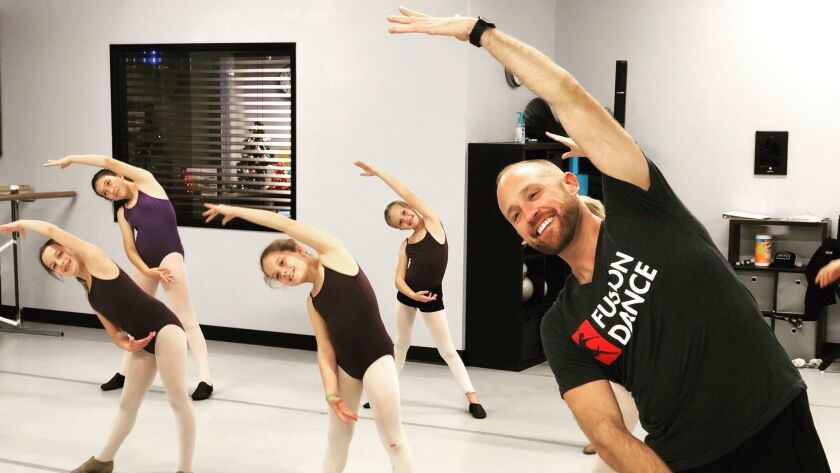 North County children and adults have a new place to learn different dance techniques.
Justin Quandt and his husband Anthony Andrieu opened Fusion Dance in September following Quandt's extensive professional career.
The studio offers ballet, tap, jazz, lyrical and contemporary classes for groups and individual students. It also recently started "mommy and me" lessons.
Quandt recently spoke about his background and more details about the studio.
Q: What is your history with dance?
A: I grew up dancing. My mom was my dance teacher. She owned a studio growing up, so I've kind of grown up in the dance world and then went to college. I had a professional career for a while, so I spent a lot of time in Paris dancing in a show there, and I worked all around the United States. I lived in Australia for two years, and I was teaching dance and judging dance competitions. I moved to San Diego about four years ago and was doing some of the same stuff here.
Q: Why did you decide to open your own studio?
A: I was teaching all around the City of San Diego and throughout the U.S. and Mexico, so I've kind of wanted to hone my energy in one place. We started to put together a studio and had a faculty of friends who were excited about it. It kind of all fell together at the same time and place.
Q: What made Solana Beach the right choice for your studio, and, in particular, why did you choose this area of the city?
A: We have a lot of kids that are here four or five days a week. They're here three, four or five hours a night. They come and they do their homework, or they can run over to Starbucks while waiting. It's nice to have the visibility. Normally, shopping centers are super hard to get into. We were looking around this area, and we thought this location was perfect with the Starbucks, the food places and Marshalls. Everything's kind of right here, and that's great because families can come, drop off their students and run errands.
Q: What sets Fusion Dance apart from other studios in the area?
A: We pride ourselves on being a professional studio. All of our teachers have extensive backgrounds in dance. They've had their professional careers. One of our teachers was a college professor, and he's out of retirement just to come teach for us. We have a really strong faculty that's super knowledgeable, and we have a family feel here. We've been really fortunate for that, and the Solana Beach community has been really accepting of everything. The energy has just been great so far.
Q: What does dancing do for your students?
A: We're super big on discipline. The younger kids wear their leotards. Our older ones, in their ballet classes, all have to wear a certain color to show what level they're at. Dance helps people with mobility skills and coordination. I played sports as a kid, so it helped me with basketball and other things you wouldn't think about. I have a friend who's an architect and dancer, and she kind of combined them together. There are a lot of things you don't realize that [dance] does for you. Dance really helps kids build up their self-confidence, and that's a huge thing for us here. We want our students to be happy and to succeed.
Q: What are your goals with the studio?
A: I want to keep on the same path that we're going right now. The feedback from all the families has been great. Everything's kind of going right on track with us. We'd just like to keep growing and flourishing, mostly making sure we're giving our all to all the students who walk in the door.
Location: 140 S Solana Hills Dr., Solana Beach, 92075; 858-369-0071.
---