Residents urged to lock up to prevent car break-ins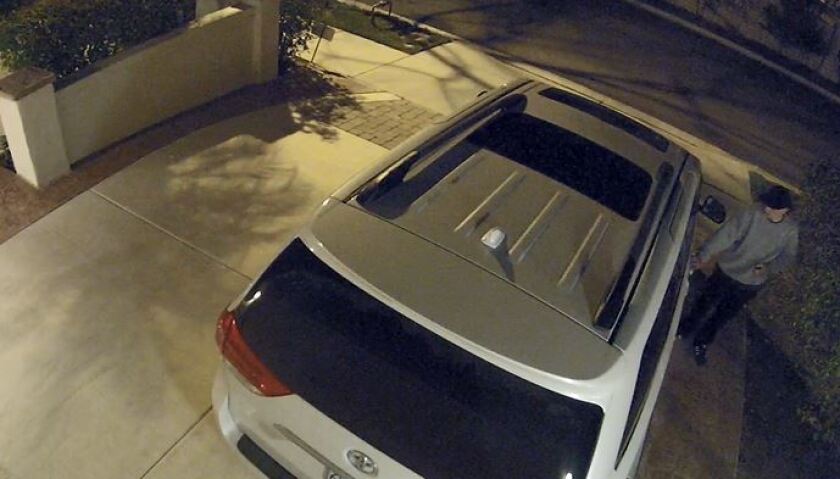 A recent string of car break-ins in the Pacific Highlands Ranch neighborhood of Carmel Valley has left the community buzzing on the social network Nextdoor. In the last few months, neighbors have reported that their cars are being broken into while parked on residential streets and in their own driveways.
"I think we are no longer strangers to the fact that our communities are being targeted," said resident Shanti Wu.
When she hears that an incident has happened in the neighborhood, like after a neighbors' car was broken into a few weeks ago, Wu will check the footage from the Nest camera affixed outside her home.
In startling footage from the morning of April 3, a man is seen walking down the street around 1:49 a.m. He strolls right up to the car in Wu's driveway and peers into the vehicle with a flashlight. He leaves because Wu said her family is adamant about not leaving a single thing in their car.
However, he is seen a short time later passing the home with what looks like a purse or bag in hand, likely stolen from a neighbor on the street.
Wu has a similar video of a man peering into her van on Feb. 17.
After posting the video on Nextdoor, residents of Carmel Valley and Pacific Highlands Ranch chimed in about similar thefts. Most involved unlocked car doors although in one March 29 incident on Blue Dawn Trail in Pacific Highlands Ranch, a window was smashed to steal an iPhone and Chromebook.
A Nest video from April 1 in the Ashley Falls neighborhood shows a man walking down the street around 2 a.m. finding an unlocked door on a car parked in the driveway, grabbing cash, a debit card and an old wallet with ID and other cards.
The suspect then checks to find the other car in the driveway locked and he walks away.
"We live in a cul-de-sac so it's disconcerting that someone is roaming the streets late at night looking to steal," the resident wrote on Nextdoor.
Officer Trevor Philips, community relations officer for the San Diego Police Department's Northwestern Division, was hesitant to call the cluster of crimes a spree or an uptick, as the crime rate is still relatively low compared to other neighborhoods in San Diego.
"Through social media and sites like Nextdoor, people are better communicating with each other so more people are aware of these things happening," Philips said.
Philips said even though the numbers are low, car break-ins are a problem city-wide and are very frustrating cases from a law enforcement standpoint.
"We really try to get officers out there into the neighborhoods as much as possible but if a purse is left in plain sight and the car doors haven't been locked, that makes it very difficult for us," Philips said. "In a criminal's mindset, to physically break into a car is the next level but simply opening an unlocked car door is easy."
As the Nest videos can attest, most of these crimes are crimes of opportunity and Philips reminded people how important it is to make yourself a hard target. The tips are simple but solid: Lock car doors and do not leave valuables in plain sight. He said he knows people have busy lifestyles and it can be a lot to ask to completely clean out your car before you turn in every night but, as much as possible, people should not leave valuables in the car, even hidden.
Many people do not report these kinds of crimes because they figure the criminal will never be caught and their items will not be returned but Philips said it is important to report break-ins.
"Reporting helps us see crime trends and track it," he said. "I keep track of all the hot spots and then I can direct patrols to that area."
As an example, there was a "pretty substantial" amount of unreported break-ins in the Village of Pacific Highlands Ranch, particularly in the Crunch gym parking lot. Once the police department received word of the break-ins from center ownership, they were able to address the issue with more patrols.
He said as typically thieves don't just break into one or two cars, crime reports can also help link a suspect to multiple crimes and hopefully get some jail time out of it.
Additionally, with more reported crimes, Philips said the Northwestern Division can also show the need for more officers in the area.
Contact the Northwestern Division at (858) 523-7000. Officer Philips can be reached at (858) 523-7031 or at ttphilips@pd.sandiego.gov
---
Get the Del Mar Times in your inbox
Top stories from Carmel Valley, Del Mar and Solana Beach every Friday for free.
You may occasionally receive promotional content from the Del Mar Times.