'Win Place Show' leaves the gate with a crowded field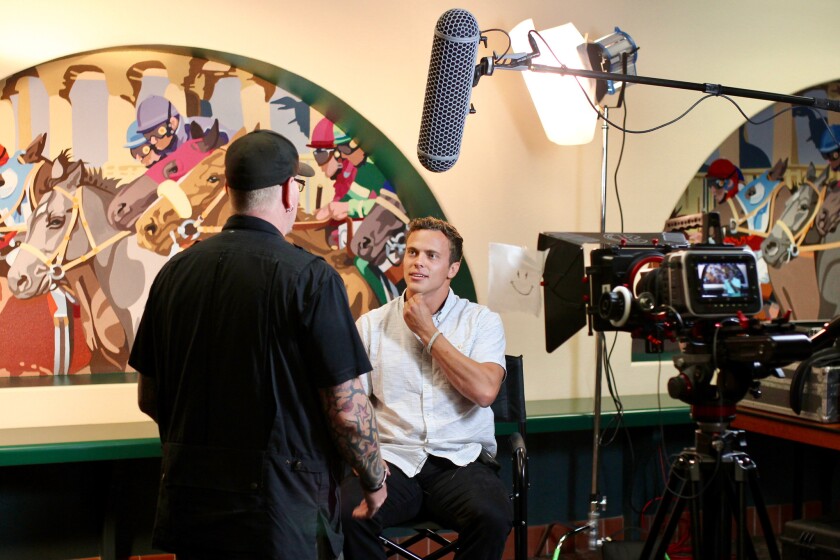 That one bet in 1970 still stands, all these years later, as Helen Watts' biggest payout — and her most momentous. The 50-1 longshot bankrolled her and her husband's bid that summer for the Del Mar home she lives in to this day.
Every summer that followed, Watts and her husband devoted their days to Del Mar, never missing a season until her husband died last year. And now, the 84-year-old is hoping to beat the odds again and become one of 16 contestants who will battle it out this summer in the TV competition "Win Place Show."
"I've been doing this for about 60 years, and now I have lots of time and no responsibilities," she said with a sly smile.
More than 100 hopefuls — from seasoned handicappers to total newbies — lined up on Saturday, May 27, in Surfside Race Place to talk their way onto "Win Place Show." The selected 16 contestants will break into two-man teams and battle it out every weekend of the race season over nine episodes until one team is standing. Then, in the finale, the duo will face off on Sept. 3.
Episodes begin airing on Sept. 5, the day after race season closes. Hosted by Jimmy "The Hat" Allard and co-produced by Ben Dominguez — Peabody Award and multiple Emmy winner — the show will reach nearly 60 million households on TVG and TVG2, the world's foremost horse-racing TV network.
The broadcast is fulfilling the years-long mission that director and executive producer Francine Filsinger has devoted herself to: propelling the San Diego region to its rightful place as a film and TV hotspot.
Filsinger, an Encinitas resident of nearly two decades, counts among her many accomplishments having helped catalyze last year's relaunch of the San Diego Film Office. Eighty percent of the "Win Place Show" crew hails from San Diego.
"That's part of why this is so exciting to me as a filmmaker in the San Diego region, it's truly a national and worldwide production. We haven't had that in a long time," she said. "This is really an organically-created production, and Del Mar was the perfect backdrop for that. It's a beautiful, iconic race track with incredible history. It has this very romantic feel that I love."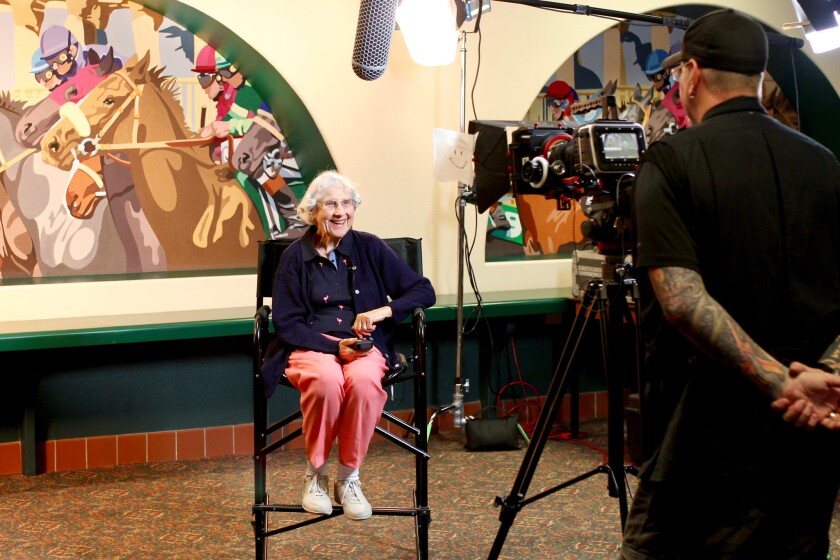 Having grown up only a few furlongs from the track, Chase Bushor and Brian Finley – who are also among those who auditioned for the show – have that feel practically in their blood. And their love of handicapping, too.
The duo of Santa Fe Christian alums — now rising seniors at the University of Southern California — weren't averse to skipping the occasional class or two in high school if it meant an afternoon ingratiating themselves among the seasoned regulars at the track.
But it's the summer race season that really gets their blood going. "Opening day, for me, is a full-on holiday," Finley says. "I think it's the greatest day of the year. We'd just sit right on the fence on the inside of the track. My dad would give me two bucks a race. I'd hit the occasional winner and it was just like the greatest day of my life."
That may have started even earlier for Bushor, since before he can actually remember — the 2-year-old in the stroller from his family photos. But his first big payout, that does jog his memory.
"I won my first big bet when I was 4," he says. "I hit the superfecta and it paid something like $600, and I walked out of there cash in hand."
To hear them tell it, handicapping at Del Mar is the only way they can imagine spending their summers.
"There is not a better track in America," said Chase, who has staked himself at Santa Anita, Churchill Downs, Los Alamos and the former Hollywood Park. "It's not even comparable. None of those are anywhere close to Del Mar."
The 16 contestants will be announced as early as this week. For more information, visit www.pennslaneent.com
---
Get the Del Mar Times in your inbox
Top stories from Carmel Valley, Del Mar and Solana Beach every Friday for free.
You may occasionally receive promotional content from the Del Mar Times.