Accomplished Chief Marshal Tom Carruthers retires
Chief Deputy U.S. Marshal Tom Carruthers made a career of capturing wanted fugitives and bringing them to justice, from the streets of Baltimore to remote villages in Cameroon.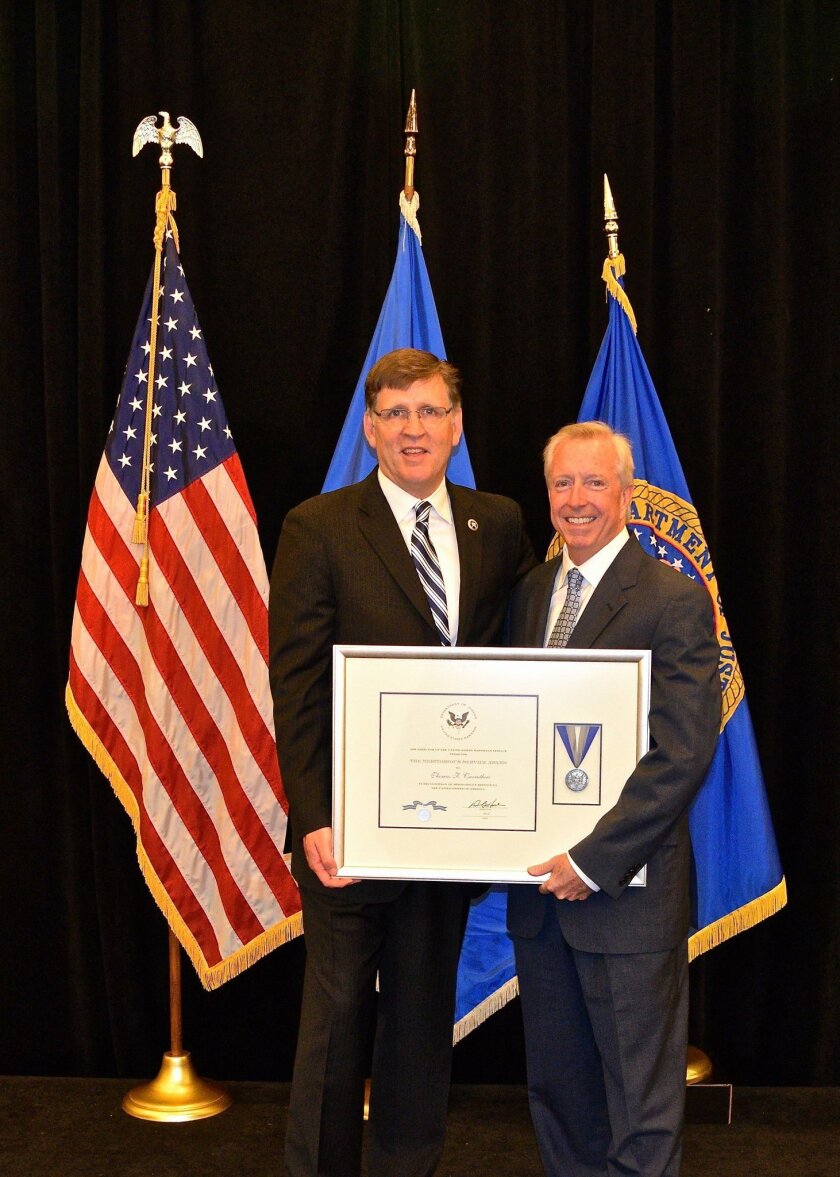 "I would find people behind sinks, under installation in the attics, in crawl spaces," said Carruthers, who retired Aug. 1 after 31 years of service with the U.S. Marshals. "That's what happens when you're the littlest guy on the team."
What the Carmel Valley resident loved about being a marshal was that it was different every day: Extraditions of dangerous drug traffickers, prison transfers, "hunting down a bad guy," protecting judges, protecting witnesses and asset forfeiture — all those things could happen in a week.
Carruthers spent the bulk of his career in Washington, D.C., but took over the Southern California District seven years ago. As the workload and responsibilities doubled, he fought for more equipment and manpower. His efforts paid off when his district was awarded as the best in the U.S. in 2011.
"He spent thousands of unpaid extra hours so that San Diego and all of Southern California can be safer and better protected from the worst criminals on Earth," said his wife Cathy. "All the time, 31 years, keeping a low profile, never wanting praise, just wanting to do his job with integrity and leave our streets a safer place."
He was shot at four times in his career and his most serious injury was blowing out his knee while chasing a guy — "I still got him," Carruthers said. "I never lost anybody I chased."
He is proud that in his career no one, not his deputy marshals or one of the "bad guys," was ever gravely injured. He ensured that his marshals were training every week so they knew how to react in all kinds of situations, to make sure that they went home safe to their loved ones.
On June 22 in Washington, D.C., Carruthers was honored with the Meritorious Service Award for Top U.S. Marshal, essentially his lifetime achievement award. The mandatory retirement age is 57 and while his chase speed has slowed some, Carruthers said he might've done the job for a lot longer.
A career in law enforcement seemed likely for Carruthers from the beginning.
"My mother always said I always knew the right way to do things and the wrong way to do things, even when I was 4 years old," he said.
He started his career in the U.S. Marshal Service in 1985 in Washington, D.C.'s Superior Court office.
One of his very first operations was a sting called "Flagship International Sports TV." With FIST, the Marshals sent out fliers to 500 of their "closest friends" and told them they had won tickets to a Redskins game.
"Over 100 showed up and when they showed their ids to get the tickets, we locked them all up," Carruthers said. "It was a great sting. We even had a guy dressed up as the San Diego Chicken there."
The criminals arrested that day had outstanding warrants for 90 felonies and 70 misdemeanors.
In Washington, D.C., he worked on the eviction team and was assigned to run high-threat trials and transports and fugitive investigations.
He remembers the names and stories of his most notable captures, from the time he tracked a German fugitive for over a year, patiently sitting surveillance at a known destination until he popped up; to nabbing and extraditing an Australian fugitive who had stolen $5 million after an extensive two-year manhunt.
In 2005, after Theresa Mubang didn't show up to her sentencing for fraud, Marshals were acting on a warrant when they found an 11-year-old girl in Mubang's closet. Mubang had smuggled the girl in from Camaroon and used her as a child slave.
Because the U.S. doesn't have an extradition treaty with Cameroon, to bring Mubang to justice required a detailed and coordinated effort to get her out of the country that Carruthers said seemed like something out of a movie.
"It's just amazing sometimes, the gall people have to do harm to others," Carruthers said. "To lock them up and put them away is satisfying, when they have violated somebody's rights and need to be held accountable for their crimes."
Being a Marshal sometimes took a fair amount of juggling as cases could come up at any time. When he was called to go to Africa on the Mubang case, the call came at 10 a.m. to be on a 1 p.m. flight.
In 1998 on Super Bowl night, he was contacted by headquarters due to death threats to Judge Kenneth Starr while he was investigating President Bill Clinton. Carruthers set up a multi-jurisdictional protection detail and rarely saw his wife Cathy over the course of four months.
After 9/11 happened, he had to tell Cathy he honestly did not know when he was going to be home. Marshals were called on to provide security at airports such as Baltimore/Washington International Thurgood Marshall Airport.
"(Cathy) trusted in how I was trained and in my ability to do my job," he said. "I think she was more proud of it than worried. I was fortunate that she gave me that backing and allowed me to do all the things I was able to do."
After taking over the District of Maryland, Greenbelt sub office, he coordinated efforts for the capture of the Beltway Snipers. After Lee Boyd Malvo and John Allen Muhammad were arrested, he was in charge of all aspects of their case, including the final transport out of district to face multiple murder charges.
After spending two years working in human relations as the deputy chief of personnel security and employee relations, he returned to the field in the Southern California district.
He took over as Chief in 2011 and was forced to develop a game plan for an "explosion of prisoners." He found alternatives and developed unique housing capabilities for over 3,600 prisoners with only 1,952 beds in the district. Crushed by an increased workload, Carruthers fought to get the district staff the resources they needed do their jobs safely and efficiently with no violations of prisoners' rights and no officers or prisoners hurt.
"These guys do an incredible amount of work," Carruthers said of his 151 employees, which included 128 deputies. "They do what's asked of them and they do it well…The men and women of the U.S. Marshal Service get the job done, resources or not."
In his 31-year career, there weren't a lot of off days. Carruthers is looking forward to "decompressing" and seeing what doors will open next for him. He is interested in volunteer opportunities — U.S. Marshals had often participated in charity efforts for groups such as Special Olympics and Make-A-Wish.
"At this point, it's about giving back," Carruthers said, ever humble of all he has already given to help keep all families safe. "It's bittersweet to leave but I'm looking forward to a new challenge."
---
Get the Del Mar Times in your inbox
Top stories from Carmel Valley, Del Mar and Solana Beach every Friday for free.
You may occasionally receive promotional content from the Del Mar Times.