Committee recommends roundabout in Del Mar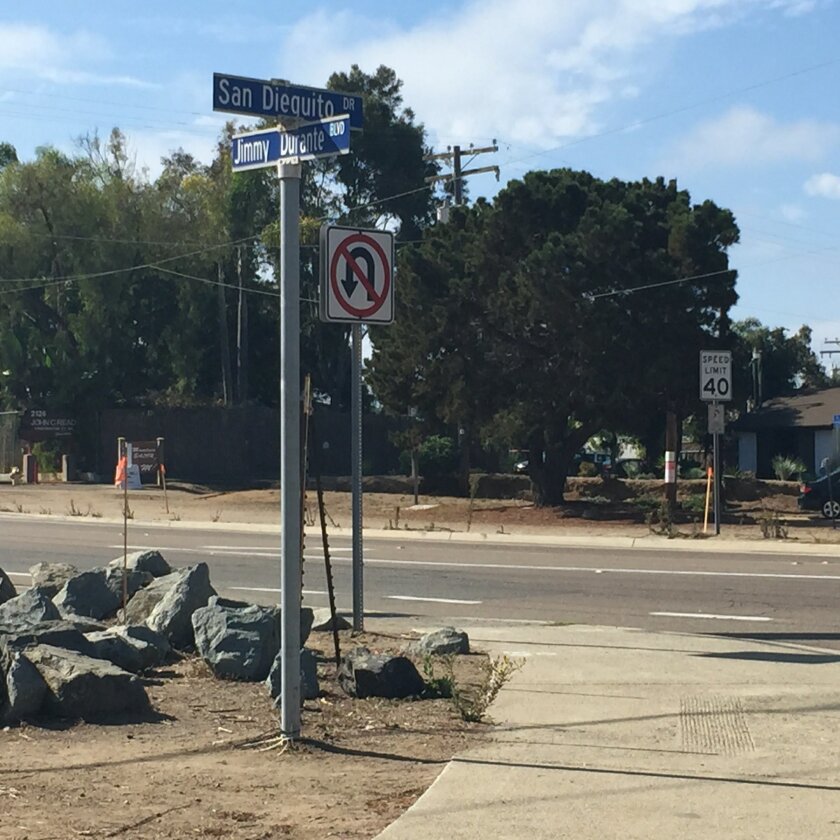 With approval from the city's Traffic and Parking Advisory Committee, Del Mar recently moved another step closer to its first roundabout.
The advisory committee on Feb. 22 voted to recommend a roundabout over other alternatives at the intersection of Jimmy Durante Boulevard and San Dieguito Drive.
"I think this is going to be a huge improvement," said Committee Chairman Ira Sharp.
The roundabout was originally proposed as part of a citywide sidewalk improvement project, but after neighbors voiced concerns, the traffic calming device was pulled for a separate study.
Located just southwest of the Del Mar Fairgrounds, the proposed roundabout would be about 100 feet in diameter with a 64-foot inner circle. It would include curbs, gutters, pedestrian ramps, sidewalks and landscaping to slow speeds and improve safety.
"I think the roundabout will improve flow," said Jeff Barnouw, one of several residents who spoke in support of the roundabout. "It will slow things down when there's a lot of traffic but not congestion. I think that's important because it's a very dangerous place for people to try to walk."
Several other neighbors, however, spoke against the project. Two others opted not to speak but submitted slips in opposition of the project.
"It's about figuring out a way to mitigate traffic," said nearby resident Arnold Wiesel. He and others questioned the need for a traffic-calming device in an area that can get heavily congested.
"Let traffic flow," he said. "We don't want to slow it down and compound an already impossible problem. Have a heart. Let's listen to the residents."
In response, Public Works Director Eric Minicilli said the project stemmed from the long-established community plan, which calls for citywide improvements that discourage vehicles and make Del Mar more bicycle- and pedestrian-friendly.
"There was a desire to see reduced speeds in the community, to make it safer for pedestrians and bicyclists," Minicilli said. "That has always been a Del Mar goal, as far as I know, and it's always been communicated to staff from council that that is something the folks in Del Mar want to see happen."
The intersection is already frequently used by pedestrians during the fair, racing season and special events, and now, River Path Del Mar is being extended. Minicilli pointed out that the city completed sidewalk improvements along a southeast portion of Jimmy Durante Boulevard toward the intersection last year.
"Jimmy Durante Boulevard is a well-designed road," Minicilli said. "It's meant to carry cars at 40 miles an hour — that's what it's been designed for. It does a good job of that.
"Again, the thought process here was, we did want to make a change to that roadway to drop those speeds and make it more pedestrian-friendly," he added. "That is truly why there is a project here."
An environmental impact report concluded that a roundabout is "environmentally superior" to other alternatives at the intersection. The report also looked at the possibility of installing a traffic signal as well as not making any improvements to the intersection.
Speaking as a resident, Councilman Al Corti agreed that a roundabout is the best choice.
"I think doing nothing is clearly not the right decision," said Corti, who lives near the site. "In looking at the alternative, I think the roundabout is the better solution."
After reviewing the report, the committee voted 4-2 that the document was adequate, with members Robin Crabtree and Tracy Martinez voting against the motion. Committee member Jeffrey Dysart was absent from the meeting.
Among other issues, Martinez said the roundabout might slow speeds at the intersection, but it will also likely cause motorists to accelerate when exiting the circle.
"If the ultimate goal is for pedestrian safety, it needs to be something that we work on for the entire route, not just at that one intersection," she said.
---
Get the Del Mar Times in your inbox
Top stories from Carmel Valley, Del Mar and Solana Beach every Friday for free.
You may occasionally receive promotional content from the Del Mar Times.