Public gives input on proposed Del Mar roundabout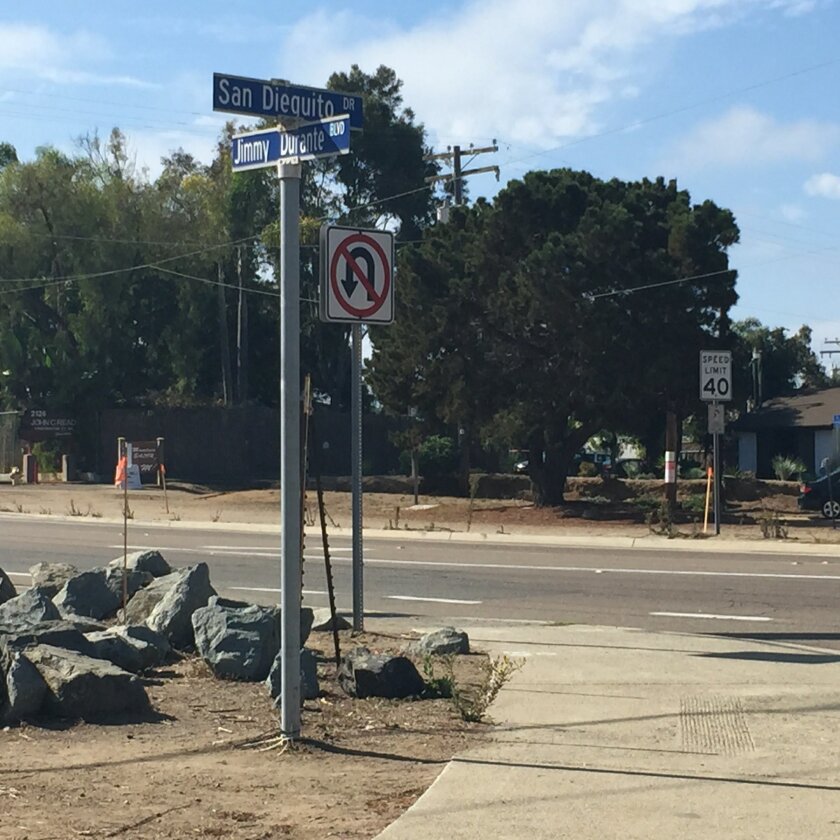 Plans to build a roundabout at the intersection of Jimmy Durante Boulevard and San Dieguito Drive received mixed reviews from Del Mar residents during an April 30 scoping meeting.
The traffic-calming device was originally included in a citywide sidewalk capital improvement project. After community concerns about the necessity of the roundabout and traffic impacts, however, the Del Mar City Council in January pulled the proposed roundabout from the overall project and opted to pursue it as a separate project, complete with its own environmental review.
In preparation of a draft environmental impact report for the proposed project, city staff and consultants invited input from the community at the recent scoping meeting, which is required as part of the environmental review process under the California Environmental Quality Act. The purpose of the meeting was to focus on what needed to be studied in the report.
The proposed roundabout would be about 100 feet in diameter with an approximately 64-foot-diameter inner circle. In addition to the roundabout, other proposed improvements at the intersection are curbs, gutters, sidewalks, pedestrian ramps, crosswalks and landscaping.
About 40 people attended the meeting, many of whom live near the proposed project.
Some attendees questioned the need for such a project and whether it was in any way tied to Watermark Del Mar, a proposed one- and two-story multifamily development project on the vacant lot at Jimmy Durante Boulevard and San Dieguito Road.
City staff was adamant that the roundabout was in no way related to other proposed projects. In fact, they said, it has been under consideration for at least two years.
"This project is not the result or required for particular development in the area," said City Engineer Tim Thiele. "The project has been under consideration for a long period of time and was included in the city's list of long-term capital improvement projects a couple of years ago."
"Our community plan calls for improving our roadways to provide better access and flow for pedestrians, bicyclists and vehicles," added Adam Birnbaum, the city's planning manager. "We know, historically, that this is an area where there certainly could be some improvements."
Although there have not been many accidents at the intersection, Public Works Director Eric Minicilli explained that reduced speeds at the intersection would increase public safety for drivers, cyclists and walkers. The average speed of vehicles is 45 to 50 miles per hour down the segment, and pedestrians frequent the area.
With plans to extend the Coast-to-Crest Trail and River Path Del Mar in the area, foot traffic at the intersection may increase.
Minicilli pointed out how the city was able to reduce the speed limits on two segments along Camino del Mar after sidewalk and street improvements were made in the Beach Colony last year.
"There are a lot of different solutions that can be done at this intersection," he said. "The city does have community goals, and one of the goals is to make the city a more pedestrian-friendly experience and less vehicular-focused."
As part of the environmental impact report process, consultants will collect new traffic data and analyze previously collected data regarding traffic patterns at the intersection.
Dawn Wilson, a traffic engineer with San Diego-based transportation consulting firm Fehr and Peers, said her firm will collect data during a typical week day and weekend day. Using mostly existing data, it will also look at conditions during the Del Mar Fairgrounds' fair and racing seasons.
In addition, the firm will take into consideration future development planned in the area, including Watermark Del Mar.
"We'll compare the operations, we'll look at the delay, we'll look at the queues under all those study scenarios and come back with the findings comparing those three conditions to one another," said Wilson, noting that the study would analyze the intersection as it is; as if it had a roundabout; and as if it had a traffic signal. "We have a lot of information we're digesting to evaluate the intersection."
Although Wilson said data would either be new or from no more than two years ago, some attendees questioned the accuracy of the report and requested new data. Because of the report's schedule, she explained the firm could capture new data from the fair, but probably not from the racing season.
Other residents asked her to capture data during certain hours and on certain days.
In addition to the traffic counts, some residents expressed concerns about the need for a roundabout and questioned whether the traffic-calming device would actually improve safety and traffic in the busy intersection.
"You're going to make safety issues even more difficult," said one attendee.
"It's extremely dangerous for pedestrians," said another. "Most pedestrians are there when traffic is heaviest, when something is going on at the fair."
"I don't want it to be worse," added Beth Westburg, who lives off San Dieguito Drive. "I think it's going to change the traffic pattern a lot, especially during peak hours."
Other community members, however, were in favor of the roundabout.
"Roundabouts slow traffic, which is something we need," said Del Mar resident Dail Peirce. "Roundabouts allow a continuous flow of traffic. They reduce accidents caused by speeding traffic, decrease noise from acceleration and increase pedestrian safety."
Janell Vesci of Encinitas said roundabouts have improved her city.
"I love roundabouts," she said. "They have just changed Encinitas for the better. It keeps the flow going and it stops the long lines."
Some attendees simply asked the city to wait a bit.
"Until the Watermark property is decided and possibly even built, it seems like this might be worth delaying," said one resident. "There are too many things that could change, so rather than rushing this through, I'd like to see it maybe delayed."
Added resident Betty Wheeler, "It might be possible that better analytics, certainly in terms of the long-term effects, could be studied and reached if this study is delayed a bit to see how some of those other major projects are going to play out."
The draft report is expected to be complete in June or July. The report will be available in Del Mar City Hall and the Del Mar Library, and on the city's website. Once the report is available, there will be a 45-day public comment period.
The final report will be presented to the council in the fall.
---
Get the Del Mar Times in your inbox
Top stories from Carmel Valley, Del Mar and Solana Beach every Friday for free.
You may occasionally receive promotional content from the Del Mar Times.