Del Mar roundabout on way, but not all residents happy about it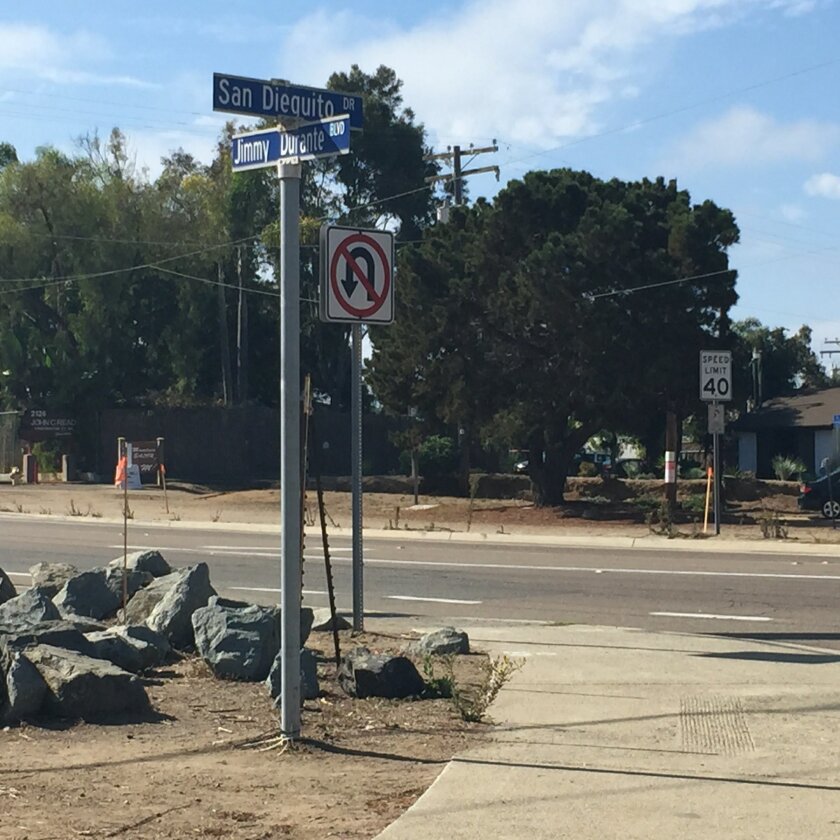 Del Mar will probably have its first roundabout within the next year, and some residents aren't happy about it.
Council members approved the design proposal and construction schedule for the installation of a roundabout at Jimmy Durante Boulevard and San Dieguito Drive during the Oct. 6 meeting. Although the traffic-calming device was added in May to a citywide sidewalk, street and drainage project, a number of people voiced concerns about the project during a public workshop Oct. 23.
"It's going to be a traffic nightmare," said one resident.
"Why would you spend all that money if it's not going to solve the issue?" asked another resident.
"It [the workshop] says, 'open house,' but it seems like it's a closed house," said another.
Project plans include the replacement of aging utility infrastructure located within Jimmy Durante Boulevard, including a wastewater pipeline and water main. Utility poles, however, will remain in place.
In an effort to reduce speeds, the roundabout was added to the project.
Because the intersection is busy with pedestrians and vehicles, City Engineer Tim Thiele said prior traffic studies have indicated a need for traffic calming. It is also located near the entrance of the River Path Del Mar trail, he noted.
"Speeds are high and it's not safe," Thiele said.
But some residents argued a roundabout would cause more congestion, especially during the San Diego County Fair and other special events at the fairgrounds.
Del Mar resident Arnold Wiesel questioned why the roundabout was added to the project, which is near the Watermark property. More than a year ago, San Dieguito Land Partners LLC unveiled the design concept for Watermark Del Mar, a one- and two-story multi-unit project for the 2.3-acre site.
Wiesel wondered whether installing a roundabout is an incentive for the developers.
"Are you working in the city for the community, or is the planning department working with the builders to build this 50-unit project?" Wiesel questioned. "It just seems a little convoluted, and the timing is highly suspicious. I think the citizens need to come first."
City staff, however, contended that a roundabout is needed to improve pedestrian safety and slow traffic.
"Access is a huge issue, but it's not the only issue here," said the city's Director of Public Works Eric Minicilli to the sounds of traffic whizzing by in the background. "We have cars going 40, 45, 50 mph right now."
The city successfully reduced speeds in the Beach Colony after restriping Camino del Mar between 9th and 11th streets to include on-street parking and adding a new sidewalk on the west side of Camino del Mar.
Since the updates, a traffic survey of the area found that average speeds along Camino del Mar from San Dieguito Bridge to 27th Street and from 27th Street to Coast Boulevard decreased by 3 mph and 1 mph respectively.
The speed limit along Jimmy Durante Boulevard near San Dieguito Drive is 40 mph.
"Some sort of traffic calming is needed, and roundabouts are proven to help slow down traffic without increasing queuing like a traffic signal would do," said Pete Ritchey, project manager for Nasland, a San Diego-based civil engineering, land planning and surveying firm. "A roundabout creates a nice, constant flow."
"In looking at the volumes that come through here on a daily basis and during special events, a stop sign would just queue up traffic," Thiele added. "Putting in a signal would help alleviate that, it could process more traffic, but albeit at a higher speed when you get a green light on Jimmy Durante Boulevard. The goals of this project are to calm down traffic and facilitate bike and ped movements. … It might not solve all the problems, but it will solve a number of the problems we have at this intersection."
Building the roundabout will cost about $1 million.
Staff expects to finalize the design next month and issue a request for project bids in December. Construction is expected to be completed before Memorial Day, in time for the opening of the 2015 San Diego County Fair.
---
Get the Del Mar Times in your inbox
Top stories from Carmel Valley, Del Mar and Solana Beach every Friday for free.
You may occasionally receive promotional content from the Del Mar Times.