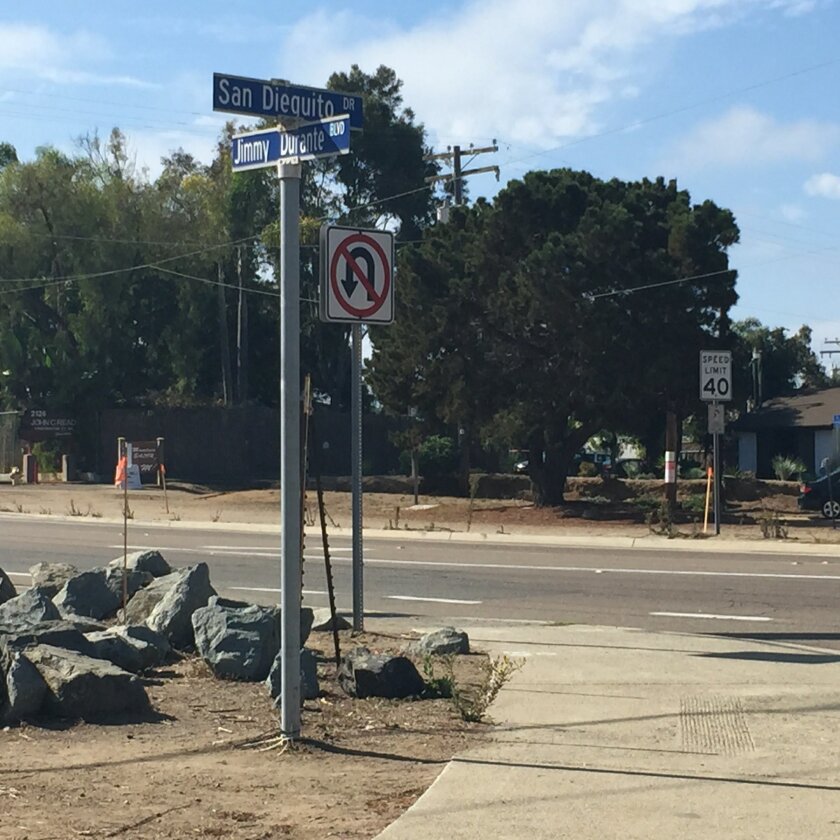 Installing a roundabout at the intersection of Jimmy Durante Boulevard and San Dieguito Drive is "environmentally superior" compared to other alternatives, according to a draft environmental impact report that is now available for public review.
The traffic-calming device was originally included in a citywide sidewalk capital improvement project. After community concerns about the necessity of a roundabout and impacts on traffic, however, the Del Mar City Council pulled the proposed roundabout from the overall project at the start of the year and opted to pursue it as a separate project, complete with its own environmental review.
As part of the required California Environmental Quality Act review, the city's consulting firm, San Diego-based Kleinfelder, prepared the draft EIR. The report examined various project alternatives, including no improvements to the intersection, the installation of a traffic signal and the installation of a roundabout, the proposed project that started the EIR process.
Consulting firm Fehr and Peers, also based in San Diego, conducted the traffic analysis, which considered expected growth and planned development in the area, including Watermark Del Mar, a proposed one- and two-story multifamily development project on the vacant lot at Jimmy Durante Boulevard and San Dieguito Road.
According to the environmental analysis, air quality, greenhouse gas emissions, land use, agriculture and forestry resources, hazards and hazardous materials, mineral resources, geology and soils, hydrology and water quality, population and housing, public services, recreation, utilities and service systems, cultural resources and noise would not be significantly impacted by the project.
The report, however, found a few areas that could be significantly affected and require mitigation. These include aesthetics, specifically light and glare from a roundabout or traffic signal, and biological resources, including construction noise on nesting birds near the site. Additionally, the signal alternative could cause significant traffic backup and delay, according to the report.
The report concluded that a roundabout is the "environmentally superior alternative.
According to the report, the roundabout would improve traffic circulation for both current and future conditions, benefitting air quality, greenhouse gases and noise. It would improve safety for drivers, bicyclists and pedestrians. It would also accommodate U-turns on Jimmy Durante Boulevard.
The draft EIR will be available for a 45-day public comment period.
The report, which was released Dec. 1, is available online on the city's website. Copies are also available at Del Mar City Hall and the Del Mar Library. Comments must be submitted in writing via email, mail or hand delivered to city hall.
At the end of the comment review period, the draft EIR, public comments and responses to public comments will be compiled into a final report. The council is scheduled to certify the EIR and approve the proposed project, certify the EIR and approve an EIR alternative, certify the EIR and recommend another alternative, or not certify the EIR and deny the project during its Feb. 16 meeting.
---