Locals bring Jersey Mike's Subs to Del Mar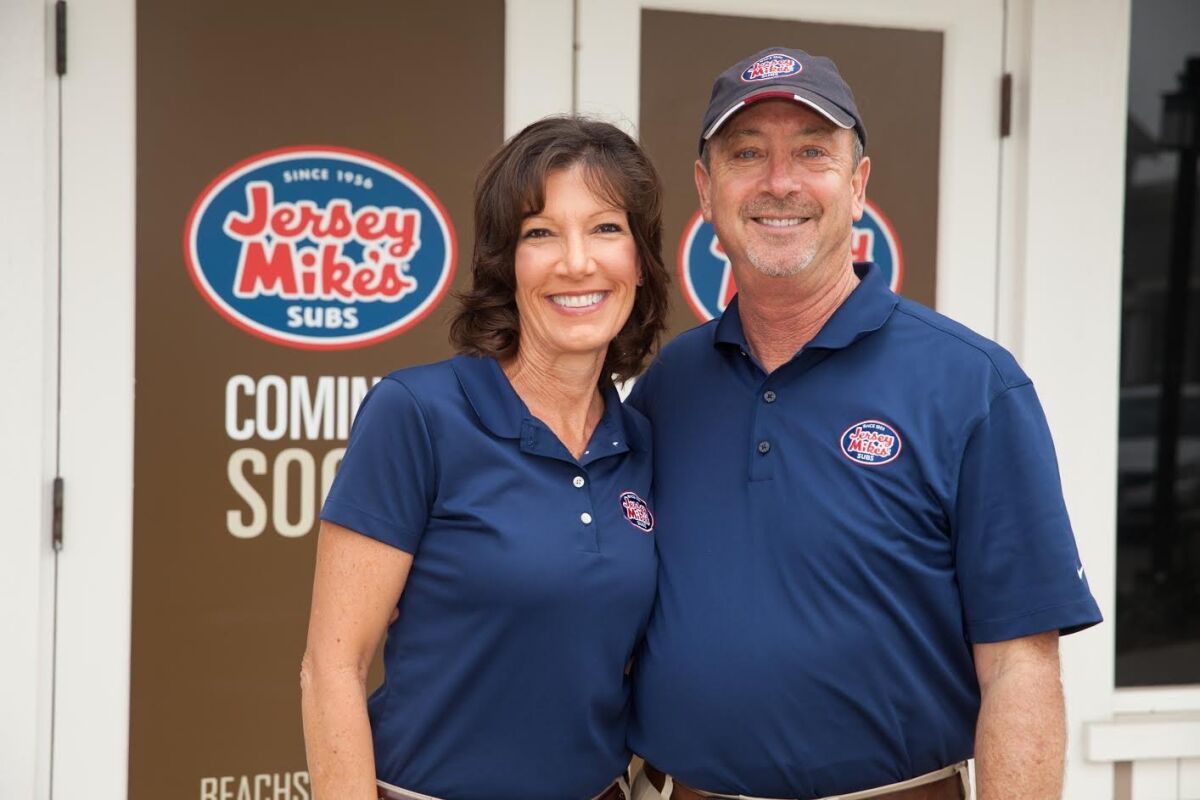 After introducing Jersey Mike's Subs to San Diego six years ago, locals Cathy and Mike Brown are finally bringing the sub sandwich chain home.
Owned and operated by the Carmel Valley couple, Jersey Mike's Subs opened its doors Feb. 25 at Beachside Del Mar.
"It is really exciting for us to finally have Jersey Mike's in our own community," said Mike Brown, who has lived with his wife in Del Mar, Solana Beach, and now Carmel Valley, for nearly 30 years. "We've been trying for years to find a spot for it."
Beginning in 2009, Cathy Brown joined Jersey Mike's Subs as area director of San Diego County, and her husband joined the chain shortly after as area director of Northern California.
For three decades, Mike Brown was a Domino's Pizza franchisee, owning and operating as many as 31 locations at one time, including the shop in Del Mar Highlands Town Center for more than 15 years.
"We think our subs are the best in town," said Cathy Brown, noting that U-T San Diego's readers poll has voted Jersey Mike's "Best Sub in San Diego" four out of the five years the chain has been in San Diego.
The couple brought Jersey Mike's Subs to San Diego, opening the first shop in the county in Mission Valley in August 2009. Over the next several years, they opened additional shops in Mira Mesa, Point Loma, College Area and Rancho Peñasquitos. The Beachside Del Mar shop is the Browns' sixth Jersey Mike's store in the region.
Coincidentally, the store is also the 30th location in the county, and the couple will be celebrating their 30th wedding anniversary later this year.
"We're very, very proud of the product," said Cathy Brown, who also co-owns two of the 10 Northern California stores with her husband. "The first time we tried the product, we thought, 'San Diego is going to love us.' And they do."
Originally called Mike's Subs, the first Jersey Mike's Subs shop opened in 1956 in Point Pleasant, N.J.
In the early 1970s, Peter Cancro, the chief executive officer of Jersey Mike's Franchise Systems Inc., bought the shop and later began franchising the concept. A name change and a few decades later, today more than 1,300 locations are open and under development.
Cathy and Mike Brown joined the chain because they are fans of the food.
The couple said the company uses the highest-quality ingredients, including certified Angus beef top rounds that are trimmed and cooked right in the store, premium brand meats and cheeses, and fresh bread baked daily on the premises.
"It's the best East Coast sub in San Diego," Mike Brown said.
In addition to the food, Cathy Brown said the company's philosophy on community involvement also attracted her to the chain.
An active volunteer, Cathy Brown has served as vice president of the Del Mar Carmel Valley Sharks Soccer Club's competitive program, overseeing 42 teams. She has also volunteered on the Rady Children's Hospital Auxiliary.
Using her stores to continue to give back to the community, she and her husband are celebrating the opening of their newest store with a fundraiser to benefit the Del Mar Schools Education Foundation. Through March 8, the shop will donate $3 to the foundation for every coupon redeemed from fliers tailored for the district's schools.
In addition, the shop is distributing 7,500 coupon cards to local businesses offering a free sub with a $2 donation. All donations will also benefit Del Mar Schools Education Foundation.
In March, all county stores are collaborating to raise funds for Rady Children's Hospital.
Last year, the region's shops raised more than $100,000 for the local hospital. This year the stores are kicking off the fourth annual fundraiser March 4 with a Spirit Day at every location. On that day, 20 percent of proceeds will benefit the hospital. All month long, stores will continue to accept donations. And on March 25, 100 percent of proceeds will benefit Rady Children's Hospital.
"This is just what we believe," said Cathy Brown, who was named one of San Diego Magazine's 2013 Women Who Move the City honorees for her work with Jersey Mike's. "We want to take care of things that matter to our customers."
The Del Mar shop is in the newly renovated Beachside Del Mar shopping center at 2626A Del Mar Heights Road. The store is open from 10 a.m. to 9 p.m. Monday through Sunday.
Visit www.jerseymikes.com.
---
Get the Del Mar Times in your inbox
Top stories from Carmel Valley, Del Mar and Solana Beach every Friday for free.
You may occasionally receive promotional content from the Del Mar Times.