'Fair to Remember' opens June 5 with deep-fried delights, rides, concerts and more
With food, fun and all things "fair," this year's San Diego County Fair will surely be "A Fair to Remember."
In commemoration of the centennial anniversary of the 1915 Panama-California Exposition held in San Diego's Balboa Park, the fair's theme is "A Fair to Remember, A Celebration of World's Fairs and Balboa Park."
"I think it's a real fitting tribute for the county fair to acknowledge this very historic moment with this year's theme," said San Diego Mayor Kevin Faulconer during a press conference and fair preview on May 20. "It helps to celebrate Balboa Park's history, it elevates the centennial to a truly regional event and it promotes San Diego's crown jewel on a whole new level."
Set to open June 5, the month-long fair will feature "It All Started at a Fair," an exhibit that celebrates World's Fairs and their contributions to global culture over the past 165 years. The exhibit will emphasize the Panama-California Exposition, which celebrated the opening of the Panama Canal, as well as highlighting inventions that were first introduced at fairs, such as the bicycle, telephone, ice cream cone and Ferris wheel.
The fair will also demonstrate how agriculture was, and still is, at the core of fairs and expositions. The 22nd District Agricultural Association, a state agency that operates the fairgrounds, sponsors the fair.
"The San Diego County Fair is proud to honor the mission of the 22nd District Agricultural Association by bringing together our agricultural heritage with family-friendly attractions and exhibits," said Tim Fennell, CEO and general manager. "The San Diego County Fair is a premium value, providing entertainment and fun that gives families a reason to visit the fair year after year, numerous times during the 25-day run."
As the largest annual event in the county and one of the top 10 fairs in the United States and Canada, the San Diego County Fair attracts more than 1.4 million fairgoers each year.
With nine stages of entertainment, Fennell predicted this year's fair would break attendance records.
"Due to this year's theme and this once-in-a-lifetime opportunity to partner with our friends from Balboa Park and the city of San Diego, I predict, in 2015, we will make history and we will break all records," he said.
The nightly Summer Concert Series opens June 5 with KC and the Sunshine Band. Other artists include Gary Allan on June 6, Peter Frampton and Cheap Trick on June 10, Colbie Caillat on June 13, Christina Perri on June 17, Switchfoot on July 19 and Little Big Town on June 24. Comedian Dana Carvey will perform on the Fourth of July.
In addition to animal exhibits, car shows and rides, the fair will also include the San Diego International Beer Festival, the Toast of the Coast Wine Festival and the new Distilled Spirit and Cocktail Festival.
Of course, salty, sweet and unusual foods will also be available.
Fair favorite Chicken Charlie's food stand is back, and this year he's frying something for everyone — even the "health-conscious."
Among Chicken Charlie's new creations is a deep-fried Slimfast bar.
"I'm a big fan of the bars — I truly am," said Charlie Boghosian, admitting he struggles with his weight.
"Every once in a while I'll deep-fry one to treat myself," he said. "One of my favorite things is deep-fried Oreos and this tastes just as good."
Boghosian has served fried food at the fair for 32 years, 20 years as the owner of the famous Chicken Charlie's.
This is the first time he's back since he opened FryBQ in Clairemont last fall. Although fans can get their hands on some of their fried favorites at the restaurant, its focus is on barbecue food, including ribs and chicken and waffles.
Last year, Boghosian's top seller at the fair was a triple cheeseburger on Krispy Kreme doughnuts instead of buns. He said he sold about 24,000 triple-decker burgers, which are back on Chicken Charlie's menu this year.
Another new concoction for the fair is the deep-fried peanut butter pickle — a hollowed pickle filled with peanut butter and then deep-fried in pancake batter and topped with chocolate syrup, powdered sugar and sprinkles.
"I enjoy the people, the smell, the sounds — and the food," Boghosian said. "There's nothing better. Where else can you go to se this kind of variety? From the baked to the fried, all the different varieties are unbelievable."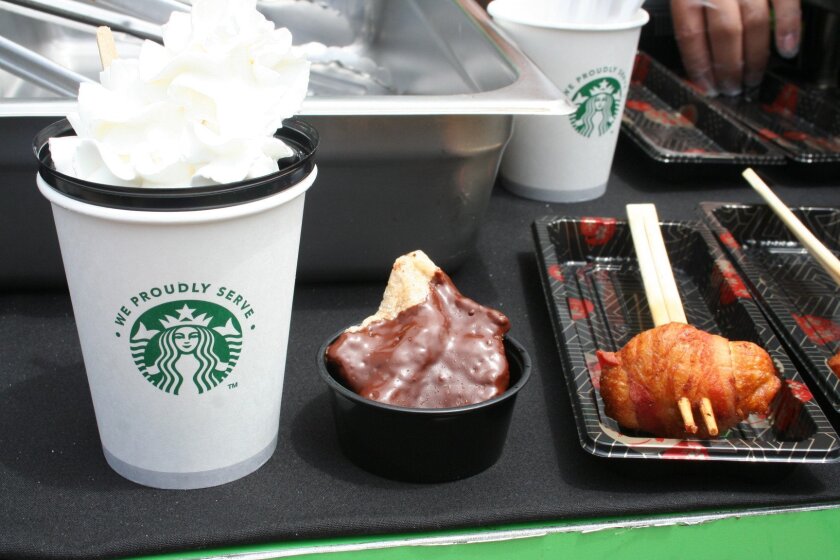 From spicy to sweet, selections from other vendors include wasabi bacon bombs — spicy pork with wasabi wrapped in dough and bacon and fried — and deep-fried Starbucks — coffee beans and chocolate chips wrapped in cinnamon roll dough, deep-fried, rolled in sugar and served with whipped cream.
The 25-day fair opens June 5 and runs through July 5. It will be closed on Mondays and the first two Tuesdays. Admission is $15 for adults, $8 for ages 6 to 12 and $8 for adults 62 and older. Entry is free for children 5 and younger.
Visit www.sdfair.com.
---
Get the Del Mar Times in your inbox
Top stories from Carmel Valley, Del Mar and Solana Beach every Friday for free.
You may occasionally receive promotional content from the Del Mar Times.