Residents call for public vote on Watermark Del Mar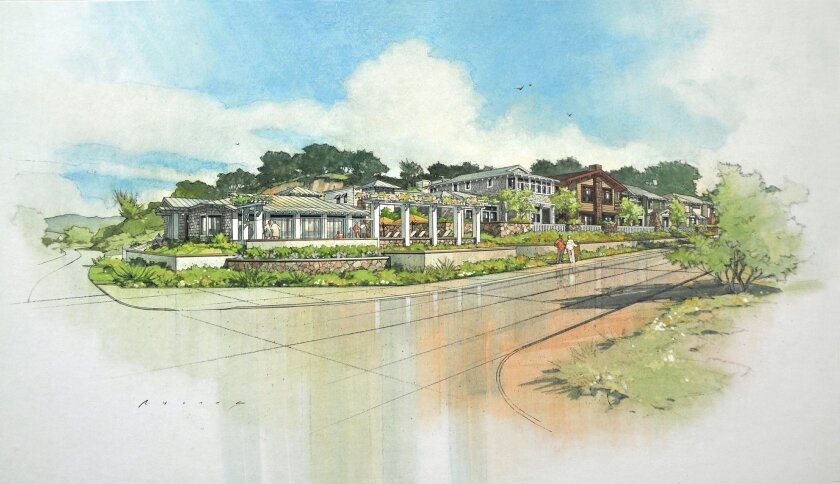 Although Watermark Del Mar is moving through the city's development process, some concerned community members are calling for a public vote on the proposed multifamily development project.
Proposed by Watermark DM LP, a partnership between San Dieguito Land Partners, LLC and Kitchell, the project includes 48 units ranging from studios to three-bedrooms in one- and two-story buildings, resulting in a proposed density of roughly 20.5 units per acre. It includes 108 parking spaces — 96 assigned stalls for the units and 12 guest stalls — in an underground structure, a pool and spa area and a recreation room.
Championed by Arnold Wiesel, who lives near the project site on the corner of Jimmy Durante Boulevard and San Dieguito Drive, a group of residents opposed to the project argue that it contains too many units, lacks community character and violates existing height restrictions and setbacks. Among other concerns, opponents argue that the project would also negatively impact traffic, noise, pollution and views.
"We are going to cause this to go to a public vote," Wiesel said. "The only chance we have for representation, to be heard and have a say on this, is a vote. Since the city is not going to do it, because they have their own agenda. We have ours, too, it's called democracy."
The 2.3-acre lot is currently used for parking during special events at the Del Mar Fairgrounds.
The city approved a commercial project known as the Riverview Office Complex for the site in 2008, but the owner decided not to pursue the project.
In 2013, the developer publicly unveiled plans for Watermark. It was originally slated to include 54 units, but the developer recently released revised plans.
"We've tried to create a project that would fit into the community seamlessly and add some beauty to the entry of Del Mar," said developer Tony Cassolato, of San Dieguito Land Partners LLC at a March 10 workshop.
"Right now, there's an office project approved," he added. "If people want us to build it, I guess we'll build it. But I think this is softer. The whole surrounding neighborhood is residential. This is a great fit for that area."
A total of 21 people attended the workshop, where the developer said most of the feedback was positive. There were some attendees against the project, however.
Resident Beth Westburg, who has lived in Del Mar since 1999, said she could support a much smaller residential project.
"I just think the scale is too big," she said. "They're just building as big as the piece of property is."
There are many others that oppose the plan. As of March 15, 123 people have signed an online petition asking the City Council to put the Watermark specific plan on the November 2016 ballot.
"Direct democracy, I think, is always better than representative democracy," said Roger Arnold, who has lived in Del Mar for four years. "Direct democracy would be putting this up to a vote. There are a lot of people that do not want that project there. They do not think it's the best thing for the community."
Because the land is currently zoned for commercial use, the lot would have to be rezoned as residential to move the project forward. A number of other changes and permits would also have to be approved by the city and California Coastal Commission.
To streamline the process, the council voted in July 2014 to allow the developer to use a specific plan. The specific plan process sets a special set of development standards for a specific geographical area, creates a land use designation and zone for the property and requires opportunities for community participation throughout the process.
"Zoning laws are designed to maintain consistency and equality of value persistent within the whole community," said Wiesel, president of a community group called Del Mar Hillside Community Association. "They're going to change our zoning laws. They're going to make this whole area look like not Del Mar and we do not want to give Del Mar up for this. We're going to fight against it."
Although Wiesel and others have asked the council to place the plan on the ballot through the online petition, he said his group is also working with attorneys to draft an initiative for the ballot that would require voter approval for major changes to planning policy documents.
He compared it to the controversial Proposition A, which voters passed in Encinitas in 2013. To get the initiative on the ballot, the group will need to gather the required number of signatures — 10 percent of registered Del Mar voters.
"There is a trend," Wiesel said. "People are taking back their power because they're not being heard when their City Councils are getting involved with developers."
Wiesel said he anticipates the council will try to approve the plan prior to the November election. If that happens, he said he will work to collect the required number of signatures for a referendum, similar to grassroots efforts by residents in Carlsbad's recently defeated Measure A.
"They believe they can rubber stamp this thing through," he said. "Residents have rights. We should be heard."
Wiesel claims that the city and Watermark developers "seem like one and the same."
During the recent workshop, which was hosted by the developer at L'Auberge Del Mar, Cassolato did say that the city approached him and requested such a project.
"The city came to us and said, 'We need a higher-density product and we need affordable units,'" Cassolato said.
Matt Bator, a senior planner with the city, said he was assigned the project after it was attached to a specific plan, so he could not confirm whether or not Cassolato's statement was correct.
"I don't know if that ever happened or not," he said.
Watermark includes seven affordable units, four of which would be deeded at no cost to a nonprofit benefit corporation selected by the city. The affordable units would help the city meet the state-approved requirements of its housing element.
"I was very disheartened to learn from the developer that the city approached him when he was purchasing the property, and said, 'We want you to do the specific plan and work with us with affordable housing," Westburg said. "The city is behind all this."
"The city is very, very attached to Watermark," Wiesel said. "Most people feel like the train has left the station."
Cassolato said he heard about the online petition, but he's not concerned about the project.
"I think it's a great project," Cassolato said at the workshop. "I'm not that worried about it. It is what it is."
Cassolato encouraged community members with concerns to call the development team and set up meetings to learn more about the project. He said the team has already had about 100 meetings with individuals.
"The same people that are doing that aren't willing to sit down and understand the project," he added. "I invite you to come in. Let's talk abut it. Let's figure out how to make it better, if you think you can."
Core members of Del Mar Hillside Community Association have funded the group's efforts so far, Wiesel said.
"We need representation and it doesn't come cheap," he said.
---
Get the Del Mar Times in your inbox
Top stories from Carmel Valley, Del Mar and Solana Beach every Friday for free.
You may occasionally receive promotional content from the Del Mar Times.