Del Mar residents divided on Watermark housing development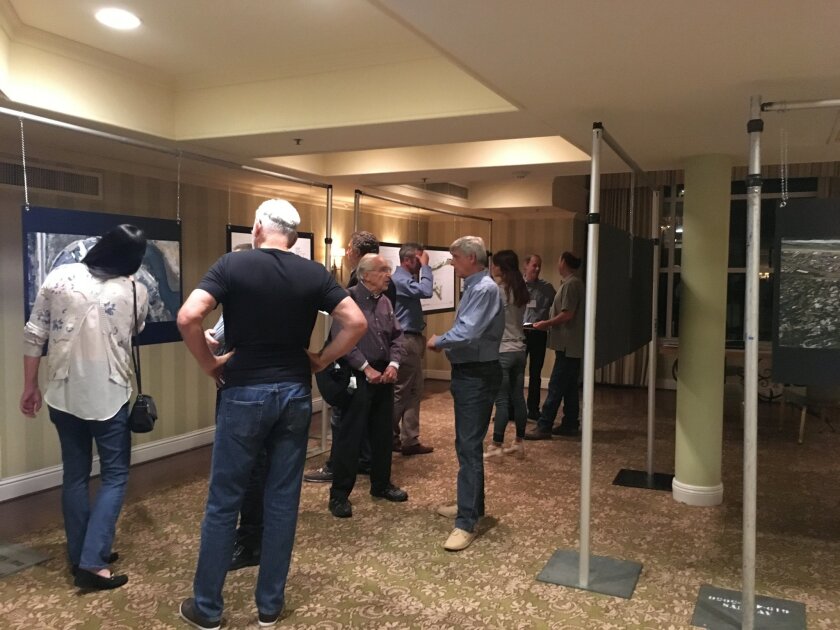 The public got another opportunity to review revised plans for a proposed multifamily development project near the Del Mar Fairgrounds during the first of two workshops hosted by the developer March 10 at L'Auberge Del Mar.
Watermark Del Mar, which would be located on a vacant lot on the corner of Jimmy Durante Boulevard and San Dieguito Drive, includes 48 units ranging from studios to three-bedrooms in one- and two-story buildings, 108 parking spaces in an underground structure, a pool and spa area and a recreation room.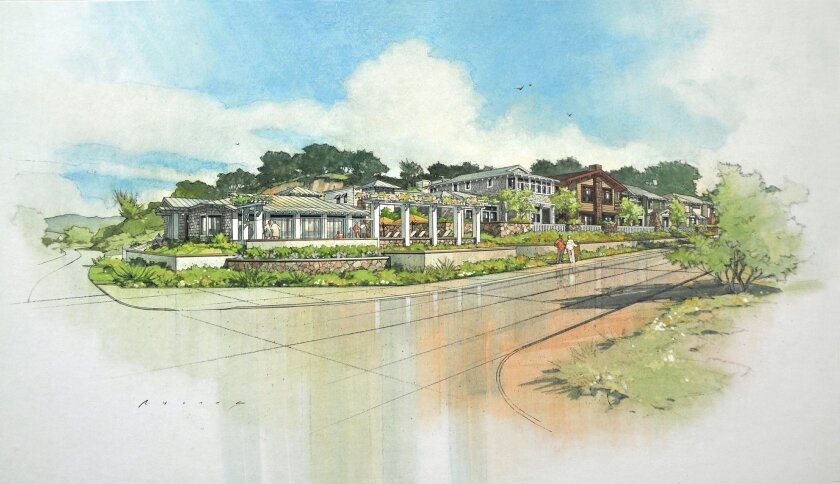 Proposed by Watermark DM LP, a partnership between San Dieguito Land Partners, LLC and Kitchell, the project also includes seven affordable units, four of which would be deeded at no cost to a nonprofit benefit corporation selected by the city.
"I've been in affordable housing for years," said Mitch Thompson of Thompson Consulting. "I've never seen a developer just donate units."
The estimated value of the donation is more than $1.5 million, said Thompson, who has been in the affordable housing, banking and real estate business for 38 years.
The affordable units would be available to individuals and families with annual incomes between $46,250 and $91,100. The rental range for the units would be from $1,594 to $2,278.
"It adds a housing opportunity for all ages," said developer Tony Cassolato, of San Dieguito Land Partners LLC.
The affordable units would help the city meet the state-approved requirements of its housing element.
In fact, Cassolato said the city approached him and requested a project like Watermark.
"The city came to us and said, 'We need a higher-density product and we need affordable units,'" said Cassolato, an Encinitas resident who also owns property in Del Mar. "So they came to us and said, 'Would you do this, and would you supply some affordable units?' So we are doing what they've asked. And we're kind of doing a little beyond that with giving them four."
Matt Bator, a senior planner with the city, said he was assigned the project after it was attached to a specific plan, so he could not confirm whether or not Cassolato's statement was correct.
"I don't know if that ever happened or not," he said.
The city approved a commercial project known as the Riverview Office Complex for the site in 2008 but the owner decided not to pursue the project.
In 2013, the developer publicly unveiled plans for Watermark. It was originally slated to include 54 units, but plans were recently revised.
The 2.3-acre lot is currently used for parking during special events at the Del Mar Fairgrounds. Because the land is zoned for commercial uses, the property would have to be rezoned as residential to move the project forward. A number of other changes and permits would also have to be approved by the city and California Coastal Commission.
A total of 21 people attended the workshop. There were about a dozen members of the project team there to answer questions and take comments.
Cassolato said most of the comments he received were positive. "Everybody I've talked to loves it," he said.
"We support it," said resident Jim Benedict, who lives with his wife in the neighborhood adjacent to the project site. "I just think that that end of town is blighted."
"I think it will be great," said resident Mary Ann Emerson.
"It is the entrance to our town," added her husband Bud Emerson, also in favor of the project. "Plus, we need more affordable housing."
"This will give us a real entry point," agreed resident Jeff Barnouw.
Some attendees, however, spoke against the project and the workshop process.
"I thought it was very poorly attended," said Del Mar resident Beth Westburg, who is opposed to the size of the project. "I think they really have to have more community outreach. I think it's in their benefit to have people not come, and so I think that's a part of the problem."
Kristen McDade Byrne, the marketing director, said the workshop was advertised in local papers. An email notice was sent to people on Watermark's listserv — approximately 140 recipients. The development team also provided notice to the City Council, Planning Commission, Design Review Board and city staff, and mailed notice to members on its interest list.
Arnold Wiesel, who lives near the project site, said the workshop was simply an opportunity for the development team to "convince" people to support the project.
"Is the first thing that comes to your mind 'This is the most beautiful, relaxed beach community in the world' when you look at Watermark?" he asked. "No. You feel like you're in some really busy city that takes any kind of buildings possible and pushes them all together. There's no beauty there. There's no beach community represented there."
Admittedly, Wiesel said he was "emotional," at the workshop, but he wanted the developer to know he is against the project.
"I know I was loud and I know I was aggravated," Wiesel said. "I'm so tired of hearing there's no opposition."
---
Get the Del Mar Times in your inbox
Top stories from Carmel Valley, Del Mar and Solana Beach every Friday for free.
You may occasionally receive promotional content from the Del Mar Times.